Katherine of Aragon, The True Queen by Alison Weir – Book Review
Katherine of Aragon, The True Queen by Alison Weir – Book Review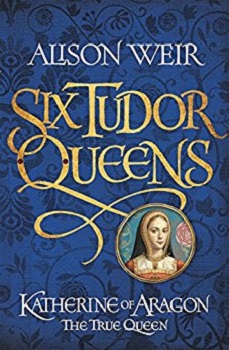 Six Tudor Queens: Katherine of Aragon, The True Queen
Author – Alison Weir
Publisher – Headline Review
Pages – 624
Released – 26th January 2017
ISBN-13 – 978-1472227515
Format – ebook, paperback, hardcover, audio
Reviewer – Julie
Rating – 5 Stars
I received a free copy of this book.
This post contains affiliate links.
A Spanish princess. Raised to be modest, obedient and devout. Destined to be an English Queen.
Six weeks from home across treacherous seas, everything is different: the language, the food, the weather. And for her there is no comfort in any of it. At sixteen-years-old, Catalina is alone among strangers.
She misses her mother. She mourns her lost brother. She cannot trust even those assigned to her protection.
KATHERINE OF ARAGON. The first of Henry's Queens. Her story.
History tells us how she died. This captivating novel shows us how she lived.

'Katherine of Aragon' is the first in the 'Six Tudor Queens' series by best-selling British author, Alison Weir. Each chapter covers a year or two in Katherine's life, charting events from her arrival in England in 1501 to her death in 1536.
As the story is based on fact, there is inevitably a large cast but readers with little knowledge of this period shouldn't be put off, as there are family trees at the beginning, together with a timeline and list of who's who at the end.
Katherine is the educated, devout and dutiful daughter of King Ferdinand and Queen Isabella, joint rulers of Spain. She comes to England under the terms of the contract arranged by their respective parents to marry the Prince of Wales. After Arthur's untimely death, she becomes betrothed to his younger brother, Henry.
The book is divided into three parts; Katherine's life as a widowed princess in a foreign land being treated as a pawn in the political machinations between England and Spain, then her life as a much-loved queen and finally, being moved around the country after her husband sets her aside.
Katherine's happiest moments come during the early years of her marriage when the king treats her kindly. Successfully rebuffing a Scottish invasion, during her time as Regent, was arguably her finest hour. Weir shows us how Henry sought her counsel until the appointment of Wolsey who usurped her influence and then latterly, Cromwell and Cranmer.
Throughout the book, Weir drops people into the story whom we know will feature in the future. She tells us that Thomas Boleyn was a favourite and we discover that Henry had a relationship with his daughter, Mary. We then find that Mary has a younger sister, Anne who ultimately becomes Katherine's nemesis. Jane Seymour, a gentle lady-in-waiting, has arrived at court and Maud Parr, mother of Kate, plays a pivotal role in Katherine's household.
As we view everything through Katherine's eyes, Henry VIII is portrayed in a mainly positive light, no matter how reprehensible his behaviour. It would have been interesting to have witnessed the frustration he must have felt towards her; however Weir resists the temptation to stray from her remit.
Alison Weir's Katherine has remarkable resilience which comes to the fore at times of sorrow and strife. The pathos surrounding each pregnancy and the subsequent loss of all but one child is palpable. While her life starts to unravel, Katherine still has the courage to fight for her marriage and her daughter, Mary's right of succession. During her exile, she shows fortitude and determination to preserve her status, although ultimately she is powerless to prevent Henry from divorcing her. Nevertheless, she is shrewd enough never gave him grounds to accuse her of treason. Even in her humiliation, we see a dignified and devoted wife who will not compromise her principles or faith.
I am mindful of spoilers but Katherine's story has been told many times and I'm not sure it is possible to learn much that is new. However, I had never previously heard of a plan to secure the succession through a marriage which would have further cemented the relationship between the Houses of Tudor and Plantagenet.
In this book, Katherine has been brought to life in a vibrant and empathetic way that captivates the audience. Alison Weir is an accomplished writer and I commend her for many hours of painstaking research. I enjoy her writing style and should I be asked to review further books in this series, it will be a pleasure. I award 'Katherine of Aragon' a well-deserved five stars.
Reviewed by Julie
---
Purchase online from:
---
About the Author

Alison Weir lives and works in Surrey. Her books include Britain's Royal Families, The Six Wives of Henry VIII, Children of England, Eleanor of Aquitaine, Henry VIII: King and Court, Mary, Queen of Scots and Isabella: She-Wolf of France.




---
The above links are affiliate links. I receive a very small percentage from each item you purchase via these link, which is at no extra cost to you. If you are thinking about purchasing the book, please think about using one of the links. All money received goes back into the blog and helps to keep it running. Thank you.