The Final Game by Caimh McDonnell – Book Review
The Final Game by Caimh McDonnell – Book Review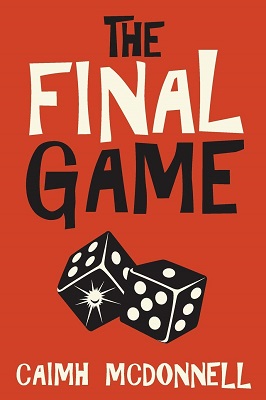 The Final Game
Author – Caimh McDonnell
Publisher – McFori Ink
Pages – 368
Released – 10th March 2020
ISBN-13 – 978-1912897100
Format – ebook, paperback, audio
Review by – Clive
Rating – 4.5 Stars
I received a free copy of this book.
This post contains affiliate links.


Dorothy Graham is dead, which is inconvenient, not least for her. Luckily, she has planned for this eventuality. Now, if any of the truly dreadful people she is related to want to get their hands on her money, they're going to have to do so via a fiendish difficult and frankly bizarre competition of Dorothy's devising. After all, just because you're dead, it doesn't mean you can't enjoy a last laugh at the expense of people who made your life miserable.
Paul Mulchrone, to his unending credit, is neither related to Dorothy or happy that she is dead; What he is however is a contestant in this competition whether he likes it or not, which he definitely doesn't. He and his off-again on-again girlfriend, the formidable Brigit, are supposed to be running MCM Investigations, a detective agency. Instead, they have to go into battle against Dorothy's bloodsucking relatives. As if that wasn't enough, they get hired by the aforementioned dead woman to find out who killed her.
DI Jimmy Stewart is enjoying his retirement – in the sense that he definitely isn't. He is bored out of his mind. When the offer comes to get back into the crime solving business, it is too good to turn down. But when he finds himself teamed up with the nephew of a man he threw in prison, and a flatulent dog, he starts to think that taking up lawn bowls wouldn't be such a bad idea after all.

Caimh McDonnell has had at least half a dozen previously published books but this is the first of his novels that I have read. It took me a few chapters to tune in to his humour and writing style but once I achieved that I was hooked.
The Final Game starts with Esther and Danny poised to make a fortune by selling their employer's technology, hotly pursued by what appears to be a fairly hapless bunch of oddballs. The character of Esther really drew me in; I was looking forward to hearing how she would escape and what she would get up to next. Then suddenly, at the end of the fifth chapter, she was taken from me. What a shame. The true story then commenced and we more or less started again.
For the central story McDonnell draws on the familiar and well-loved Reality TV scenario as four pairs play one another for a fortune in full view of the world's media. This is a setting that gives him plenty of material to exercise his comic skills and alternate views of the world. All stirred together with plenty of Irish charm. How could it go wrong?
Despite my mourning for Esther, the author gave me many more interesting and varied characters. The contestants and the production teams were contrasting but the real stars were the unlikely mix of Jimmy and Phil. Jimmy especially is not only a comedy genius but apparently an excellent sleuth. The light hearted action moves at a pace and reading is effortless.
Looking through Caimh's Goodreads pages I noticed that his books all use the same distinctive black and white artwork on a red background which is good consistent marketing. Also The Final Game has named chapter titles which I think helps to connect with the reader from the contents page onward.
To top it all, when I reached the end of The Final Game, Caimh sent me a free copy of How to Send a Message which I am keen to read – just as soon as my pile of review books gets a little lower! Who knows, maybe it features Esther. For entertainment I have awarded a nearly perfect four and a half stars.
Book Reviewer – Clive
---
Purchase online from:
---
About the Author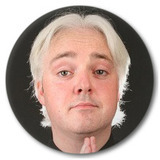 Irishman Caimh McDonnell is a former professional stand-up comedian and TV writer who now concentrates all of his energies on his books. Born in Limerick and raised in Dublin, he has taken the hop across the water and calls Manchester his home.
His TV writing work has seen him work on some of the biggest topical comedy shows on British TV and has earned him a BAFTA nomination. These days he can be found happily writing his next book in the office in the back garden, with only his dog and his imagination for company.
His book I Have Sinned' was nominated for the Kindle Storyteller Award 2019. Previously, his debut novel A Man With One of Those Faces was nominated for best novel at the 2017 CAP awards.




---
What did you think of The Final Game? Share your thoughts in the comment section below!
---
The above links are affiliate links. I receive a very small percentage from each item you purchase via these link, which is at no extra cost to you. If you are thinking about purchasing the book, please think about using one of the links. All money received goes back into the blog and helps to keep it running. Thank you.
Like us on Facebook – Tweet us on Twitter – Pin us on Pinterest