The Guardians of Erum and the Calamitous Child of Socotra by A. Ali Hasan Ali – Book Review
The Guardians of Erum and the Calamitous Child of Socotra by A. Ali Hasan Ali – Book Review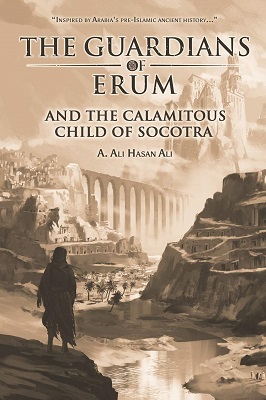 The Guardians of Erum and the Calamitous Child of Socotra
Author – A. Ali Hasan Ali
Publisher – United Arab Emirates Ministry of Culture and Knowledge Development
Pages – 356
Released – 17th June 2020
ISBN-13 – 978-9948344629
Format – ebook, paperback
Rating – 3.5 Stars
I received a free copy of this book.
This post contains affiliate links.


Synopsis
Pursued by a powerful jinn master and a mysterious sect of occultists, Fada sets out across the lush and unforgiving ancient Arabian Peninsula on a quest to rescue his son.
Legend has it that the sacrifice of a calamitous child, a child born under the Serpent-Neck star, can bring about the end of the world. Born under the Serpent-Neck star himself, jinn master Behas has sought out and killed many calamitous children to avert the destruction they portend. His next target is a boy named Dileel, the newborn son of a date farmer outside the great city of Erum.
However, his plans are foisted when an occultist apprentice interferes to save the boy, and in the resulting confusion, Dileel is abducted by an unknown force. Determined to rescue his son, the humble date farmer Fada must leave behind everything he knows, enlisting powerful allies and risking his life on an unforgettable journey.
This is a tale that has span centuries. It has been passed down through generations regarding Arabia's pre-Islamic ancient history. It isn't a tale I've ever heard of before, nor is any part of it familiar, so the story was quite a hard read for me, plus, there were words used I've never encountered and didn't understand what they meant so I spent time having to use Google whilst reading too.
The book opens with a man described as the worst of mankind, Behas, on his way to kill a child that has been born under a serpent star. The baby, Dileel, is just eight days old when Behas arrives at the family's home. He orders one of his Jinni who can take the shape of a snake to enter the home and kill the child. The snake kills the mother first before heading for the baby. However, the snake is killed by another intruder who has come to save the child, an apprentice occultist.
The father of the child, Fad, wrestles with Behas and thinks he has killed him, before confronting the occultist who tells him that he needs to take the child to keep him safe, and rides off heading for the city of Erum.
Behas has not been killed and uses more of his Jinni to give chase, whilst Fad also chases them, wanting his son back. This is the tale of that chase over rugged, desert landscape.
What I found about The Guardians of Erum and the Calamitous Child of Socotra, is that just like the title the book is very wordy, sometimes overly wordy. The story has been written by a debut novelist who I felt spent a lot of time telling us what was happening or was going to happen rather than letting the plot naturally show us. It is however rich in vocabulary from the time period which gave the book an authentic historical feel.
It took me quite a while to get through the book but this is on me as I never felt fully engaged with it. I like learning about cultures and traditions from other countries so I expected to rush through it, not crawl as I did, I could only read 2-3 chapters at a time before I had to put the book down as my head would be whirling with so much detail. It was an intriguing book with a decent plot, but I just couldn't fully get into it or appreciate it, unfortunately.
Purchase Online From:
---
What did you think of 'The Guardians of Erum and the Calamitous Child of Socotra'? Share your thoughts in the comment section below!
---
The above links are affiliate links. I receive a very small percentage from each item you purchase via these link, which is at no extra cost to you. If you are thinking about purchasing the book, please think about using one of the links. All money received goes back into the blog and helps to keep it running. Thank you.
Like us on Facebook – Tweet us on Twitter – Pin us on Pinterest – Join us on Instagram