The One That I Want by Lynne Shelby – Book Review
The One That I Want by Lynne Shelby – Book Review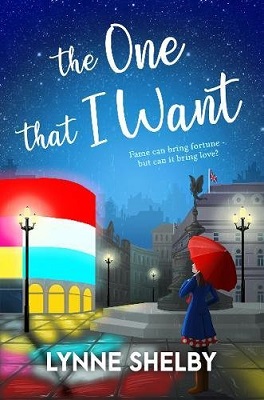 The One That I Want
Author – Lynne Shelby
Publisher – Accent Press
Pages – 274
Released – 26th July 2018
ISBN-13 – 978-1786153494
Format – ebook, paperback
Review by – Stacey
Rating – 4 Stars
I received a free copy of this book.
This post contains affiliate links.


When Lucy Ashford lands a top job at a leading theatrical agency in London, work mixes with pleasure, as she literally falls into the arms of Hollywood heartthrob Daniel Miller.
Handsome, charming and irresistible, Daniel is just what unlucky-in-love Lucy needs, and she is quickly drawn into his glittering celebrity lifestyle. But can she tame the A-list bad boy or is she just one more girl in Daniel's long line of conquests?
And then there's up-and-coming actor Owen Somers, fiercely talented but as yet uncast in a starring role. After she takes him onto the agency's books, Owen and Lucy's friendship slowly grows. If she looks closely, Lucy's leading man might be right before her very eyes…

One afternoon children's TV star Cassie who is the lead in 'The Adventures of Princess Snowdrop', turns up at the door of her old best friend, Lucy. The pair haven't seen each other in about twelve years, but Cassie thought she would call after doing some appearance work locally.
It is like the pair have never been separated. With their chatter running late into the evening Cassie stays the night. Lucy tells her all about her just finishing her degree and splitting with the man she thought was her boyfriend who turned out to be already married.
Cassie invites Lucy to stay with her in London for a while and helps her obtain a job at Reardon Hayes Theatrical Agency where she meets leading man Daniel Miller and is smitten from the off with his good looks, charm and showbiz lifestyle. However, it isn't long before she is sensing feelings for a man who is the complete opposite, Owen Somers, who is new to the agency.
But which life does Lucy want, glamour or down-to-earth?
The One That I Want is a fun, quick read following twenty-something Lucy's life. The characters are easily likeable, except for Cassie's PA Nadia, who is one to watch. The story flows well and highlights what life is like in the theatre/movie world.
The book did feel quite unbelievable at times, especially the beginning with a TV star dressed in her Princess costume just turning up on an old-friends doorstep, or how quickly they were best-friends again and living together (around 24 hours). However, this doesn't take anything away from the entertaining plot that had me rushing through the pages.
This is a book that would be perfect to curl up with on a lazy Sunday afternoon or whenever you have a few hours spare and you want some light relief, something we could all do with at the moment!
Book Reviewer – Stacey
---
Purchase online from:
---
About the Author

Lynne Shelby writes contemporary women's fiction/romance. Her debut novel, 'French Kissing' won the Accent Press and Woman magazine Writing Competition. She has done a variety of jobs from stable girl to child actor's chaperone to legal administrator, but now writes full time. When not writing or reading, Lynne can usually be found at the theatre or exploring a foreign city – Paris, New York, Rome, Copenhagen, Seattle, Reykjavik – writer's notebook, camera and sketchbook in hand. She lives in London with her husband, and has three adult children who live nearby.





---
What did you think of The One that I Want? Share your thoughts in the comment section below!
---
The above links are affiliate links. I receive a very small percentage from each item you purchase via these link, which is at no extra cost to you. If you are thinking about purchasing the book, please think about using one of the links. All money received goes back into the blog and helps to keep it running. Thank you.
Like us on Facebook – Tweet us on Twitter – Pin us on Pinterest