The Scribe by A. A. Chaudhuri – Book Review
The Scribe by A. A. Chaudhuri – Book Review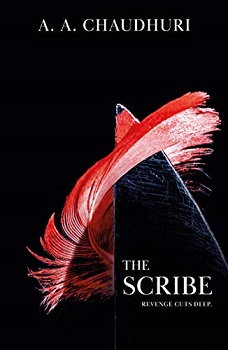 The Scribe
Kramer & Carver Thriller Book One
Author – A. A. Chaudhuri
Publisher – Endeavour Media
Pages – 352
Released – 8th July 2019
ISBN-13 – 978-1839010019
Format – ebook, paperback
Reviewer – Stacey
Rating – 3.5 Stars
I received a free copy of this book.
This post contains affiliate links.
Making it as a lawyer has always been a cutthroat business.
A killer is targeting former students of The Bloomsbury Academy of Law. The victims – all female – are gruesomely butchered according to a pattern corresponding with the legal syllabus. Even more disconcerting are riddles sent by the killer to investigating officer, Chief Inspector Jake Carver, offering clues as to who is next and where they will die.
Up-and-coming lawyer Madeline Kramer, a former classmate of a number of the slain, soon finds her life turned upside down by the savagery. And when she decides to help Carver track down the killer, she places herself in mortal danger. Can Maddy and Carver unscramble the complex riddles and save the lives of those destined to die?

The book opens with the murder of young law student Sarah Morrell. Sarah converses with the killer and seems to know who he is, an ex-client of the law firm she is currently working at. The killer is out for some kind of revenge and carves the word 'Contract' into her abdomen.
DCI Jake Carver is in charge of the case and it's not long before more law students are being killed. There is a serial killer on the loose and he seems to be targeting the students, but why?
With the help from lawyer Madeline (Maddie) Kramer, can the two solve the murders and bring the killer to justice?
The book began exceptionally strongly and I really thought that I was going to be enthralled and held to the pages, however, there were a few things within the first few chapters that made me roll my eyes. From DCI Carver making an off the cuff remark about a double murder before we are even told that a second person has been killed on the same night as Sarah was, to the police releasing details about the murders to the public within four hours of their bodies being found and giving the waiting journalist the names of the victims, where they were found, their professions and details of how one of them was killed – Would this really happen in real life?
The other thing that bugged me was Maddie found out about the deaths at her workplace via the news on TV her first thought was how ruggedly handsome with a strong square jaw DCI Carver was and that she could imagine his deep gravelly voice. I don't think anyone finding out one of their colleagues has just been killed would first think how gorgeous the DCI on the case was.
Whilst I do understand this is a work of fiction, in a thriller you have to keep it real to engage the reader and put them into a thrilling mood and make them believe that the story is real. At this point, I actually contemplated giving up reading the book but in the end, I decided to carry on and see where the rest of the plot took me.
I enjoyed the thrill of the chase and the handling of the cases and the riddles. The two main characters worked well together, although I couldn't take to Maddie and was unsure why a DCI would need so much help from a lawyer on murder cases.
I found The Scribe hit and miss. There were chapters I really enjoyed and then there were sections that I felt didn't need to be there. Overall, looking back I did enjoy the plot and I was intrigued enough to keep reading, plus DCI Carver turned out to be a great character that I enjoyed getting to know and watch him work.
Book Reviewer – Stacey
---
Purchase online from:
---
About the Author

A. A. Chaudhuri is a former City lawyer. Once a highly ranked British junior tennis player, she went on to gain a degree in History at University College London, then trained as a solicitor and worked for several major London law firms before leaving law to pursue her passion for writing.
In addition to books featuring the feisty Maddy Kramer, she has written four stand-alone novels, including racy thriller, Illicit Retainers, and political thriller, The Darker Side of White. She lives in Surrey with her family.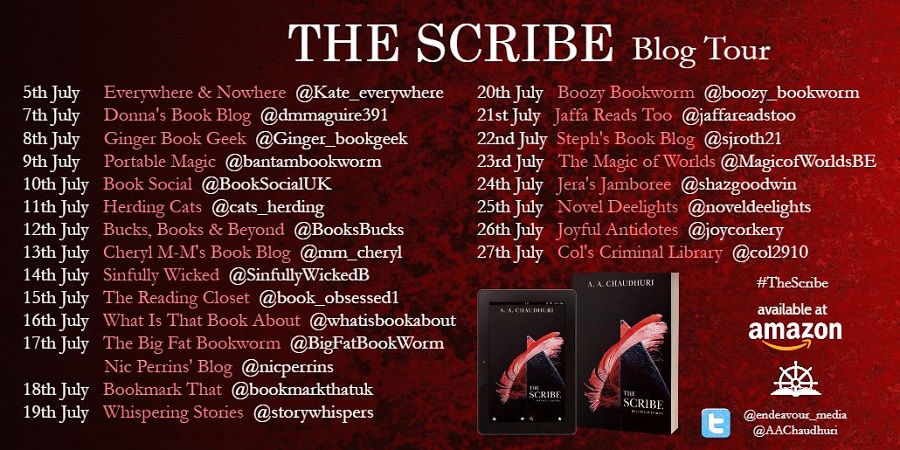 ---
What did you think of the book? Share your thoughts in the comment section below!
---
The above links are affiliate links. I receive a very small percentage from each item you purchase via these link, which is at no extra cost to you. If you are thinking about purchasing the book, please think about using one of the links. All money received goes back into the blog and helps to keep it running. Thank you.