The Shakespeare Conspiracy by Bruce Hutchison – Book Review
The Shakespeare Conspiracy by Bruce Hutchison – Book Review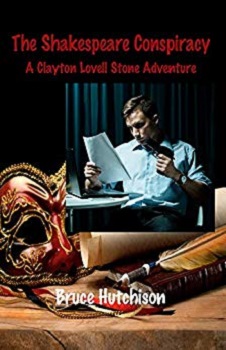 The Shakespeare Conspiracy
A Clayton Lovell Stone Adventure
Author – Bruce Hutchison
Publisher – Createspace
Pages – 384
Released – 8th August 2019
ISBN-13 – 978-1477405048
Format – ebook, paperback
Review by – Clive
Rating – 3.5 Stars
I received a free copy of this book.
This post contains affiliate links.


A gripping, historical fiction, murder mystery. When Clayton Lovell Stone's estranged girlfriend, Tracy Griffith, ends up murdered — two men bludgeoned to death in the process — and Stone receives a belated bloodied postcard with a manuscript page attached, he follows the trail of her killers and unearths a conspiracy hatched four hundred years ago to disguise the true authorship of the Shakespeare plays and keep the Queen on her thrown and the true author's neck attached to the rest of his body.
From Stratford-On-Avon, to the Shakespeare theater at Oxford University, to the tombs of Westminster Abby in London, Stone becomes immersed in the intrigue and tangle of a four-hundred-year-old Shakespeare conspiracy, and in a current conspiracy to keep the old one secret. This present day murder/mystery/adventure centers around actual historical evidence that Shakespeare was not, in fact, the author, and that the four-hundred-year-old conspiracy described actually happened.

The theory that William Shakespeare did not write the works that are attributed to him is not a new one and strong arguments have been made on both sides for at least 170 years. In The Shakespeare Conspiracy Bruce Hutchinson has taken this discussion into a contemporary setting to produce an action thriller with suggestions that there is more to it than a mere academic argument. Each chapter starts with an epigraph; a relevant Shakespeare quote and it is clear that the author has a knowledge and love for his subject.
The character of Clayton Lovell Stone is a classic all-action hero. He is physically strong, apparently good looking, academically bright and of course personally flawed. I loved the descriptions of his home in a former railway signal box and of his 1957 convertible car. The story is told in the third person with events viewed mainly from his perspective but also from the perspectives of Tracy and others. The action scenes are lively and the climax is exciting with a few surprises thrown in.
Indeed, there is everything here that a contemporary thriller reader across the world would need. Unless they live in England! Most of the action is set in the UK, yet it is barely recognisable as the country that I have lived in all my life.
Bruce Hutchison is American, his hero and Tracy are also American so it is understandable that the book should be written in American English and that they should use the American names for everyday objects. But that should not be the case when relaying the speech and thoughts of English protagonists.
The "England" that Hutchison portrays is sometimes Dickensian and sometimes set in the mid-1950s. Yet there are cell 'phones and data sticks so it must be contemporary. I have sympathy with the challenges of setting a story in an unfamiliar country and I was able to smile at some of the errors. Sadly, at other times I was embarrassed for the author and on occasions I felt close to insulted.
My notes are lengthy but some of the real howlers were a village shop selling pig knuckles, a policeman with the rank of Lieutenant, a suggestion that we still love to watch Benny Hill and an English woman saying "It's hard to get a good steak over here, everything's mutton". With unlimited resources available from the Internet, many of these details can now be checked within seconds.
Returning to the plot there was intriguing code mentioned two or three times early in the book that appeared to be a clue but as far as I could tell this was never explained. If you do read the book and spot something that I missed then please tell me.
So how do I rate The Shakespeare Conspiracy? If you are not too familiar with the UK or are happy to consider that Shakespeare lived in a fictitious country then take it as a four star read. If you are English you may wish to consider your blood pressure before buying this book. On balance three and a half stars seems fair.
Book Reviewer – Clive
---
Purchase online from:
---
About the Author

After years as a practicing clinical psychologist, I have recently turned my attention to a fantasy life of writing novels. Clayton Lovell Stone is my current alter ego who stands over my shoulder and dictates as I write down his adventures. When a woman recently asked me what I do, I told her I write thriller novels. I said I spend a good amount of time thinking of new ways to kill people and get away with it. Without hesitation, she replied, "Isn't that nice." Well, I suppose it is. But I also have to figure out ways to get Stone into trouble and then wiggle his way out of it before he meets his own demise.
In my real regular life, I graduated with a Master's Degree from Stanford University and a Ph.D. in psychology from the University of Maryland. I was licensed to practice in Maryland, Delaware, and New Mexico. For many years, I was Chief Psychologist at a inpatient mental health center. I taught counseling and therapy in the Washington College Graduate Psychology Department and had my own private practice in Easton, a small town Maryland's Eastern Shore.
So who am I now? Who am I really? As any good therapist would tell you, that keeps evolving. I would say, I'm going with the flow, trying to avoid as many rocks and obstacles as I can, and enjoy the ride as I go along. More to come.


---
What did you think of The Shakespeare Conspiracy? Share your thoughts in the comment section below!
---
The above links are affiliate links. I receive a very small percentage from each item you purchase via these link, which is at no extra cost to you. If you are thinking about purchasing the book, please think about using one of the links. All money received goes back into the blog and helps to keep it running. Thank you.
Like us on Facebook – Tweet us on Twitter – Pin us on Pinterest