The Sleeping Season by Kelly Creighton – Book Review
The Sleeping Season by Kelly Creighton – Book Review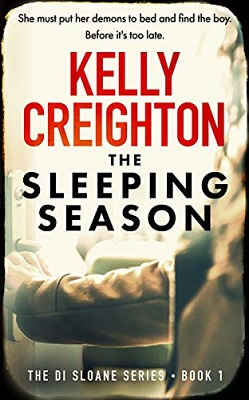 The Sleeping Season
DI Sloane Series Book One
Author – Kelly Creighton
Publisher – Friday Press
Pages – 278
Released – 27th March 2020
ISBN-13 – 978-1708710927
Format – ebook, paperback
Review by – Linda
Rating – 4.5 Stars
I received a free copy of this book.
This post contains affiliate links.


Someone going missing is not an event in their life but an indicator of a problem.
Detective Inspector Harriet Sloane is plagued by nightmares while someone from her past watches from a distance.
In East Belfast, local four-year-old River, vanishes from his room.
Sloane must put her own demons to bed and find the boy. Before it's too late.

The first two pages of The Sleeping Season completely drew me in and I knew this was a book I was not going to want to put down.
The book starts with snippets from Detective Inspector Harriet Sloane, known as Harry, past. We then meet Harry in the present day as she is called into work as a four-year-old boy has gone missing from his bedroom. That was it, I was drawn in hook, line, and sinker!
This was a heart-rendering story that played with my emotions. All the characters were very well described, as were the description of the scenes and places, so much so that I could easily visualise them all.
The book was not just about the missing boy but also Harry's private life, her past, and her family. All the details made me feel like I knew her and why she behaved and acted the way she did.
The book kept me guessing right to the very end, I had no idea where it was going. I was shockingly surprised when all was revealed.
I really enjoyed all the elements of this book, even if I was saddened in parts as these parts made it even more real. I will definitely recommend The Sleeping Season and it suits its thriller genre. I can't wait to read more books from author Kelly Creighton in the future.
Book Reviewer – Linda
---
Purchase online from:
---
About the Author

Kelly Creighton is a Northern Irish novelist, crime writer, short story writer and poet. The first book in her Belfast based police procedural series (DI Harriet Sloane) will be published in spring 2020.
BANK HOLIDAY HURRICANE (September 2017, Doire Press), Kelly's debut short story collection, was longlisted for the Edge Hill Prize and shortlisted for a Saboteur Award.
THE BONES OF IT (May 2015, Liberties Press) was the San Diego Book Review novel of the year 2015 and longlisted for the 2016 Kate O'Brien Award.
In 2013, Lapwing Publications published Kelly's debut poetry chapbook, THREE PRIMES.
In 2014 she founded The Incubator, an online literary journal, and co-founded the Square Circle Writers' Group in Newtownards, Co. Down. She lives with her husband, two daughters and two sons, and teaches creative writing to community groups and schools.



---
What did you think of The Sleeping Season? Share your thoughts in the comment section below!
---
The above links are affiliate links. I receive a very small percentage from each item you purchase via these link, which is at no extra cost to you. If you are thinking about purchasing the book, please think about using one of the links. All money received goes back into the blog and helps to keep it running. Thank you.
Like us on Facebook – Tweet us on Twitter – Pin us on Pinterest