Things in Jars by Jess Kidd – Book Review
Things in Jars by Jess Kidd – Book Review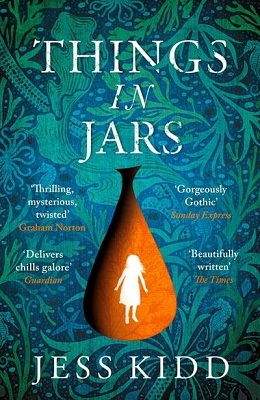 Things in Jars
Author – Jess Kidd
Publisher – Canongate Books
Pages – 416
Released – 4th April 2019
ISBN-13 – 978-1786893765
Format – ebook, paperback, hardcover, audio
Review by – Stacey
Rating – 5 Stars
I received a free copy of this book.
This post contains affiliate links.
London, 1863. Bridie Devine, the finest female detective of her age, is taking on her toughest case yet. Reeling from her last job and with her reputation in tatters, a remarkable puzzle has come her way. Christabel Berwick has been kidnapped. But Christabel is no ordinary child. She is not supposed to exist.
As Bridie fights to recover the stolen child she enters a world of fanatical anatomists, crooked surgeons and mercenary showmen. Anomalies are in fashion, curiosities are the thing, and fortunes are won and lost in the name of entertainment. The public love a spectacle and Christabel may well prove the most remarkable spectacle London has ever seen.
Things in Jars is an enchanting Victorian detective novel that explores what it is to be human in inhumane times.

Bridie Devine is a female private detective in the Victorian Era, 1863 to be precise when females were more known to be housewives or maids. She is asked by the physician of Sir Edmund Athelstan Berwick to find his secret young daughter, Christabel, who has been kidnapped, as he doesn't want the police involved.
Bridie travels to the estate of Sir Edmund to look for clues taking with her Ruby Doyle, deceased champion boxer, who Bridie, for some reason, can see and speak to. At the house they come across snail shells, wet patches on the floor shaped like a body and a mist had descended inside and out of the house. She is informed that Christabel is no ordinary girl and that she has the power to read your memories and make you do things against your wishes.
Bridie also finds a jar with a strange deceased baby inside. As the days roll on Bridie must use all of her skills and knowledge to find Christabel and fast. Who would want to kidnap a young child? Why was she kept a secret? And is she really the offspring of Sir Edmund or did he bring her back from one of his travels?
Things in Jars is an atmospheric book that has one of the best female sleuths I have had the pleasure to read about. This genre of historical fiction is my favourite and I loved every minute of the book, including the supernatural element to it.
Bridie isn't your typical female from the 1800s, she is clever, smart, witty, smokes a pipe, and is pig-headed sometimes too She also has one hell of a dry sense of humour. I also loved Ruby's character, he knew he was deceased and yet felt sorry for himself that only Bridie could see him. The pair made a great team, although I was hoping that she would use him a little more, such as when she came across a room she wasn't allowed to enter, surely she could of sent a ghost to have a snoop around and report back to her rather than trying to persuade someone to let her in.
There were chapters that were set twenty years earlier in which you discover information about Bridie as she was growing up and her previous profession, which has helped her in her detective skills ever since. It was lovely to get some backstory about her.
The book is dark and has a Gothic feel to it. I was intrigued by the plot which reminded me as a cross between Sherlock Holmes and Randall and Hopkirk Deceased. I got to the end with a heavy heart as I didn't want it to finish. The book is a little strange, but I love things that are different. I do hope that there is going to be a sequel coming soon.
Book Reviewer – Stacey
---
Purchase online from:
---
About the Author

Jess Kidd was brought up in London as part of a large family from county Mayo and has been praised for her unique fictional voice. Her debut, Himself, was shortlisted for the Irish Book Awards in 2016. She won the Costa Short Story Award the same year.
Her second novel, The Hoarder, published as Mr. Flood's Last Resort in the U.S. and Canada was shortlisted for the Kerry Group Irish Novel of the Year 2019. Both books were BBC Radio 2 Book Club Picks.
Her latest book, the Victorian detective tale Things in Jars, has been released to critical acclaim. Jess's work has been described as 'Gabriel García Márquez meets The Pogues.'




---
What did you think of Things in Jars? Share your thoughts in the comment section below!
---
The above links are affiliate links. I receive a very small percentage from each item you purchase via these link, which is at no extra cost to you. If you are thinking about purchasing the book, please think about using one of the links. All money received goes back into the blog and helps to keep it running. Thank you.