Death of a Lie by Peter Harper – Free Promo
Death of a Lie by Peter Harper – Free Promo
Sponsored Post. Today we welcome back author Peter Harper to Whispering Stories with his Promotional Post for his book 'Death of a Lie', which was released on 21st August 2019. His book is currently free on Amazon Kindle until the 21st January 2020.
Death of a Lie
Author – Peter Harper
Pages – 434
Release Date – 21st August 2019
ISBN 13 – 978-1687703798
Format – ebook, paperback

1944, and a Lend-Lease B-25 with its Soviet aircrew falls from the sky above Timişoara, Romania. Andrei Bălcescu, while camping out that night on his father's smallholding, finds a battered folder amidst the plane's wreckage. Fifty years later, Andrei's adopted son, Lucian, rediscovers the folder and its eight pages of encrypted material in a garden shed. He visits a childhood friend, who makes a start on cracking the code. Barely a week later, Lucian suspects he is being followed by persons unknown.
Present day, and Lucian's daughter, Shani Bălcescu, a promising Oxford academic, continues to search for information on her family. When she receives a text from an individual claiming to have known her parents, curiosity takes her to Timişoara, where she soon regrets her impulsive nature. Witness to the aftermath of a vicious murder, and hearing that both Oxford and her home city of Prague have been 'visited', Shani knows that to leave Romania would prove fatal without first piecing together her father's movements days before she was born.
What reviewers' are saying:
– Each chapter presented a new mystery that my brain was itching to solve. (5 Stars)
– Quality characterization throughout in particular our spunky heroine (4 Stars)
– The story was intricate, which took a sophisticated imagination (4 Stars)

---
Purchase online
Death of a Lie is FREE on Amazon between the 17th January 2020 until 21st January 2020, so grab a copy quick!
---
About the Author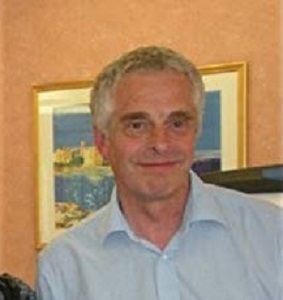 Peter Harper works mainly as a member of staff at a post-graduate college in Oxford, UK. He became captivated by creative writing while toying with a short story, using the first person. He quickly realised, however, that he was more suited to the third person, particularly when it came to the project he had in mind, a character-driven story with topical global themes, which would nonetheless slot into the thriller genre – the novel in question being Cascade, the prequel to Death of a Lie.
He dedicated Cascade to the memory of his father – whose worldly insight, he says, essentially gave him the building blocks for his political and philosophical outlook.


---
Share your thoughts on Death of a Lie in the comment section below!
---
*This is a sponsored post