Up To I Do by Samantha March – Book Review
Up To I Do by Samantha March – Book Review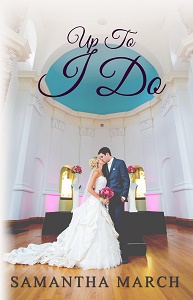 Up To I Do
Author – Samantha March
Publisher – Marching Ink LLC
Pages – 275
Release Date – 29th July 2015
Format – ebook, paperback, audio
Reviewer – Jodie
I received a free copy of this book
Contains Affiliate Links

Emerson Sinclair, twenty-seven year old hotel heiress, has said yes. With just over a year to plan her extravagant, over the top nuptials to Logan Worthington, it's all hands on deck with the wedding plans.
A Sinclair marrying into the Worthington family is the talk of their small New Hampshire town, and ideas include filming the wedding for a TV segment. But as the items get checked off the list, plans start to go … not as planned. From not getting a designer dress to a selfish bridesmaid and unaccountable best man, Emerson is afraid her wedding will be more a joke than anything.
When both her mother and sister seemingly begin to lose interest in her wedding plans in favor of their own personal lives, Emerson fears her big day will turn into the forgotten wedding. With the pressure to pull off a beautiful and elegant event that everyone expects from their respectable families, Emerson starts to forget the reason why she is saying I Do in the first place.
But her spirited Grams is there to make sure neither happens. With her help and guidance, Emerson not only has her wedding plans back on track, but she remembers the reason why they are going through the stress of wedding planning – because at the end of it all she gets to marry her true love, and marriage is defined by more than a wedding.

After saying 'yes' to Logan Worthington's marriage proposal, Emerson Sinclair spends a year planning the wedding of her dreams. With endless funds at her disposal, she can have the best of everything. But can money buy her happiness?
What begins as a fun and exciting adventure soon turns into a stressful and overwhelming experience for Emerson. She has several 'bridezilla' moments; over her dress, about more than one of the bridesmaids, and of course with Logan. There is one person who manages to keep Emerson's feet on the ground – Grams.
Grams is Emerson's grandmother, and ultimately, one of her best friends. Wise and down to earth, despite her immense wealth, Grams helps Emerson to realise what is important – the love, happiness, and union of two people on a very special day. Emerson learns from her that money isn't everything and having the most expensive designer dress doesn't mean it's the best one just because people will know who made it and how much it cost. Grams reminds Emerson to listen to her heart and do what she truly wants to do – not what others expect her to do, and she soon comes to realise the importance of her friends and family.
Emerson goes through many emotions in the run up to her wedding. Although she is a very likeable character, on occasion she appears brattish and spoilt. She gets upset when her mother has exciting news about events in her own life. Emerson worries that her mother will be distracted and become less interested in the wedding plans. Emerson does realise her mistakes and makes up for them, which I feel makes her appear more human. However, making one of the bridesmaids wear a wig because she didn't want the bridesmaid's red hair clashing with the bridesmaid dress was a little surprising and disappointing to read. It was a shallow side to Emerson's character that was a real shame.
Another minor flaw for me was the frequent absence of the wedding planner. She was barely there and I found Emerson organising the majority of the preparations. Perhaps that was March's plan though? It put more pressure on the bride-to-be thus giving more to the story.
There are a number of characters in the story and at first I felt perhaps too many to remember. However, each character is so unique that it didn't become a problem. I always picture the characters in my head and sometimes, despite descriptions, they stay the way I'd originally imagined. I envisaged Emerson's mother to look like Judy Geller from Friends (Monica and Ross' mother) and I had Blake Carrington from Dynasty down as Emerson's father.
The hashtags at the beginning of each chapter were a welcome and modern touch without giving the game away for what was to come. It made a nice difference to numbers. I also felt they teased you enough to want to continue reading.
The story had my attention from the beginning and I found it difficult to put down. It was well written with good important themes and lessons running throughout. I would certainly recommend reading this book. It was funny and heart-warming with a feel-good factor that love conquers all.
Book Reviewed by Jodie
Purchase Links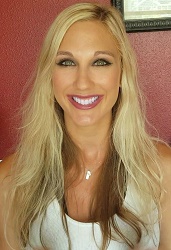 Samantha March is an author, editor, publisher, blogger, and all-around book lover. She runs the popular book/women's lifestyle blog ChickLitPlus, which keeps her bookshelf stocked with the latest reads and up-to-date on all things health, fitness, fashion, and beauty related.
In 2011, she launched her independent publishing company, Marching Ink, and has four published novels— "Destined to Fail", "The Green Ticket", "A Questionable Friendship", and "Up To I Do".
When she isn't reading, writing, or blogging, you can find her cheering for the Green Bay Packers. Samantha lives in Iowa with her husband and Vizsla puppy.