The Writing Life of: Fiona Veitch Smith
Fiona Veitch Smith
This week on 'The Writing Life of:' I am thrilled to be interviewing author Fiona Veitch Smith. Fiona will be sharing with us detail of her writing life, telling us all about her latest book 'The Jazz Files', which was released on 17th September 2015 and answering a few fun questions too. Post contains affiliate links.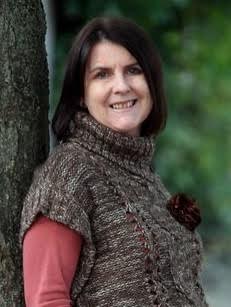 Formerly a journalist, Fiona Veitch Smith is a writer of books, theatre plays and screenplays.
Her children's picturebooks, the Young David series, are now published by SPCK Publishing. Her adult mystery series set in the 1920s, Poppy Denby Investigates, is published by Lion Fiction. The first book in the series, 'The Jazz Files', is available now.
She lives with her husband, daughter and two dogs in Newcastle upon Tyne where she lectures in media and scriptwriting at the local universities. She loves gardening, eating cheesecake, practising Pilates and playing jazz clarinet – not all at the same time.
---
1) Do you remember the moment you decided that you would like to become a writer?
I don't think there was a 'moment' – like a conversion experience. For as long as I can remember I have always enjoyed making up stories. From my early teens I decided I wanted to study journalism and went on to study it at university. I always wanted to be a professional journalist, not an author or scriptwriter.
2) How did you go about following your dream?
Throughout my twenties I wrote theatre scripts then when I was around 30 – and working full-time as a journalist – I tried writing my first novel. I soon became hooked and realised I would actually like to do this as a career.
So I started working part-time as a journalist and part-time trying to make a living out of creative writing. 15 years later I'm still doing it.
Ten years ago I did an MA in Creative Writing at Northumbria University (prose and script). I now teach on the course. My 'dream' of being published has always been tempered by my need to make a living. However, with three publishing deals signed in the last year, I'm hoping I can work less on writing / editing jobs I have to do simply because they pay and ones that I actually want to do.
3) Is there a particular author that inspires you?
There are so many. However, to return to the question of 'the moment' I do recall reading Ernest Hemingway's "A Moveable Feast" and thinking for the first time 'I wonder if I could do this?' I love the journalistic economy of his prose style.
On the other end of the scale, however, I adore Andrea Levy and the beauty of her rich, writing style. As far as playwriting goes, Arthur Miller and Caryl Churchill both inspire me.
4) What is your average writing day like? Do you have any strange writing habits?
I lecture 2 – 3 days a week at university during the autumn semester so don't do much writing then – but I do keep on researching.
But when I'm not lecturing I'm in full-on writing mode. If I'm approaching a deadline I will wake at around 6.30am, get a cup of coffee and climb back into bed. Then I will write until my daughter gets up at 7.30, get her ready for school then come back and write until around 12 when I take the dogs for a walk.
I'll come back, have a bite to eat then write until 2 or 2.30, depending on school pick up time that day. I then have a snooze – plotting time, I call it – then pick my daughter up from school. After that I will try to cram in another hour or so of writing until my husband comes home. I don't write at night but I do sometimes write on weekends.
All my creative writing is done in bed – even in summer – with a hot water bottle on my feet when it's cold (as I live in England, that's most of the time).
My non-creative writing, lecture prep and admin is done in the study at a 'proper desk – with no hot water bottle. I have two different computers for two different kinds of output. I cannot have music on when I'm working.
5) Do you write Longhand, Type writer, Computer?
Computer. I use plain old Word. I tried Scrivener and a couple of other novel writing programmes, but they are too distracting.
When I'm in the early planning stages of a book / play I make hand-written notes in a notebook, never on the computer. When I go to the computer it's because I'm ready to write 'properly'.
6) From all your books, do you have a favourite character?
Rollo Rolandson, the editor from The Jazz Files. He makes a reappearance in book 2 as well … he is a New Yorker who wins a London newspaper in a poker game. He has dwarfism and yet is still a giant of a man. He is funny, intelligent and just a bit of a rogue. I would love to meet him in real life and he's a fabulous mentor to my protagonist, Poppy Denby.
7) Do you plot your books completely before hand or do you let your imagination flow whilst in the writing process?
Not completely, no. But I do like to plot. I pretty much know where the book is going to go before I start writing as I spend hours on end fantasising scenarios and storylines. So you could say the imaginative work mostly takes place in my head.
I start out with a fairly clear outline, but this can and does sometimes change as I go along and new characters insert themselves into the story. So I write, I stop, I plot, I write again … then I go back and rewrite sections with the new information that has emerged.
This is particularly important when writing mysteries, such as the Poppy Denby Investigates series, that require very tight plotting.
Concerning your latest book: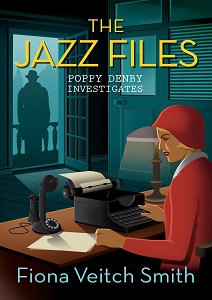 The Jazz Files
Poppy Denby Investigates
Author – Fiona Veitch Smith
Publisher – Lion Fiction
Pages = 321
Release Date – 17th September 2015
Format – ebook, paperback

"It stands for Jazz Files," said Rollo. "It's what we call any story that has a whiff of high society scandal but can't yet be proven… you never know when a skeleton in the closet might prove useful."
Set in 1920, The Jazz Files introduces aspiring journalist Poppy Denby, who arrives in London to look after her ailing Aunt Dot, an infamous suffragette. Dot encourages Poppy to apply for a job at The Daily Globe, but on her first day a senior reporter is killed and Poppy is tasked with finishing his story. It involves the mysterious death of a suffragette seven years earlier, about which some powerful people would prefer that nothing be said…
Through her friend Delilah Marconi, Poppy is introduced to the giddy world of London in the Roaring Twenties, with its flappers, jazz clubs, and romance. Will she make it as an investigative journalist, in this fast-paced new city? And will she be able to unearth the truth before more people die?
Have a read of our five star review of 'The Jazz Files'

8) How long did it take to get from the ideas stage, to the date of publication?
18 months
9) Did you suffer from writer's block at any stage? How did you overcome it?
I know other writers do, but I never have.
10) How did you come up with the name(s)for your lead character(s)?
The name 'Daisy Denby' popped into my head at the very same time as the idea to write a mystery series about a suffragette reporter sleuth.
However, after a few weeks of false starts I decided to set the story in 1920 rather than 1913 and have my heroine investigate the death of a suffragette seven years earlier. The moment it became a 1920's series I realised I would have problems confusing my character with Daisy Dalrymple, by Carola Dunn. It was the double 'D' and the first name Daisy.
So I asked some writing friends for other suggestions. One of them came up with Poppy and I liked it. There is a lot to do with the aftermath of WWI in the book so Poppy seemed to fit.
Regarding Denby, it was the name of a stray cat adopted by some friends of mine. How it managed to jump in my head at the same time as the idea for the series is just one of those creative mysteries!
11) If your book was made in to a film, who would you love to play the lead character(s)?
Definitely Lily James who plays Rose in Downton Abbey. She has the same spirit as my Poppy and very much looks the part. And for Rollo, there would be no one better than Peter Dinklage who plays Tyrian Lannister in Game of Thrones.
12) Did you get anyone in particular to read your work before sending it to the publisher i.e family member, friend etc?
My husband Rod always reads my work first. He's got an eagle eye for typos but also a strong sense of structure and pace. It never surprises me when my editor picks up on something that Rod has already pointed out. I think he's missed his professional calling.
Author Links
www.fiona.veitchsmith.com
www.poppydenby.com
@FionaVeitchSmit
Facebook