Visiting Foxton Locks, Leicestershire
Visit Foxton Locks With Julie
Hello to you all, Whispering Wanders Category is a sort of travel, come information section of our book blog, where we will be sharing with you our adventures, holidays, places of interest, etc.
Last week we had temperatures well over 20 degrees. This weekend it barely got to 7, so it was back in winter garb and wet weather gear for a trip to Foxton Locks, near Market Harborough in Leicestershire.
My only prior knowledge of the canal system was learned in primary school, so this was an education for me and here is a brief summary.
Background
The water transport system played a huge role in the Industrial Revolution in the UK but actually dates back to Roman times, when canals were dug to provide irrigation and land drainage. By the end of the 18th century the system became an almost fully connected network covering the south of England, the Midlands, parts of the north and Wales, moving among other things, coal and iron ore. One horse-drawn barge could carry roughly 30 tonnes of cargo at a time, about ten times the amount of a horse-drawn cart.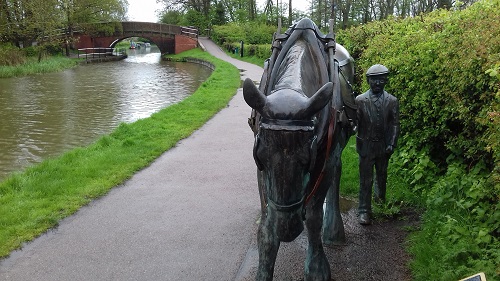 By the mid-19th century, the railway system had improved greatly and was able to provide faster and more economical links and this meant water traffic fell away by two thirds.  In the early days canal boats were crewed exclusively by men but by the end of the 19th century, whole families would live aboard the boats to save living costs.  The industry continued to decline particularly with the advent of good road links. Faced with ever dwindling demand, making a living on the canals was no longer viable.
It seemed the system would become a thing of the past but the late 20th century, saw some canals began a new lease of life. Enthusiasts started a restoration revolution. By the early part of the 21st century, many formerly disused waterways had become a thriving network of fully navigable canals across the country and were being used for leisure rather than trade.  Today the waterways are again buzzing with life, from flora and fauna to narrow boats and their crews.
Waterways such as the Grand Union Canal are busy all year round with sailors enjoying everything life aboard a boat can offer.  At Foxton, over 4,000 boats pass through the locks each year which does at times mean waiting in a queue.
Foxton Locks
In 1810 an Act of Parliament authorised a new section of canal to be built from the Leicestershire and Northamptonshire Canal at Foxton to the Grand Junction Canal at Buckby. It enabled boats and cargoes to travel from the River Thames at Brentford to the East Midlands.  The locks were opened in 1814 and in essence have changed very little since that time. They are kept in good working order by an army of volunteers. For more information please follow the link below:
www.canalrivertrust.org.uk/volunteer/ways-to-volunteer/volunteer-lock-keepers
Locks are needed when a canal has to climb a steep hill.  The locks at Foxton are the staircase design, so the bottom gates from one lock, form the top gates of the next. There are ten gates rising up 75 feet in total.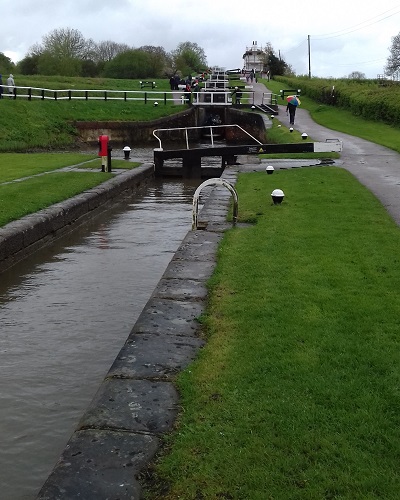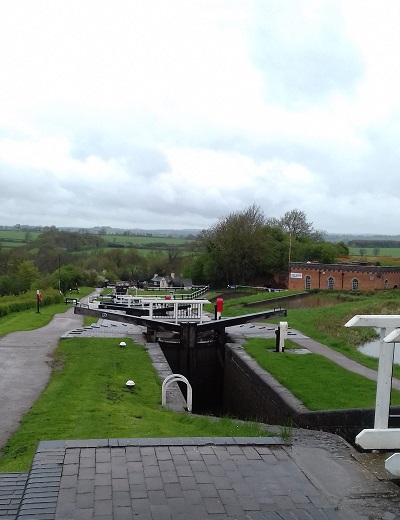 In addition to the lock staircase system, a new innovation was tried at Foxton with the building of an incline plane which was a type of boat lift. It opened in 1900 but there was a fundamental problem with this; whilst it enabled larger boats to travel up this particular incline, they still could not navigate much of the canal system, as other locks were still too narrow. So whilst people such as Charlie Holloway as depicted on the plaque were excited by the lift, in practice, it only lasted ten years.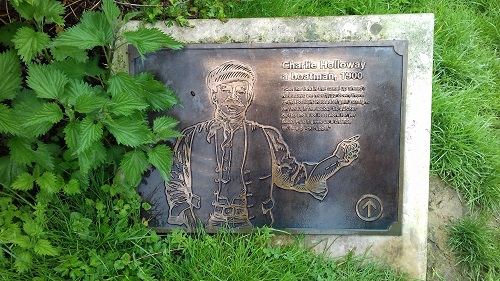 My Visit
We spent over an hour exploring the locks and were fascinated by the 'staircase' process.
There were sluices in each gate which let the water through and some was diverted into side ponds otherwise all the water would flow down to the bottom lock. One member of the crew stayed aboard to control the boat and another crew member operated the locking mechanism by the side, which consisted of a handle or 'windlass' which fitted into the spindle on the paddle. The ground paddles are then slowly opened. Too much water can cause the boat to be thrown against the back gates. All the crews we watched were very efficient and had clearly performed the procedure many times.
One very nice man saw my naïve enthusiasm and let me lend a hand at opening and closing one of the gates!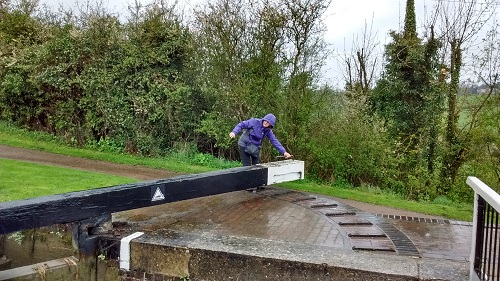 We walked to the top lock, watching narrow boats complete each section on our way up and would have sat a while had there been a little less precipitation.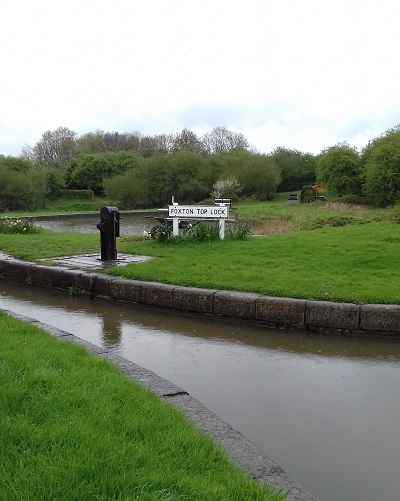 We then walked along the towpath for some distance. The path was good for the most part but muddy in places and would not be easy for a buggy in wet weather. All the boats that passed us were crewed by friendly folk who waved and called out a greeting.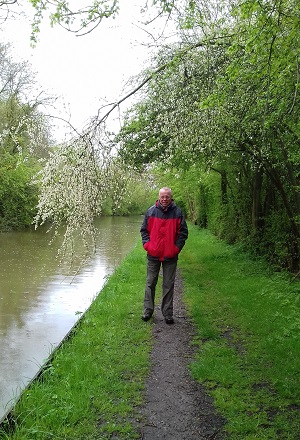 We watched a mother duck as she swam alongside us with her brood of eight chicks. Five behaved beautifully but three kept swimming to the bank and she had to keep veering off track to scold and collect them.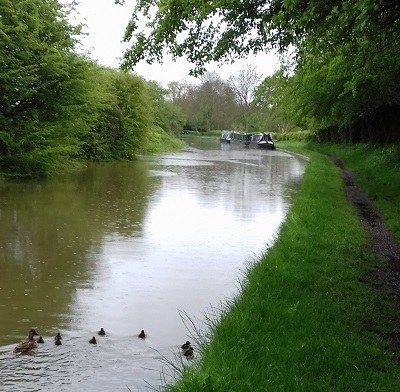 We then turned round but it is possible to complete a five mile circular walk around the canal and surrounding countryside.
www.canalrivertrust.org.uk/enjoy-the-waterways/walking/walking-routes/foxton-and-lubenham-fields-walk
There is also an off road cycle route of 9.6 miles.
www.theaa.com/bike-rides/foxton-locks-and-the-grand-union-canal
There is a museum situated in the old boiler house which enables visitors to explore the history of the lift system, the locks and lives of those that made their living on the canals.
Adult admission costs £3.00 with dogs and children free and the museum is closed in January.  If you are a friend of Canal and River Trust, admission is free.
If you fancy a boat trip to experience the locks for yourself, you can hire a craft or take one of the organised trips (April-October).
Facilities
Upon returning, we had lunch at the Foxton Locks Inn and ate in the conservatory facing onto the canal. The menu was varied and the food very enjoyable and reasonably priced. Service was excellent and it wasn't too busy but on sunny days, I suspect it would be a very popular watering hole so it might be advisable to make a reservation. There is also a newish café very near to the inn.
www.restaurantfoxtonlocks.co.uk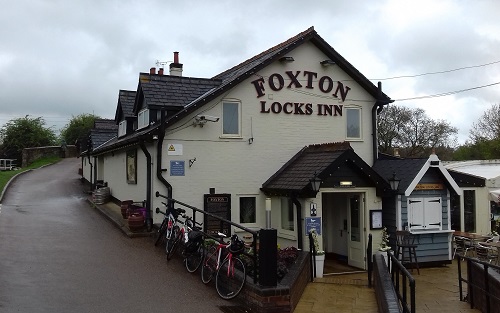 If you are at the top lock, there is the lock keepers cottage café with toilets attached.
In addition at the bottom lock, you can visit the Bridge 61 pub and gift shop.
www.foxtonboats.co.uk/bride-61-pub
If you prefer a picnic, there are lots of grassy areas around but again, these might be well occupied on dry days!
For further information the link below will cover loads of bits I've missed.
www.canalrivertrust.org.uk/places-to-visit/foxton-locks
There are toilets at both long and short stay car parks along disabled toilets and baby changing at the museum. There is disabled parking near the museum.
Canal and Rivers Trust car parks:
Long stay car park costs £2.00 for the day but it is a bit of a walk from there to the locks.
Short stay car park costs £2.50 for four hours which may not be enough on a bright sunny day but is much closer to the locks, so maybe better to go for the £4.00 for the eight hours option.
Charges apply between 9am-5pm. Both car parks are free after 5.00pm but are closed at night.
Directions
Address: Foxton Market Harborough LE16 7RA