The Writing Life of: Alice Ross
Alice Ross
This week on 'The Writing Life of:' I am thrilled to be interviewing author Alice Ross. Alice Ross will be sharing with us detail of her writing life, telling us all about her latest book 'New Arrivals on Lovelace Lane', which will be released on 27th December 2017, and answering a few fun questions too.
So without further ado I'll hand you over to Alice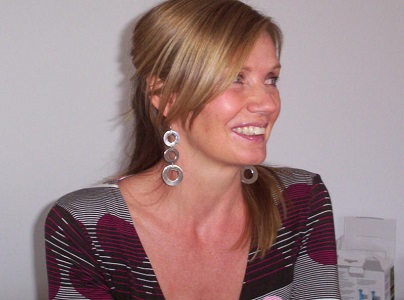 Alice Ross used to work in the financial services industry where she wrote riveting, enthralling brochures about pensions and ISAs that everyone read avidly and no one ever put straight into the bin.
One day, when nobody was looking, she managed to escape. Dragging her personal chef (aka her husband) along with her, she headed to Spain, where she began writing witty, sexy, romps designed to amuse slightly more than pension brochures.
Missing Blighty (including the weather – but don't tell anyone), she returned five years later and now works part-time in the tourism industry.
When not writing, she can be found scratching out a tune on her violin, walking her dog, or standing on her head in a yoga pose.
1) As a child what did you want to do when you grew up?
A ballet dancer. And I still want to be a ballet dancer when I grow up.
2) Who were your favourite childhood authors?
Enid Blyton. I devoured every one of her books – several times over.
3) At what point in your life did you realise you wanted to be a writer?
The idea hadn't entered my head until we moved to Spain when I was in my thirties and I had lots more time on my hands.
4) How did you go about following that dream?
I would say it was more an experiment than a dream. Having made the decision to write a book, I locked myself away for six weeks and rattled off a regency romance. To my utter astonishment, the first publisher I sent it to, accepted it.
5) What is your writing day like? Do you aim for a certain amount of pages or words before you stop for the day?
I generally aim for about three thousand words – and usually keep going until I hit my target. Sometimes it can take me two hours. Other times, the entire day.
6) Did you ever consider writing under a pseudonym?
I do write under a pseudonym. Just the thought of having my own name out there makes me ever so slightly jittery.
7) Do you have any strange habits before starting, or whilst in the midst of writing?
I'm a bit of a Barbara Cartland and tend to have the dog glued to my side.
8) Do you write longhand, typewriter, or on a computer?
Computer.
9) How many books have you written? Do you have any unpublished work?
I've written sixteen books and consider myself extremely lucky that they have all been published. When I look back at my first three efforts, however, I do wonder… HOW?
10) Are you a plotter or a pantser?
A complete and utter pantser. I have tried very hard to plot, but the books never end up anything like my original plan. So now I just start writing and see where it takes me.
11) Do you read all the reviews left for your book(s)?
I don't think there are many authors who haven't received negative comments – we are never going to please everybody. I used to get really upset by any criticism, but am gradually becoming much better at not dwelling on it and letting it wash over me.
Concerning your latest book: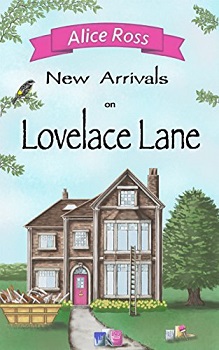 New Arrivals on Lovelace Lane


Lovelace Lane Book Five
Author – Alice Ross
Pages – 95
Release Date – 27th December 2017
Format – ebook

Property developer Chrissie Collins has a plan: to renovate Yew Tree House on Lovelace Lane, sell up, and move onto her next project. But even the best laid plans do not always run smoothly.
With the house seemingly having ideas of its own, her sexy teenage house guest causing all kinds of mischief, and a geeky birdwatcher making a rare find, will Chrissie ever finish the renovation? Or will she realise it's not only the property that requires some TLC?

12) How long did it take you to get from the idea's stage to your date of publication?
My latest book – due out on 27 December – is entitled 'New Arrivals on Lovelace Lane' and is the fifth instalment of the Lovelace Lane series. Because I'm using some of the existing characters in the series – i.e. haven't had to invent a whole new cast – the book has taken me eight weeks to write.
13) How did you come up with the names for your characters?
I have a picture of the character in my head and run through a few possibilities of what might suit him/her bearing in mind their age, personality and background.
14) Can you give us an insight into your main character(s) life?, What makes them tick?
The story centres around a thirty-something, divorced mum of two, called Chrissie. She had her children very young and feels like she's missed out on romance. But when it comes along, she begins to wonder if it's really for her after all.
15) Which was your hardest scene to write?
The hardest part of the book has been building the chemistry between the two main characters, while maintaining the will they/won't they suspense.
16) How did you come up with the title of your book?
I normally lie awake at night mulling over titles for my books. Given this one was part of the Lovelace series though, I only spent about three nights on it.
17) Did you get a family member/friend to read your work before sending to the publishers?
It's always nerve-wracking uploading the final version of a self-published book because you don't have the safety net of the publisher's eye. I always get at least three people to read it before I upload, but still have palpitations when I press the final button.
18) What process did you go through to get your book published?
I use Kindle Direct Publishing for my self-published work. It is fantastic.
19) What did you do once you had written the final word in your book?
Had a full night's sleep.
20) What's next for you, writing-wise?
I'm going to do another short story series set in Scotland. The first instalment will be available for pre-order very soon.
I've also started writing something in the first person, which is a bit different to my usual work. Hoping to make that available in spring.
1) What's your favourite food?
Fish finger sandwiches.
2) If you had a box of crayons and you could only choose one, which colour would you choose?
Pink
3) What movie could you watch over and over again?
Tamara Drewe
4) What would be the top song on your playlist?
Anything by Bon Jovi
5) If you won millions on the lottery, what would be your first purchase?
A new pair of wellies. You can never have enough wellies.
6) A talking duck walks into your room wearing a baseball cap and sunglasses, whats the first thing he says to you?
'Can I have a bite of your fish finger sandwich?'
You can find out more about Alice Ross by visiting the website/social media sites below.
I would like to say a big thank you to Alice Ross for sharing with us details of her writing life, and for a wonderful interview.
Blog posts straight to email via Bloglovin – Like us on Facebook – Follow us on Twitter