The Writing Life of: Gemma Metcalfe
Gemma Metcalfe
This week on 'The Writing Life of:' I am thrilled to be interviewing author Gemma Metcalfe, as part of the blog tour for her new book. Gemma will be sharing with us detail of her writing life, telling us all about her latest book 'Trust Me', which was released on 10th March 2017, and answering a few fun questions too.
So without further ado I'll hand you over to Gemma. Post contains affiliate links.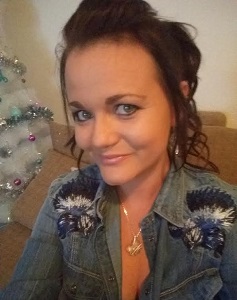 Gemma Metcalfe is a Manchester born author who now lives in sunny Tenerife with her husband Danny and two crazy rescue dogs Dora and Diego. By day, Gemma can be found working as a Primary school teacher, but as the sun sets, she ditches the glitter and glue and becomes a writer of psychological thrillers.
An established drama queen, she admits to having a rather warped imagination, and loves writing original plots with shocking twists. The plot for her debut novel ´Trust Me,´ is loosely based on her experiences as a call centre operative, where she was never quite sure who would answer the phone…
---
1) As a child what did you want to do when you grew up?
I wanted to be an actress. I love acting, and went to drama school for many years. I had a small part on Waterloo Road where I played a bully called Angie!
I also had lots of auditions, including one for Coronation Street and Emmerdale. Acting was a huge passion, and one which I possibly would still pursue in the future.
2) Who were your favourite childhood authors?
The first book I remember reading was ´The naughtiest girl in the school,´ by Enid Blyton. I quickly started reading adult books though, starting with Martina Cole when I was just fourteen!
3) At what point in your life did you realise you wanted to be a writer?
I guess, as well as wanting to become an actress, and a teacher, I also wanted to become a writer from an early age. I loved writing stories, and always had the desire to become a published author. I am now a teacher and an author, so two out of three isn't bad.
4) How did you go about following that dream?
I wrote ´Trust Me,´ which was originally titled ´The Call.´ I think I knew deep down I had something unique and that it had a shot at being published. I was pretty clueless about the process, but I sent it to a number of agents and publishers and was picked up by HQ digital fairly quickly.
5) What is your writing day like? Do you aim for a certain amount of pages or words before you stop for the day?
With ´Trust Me,´ nobody was waiting for it and therefore I wrote it for fun, whenever I wanted and often didn't write anything for weeks at a time.
Obviously with my WIP I am now under strict deadlines and therefore I aim to write approximately 3000 words a week. I am a full-time teacher, so finding the balance isn't always easy.
6) Did you ever consider writing under a pseudonym?
No, I can understand why some people want to, but for me, I like my own name on the cover.
7) Do you have any strange habits before starting, or whilst in the midst of writing?
I eat a lot! Which isn't very good for the waistline! I also always find myself acting out what I'm trying to write too, often resulting in me pulling strange faces.
8) Do you write longhand, typewriter, or on a computer?
I write on a computer. I edit so much as I go along and I honestly cannot understand how anyone could write longhand or on a typewriter.
9) How many books have you written? Do you have any unpublished work?
I have actually only ever written Trust Me, and my WIP which I´m currently 26,000 words into. Before Trust Me, I did attempt a few other novels but they weren't very good!
10) Are you a plotter or a pantser?
Most definitely a panster! I always have a rough plot and an ending, but I enjoy making it up as I go along, I think its more fun.
11) Do you read all the reviews left for your book(s)?
I have read them all yes. It is really amazing to hear the feedback, and I have been so lucky to receive such incredible reviews, over seventy so far which are 5*!
I have received three 1* reviews, but they have not bothered me like I thought they would. I think because the overwhelming majority are incredible, I can see the 1*s for what they are.
The handful of 3* reviews actually affected me more, as I knew they were genuine reviews. However, those reviews have offered constructive feedback, which I have tried to take on board when writing book two.
Concerning your latest book: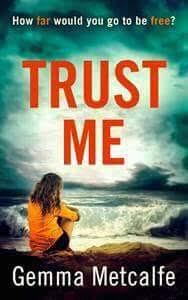 Trust Me
Author – Gemma Metcalfe
Publisher – HQ Digital
Pages – 209
Release Date – 10th March 2017
Format – ebook

One phone call. Two lives. Their darkest secrets.
Lana needs to sell a holiday, fast. Stuck in Tenerife, in a dead end job, she never expected a response quite like Liam's.
Thousands of miles away a phone rings. Liam never intended to pick up, he's too busy choosing the quickest way to die. But at least someone should know the truth before he goes, even if that someone is a stranger.
As time runs out both are drawn to the other, expressing thoughts they never thought they would share.

12) How long did it take you to get from the idea's stage to your date of publication?
Two years! But the majority of that time was writing the first draft. From landing the deal, I was published within six months!
13) How did you come up with the names for your characters?
My two main characters are Lana and Liam. Both names sort of just jumped out at me. I don't really know why I chose them, apart from the fact that they both felt right.
14) Can you give us an insight into your main character(s) life?, What makes them tick?
I think one of the main things readers enjoyed about Trust Me was the characters. The novel is character driven, and both characters, despite having issues, are likeable and readers really root for them throughout. Both of them live for their children, and both are decent, kind people, who make poor life choices.
They are real people, with dreams and fears and a whole host of mistakes in their past. In fact, I never set out to make them so similar at their core, but through the writing process, that is what happened.
15) Which was your hardest scene to write?
I have a huge twist at the end of the book. Everything I had wrote up to that point was geared for the reveal, and therefore when it came to writing it, I was actually shaking. I absolutely wanted to ensure I delivered it at the right time, in the correct way, and therefore writing it was incredibly difficult.
I was so excited when I delivered that jaw-dropping line, and I know many readers have been floored… so I guess I achieved my aim!
16) How did you come up with the title of your book?
My manuscript was originally titled ´The Call,´ because it centres around a call between two strangers. HQ felt that ´Trust Me´ better suited the thriller market, and as the book is also about trust, that fitted in well. At first I didn't like it, but then it grew on me.
17) Did you get a family member/friend to read your work before sending to the publishers?
Yes! My auntie read it and really enjoyed it. She is brutally honest and very fussy with books so I knew I was on to something. I´m not the best speller, so she also proof read it for me before I sent it to the publishers. She had a little chuckle when Id wrote ´Chester drawers´ instead of ´Chest of drawers!´
18) What process did you go through to get your book published?
I was actually pretty lucky. I sent my manuscript off to HQ digital and they signed me on a two-book deal immediately.
19) What did you do once you had written the final word in your book?
I posted about it on Facebook, as up to that moment, nobody (apart from close family and friends) even knew I was writing one!
20) What's next for you, writing-wise?
My WIP (still no name) should be released September/October. I am then out of contract with HQ so I will need to sign another deal with them, which I hope I will be able to do. I have a really great idea for book three which I am really excited. I definitely have the writing bug now, so I will never stop writing.
1) What's your favourite food?
Definitely a Christmas dinner! With pigs in blankets!
2) If you had a box of crayons and you could only choose one, which colour would you choose?
Red!
3) What movie could you watch over and over again?
Titanic
4) What would be the top song on your playlist?
Hey Jude
5) If you won millions on the lottery, what would be your first purchase?
I´d buy my nanna and grandad a bungalow! (so please buy Trust Me as they are old and need one) 😉
6) A talking duck walks into your room wearing a baseball cap and sunglasses, what's the first thing he says to you?
´Bloody Nora I'm goosed!´
You can find out more about Gemma by visiting the website/social media sites below.
I would like to say a big thank you to Gemma for sharing with us details of her writing life, and for a wonderful interview.