The Writing Life of: Lily Mae Walters
Lily Mae Walters

This week on 'The Writing Life of:' I am thrilled to be interviewing author Lily Mae Walters. Lily will be sharing with us detail of her writing life, telling us all about her latest book 'Josie James and the Teardrops of Summer', which was released on 1st June 2018, and answering a few fun questions too.
So without further ado I'll hand you over to Lily Mae Walters.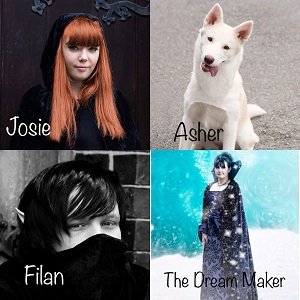 Lily Mae Walters chose her pen name in honour of her beloved grandparents who also star in the Josie James series. She is married with two teenage children, and two huskies that are the inspiration behind Murphy and Asher in the books.
Lily Mae lives in Nuneaton, England and finds herself using local places and even her old school in her stories. Family and friends mean the world to Lily Mae and many will find themselves popping up throughout the series.
Lily Mae also writes for adults under the name of Florence Keeling.
1) As a child what did you want to do when you grew up?
I always wanted to be a vet when I grew up. I love animals and wildlife.
2) Who were your favourite childhood authors?
I read Jill Murphy and The Worst Witch over and over again. I also enjoyed the Famous Five and Secret Seven series.
3) At what point in your life did you realise you wanted to be a writer?
I always enjoyed writing and dreamt of publishing a novel one day but it wasn't until my late thirties that I started to want to write as a career.
4) How did you go about following that dream?
I joined Twitter and started to interact with the writing community and took part in many twitter pitch competitions.
5) What is your writing day like? Do you aim for a certain amount of pages or words before you stop for the day?
I'm a morning writer. I wake up early and while everyone else is still asleep I will try and write at least one chapter a day. This is much harder if I have work. I always like to finish the chapter I'm on.
6) Did you ever consider writing under a pseudonym?
I use my grandparent's names as my pseudonym. Lily is for Lillian, Mae is for Marjorie and my grandfathers were Walter Reginald and George Walter so I used Walter as my surname.
7) Do you have any strange habits before starting, or whilst in the midst of writing?
My only habit is tea, lots and lots. And a quiet house, I really struggle to concentrate if there is any noise.
8) Do you write longhand, typewriter, or on a computer?
I have trained myself to write on a computer instead of with pen and paper.
9) How many books have you written? Do you have any unpublished work?
I have written in total 2 children's novels and 2 adult novels. I have one of each published with the other 2 releasing later this year and in spring. I am also working on a number of other projects.
10) Are you a plotter or a pantser?
I am a complete pantser although with the Josie series I am having to write things down so I don't get mixed up.
11) Do you read all the reviews left for your book(s)?
I love reading my reviews and so far they have all been immensely positive.
Concerning your latest book: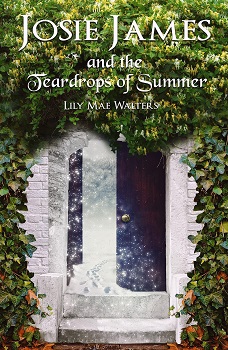 Josie James and the Teardrops of Summer
Author – Lily Mae Walters
Publisher – Crimson Cloak Pub
Pages – 266
Release Date – 1st June 2018
ISBN 13 – 978-1681605357
Format – ebook, paperback

Josie James is an ordinary 13 year old until something extraordinary happens during her summer holidays.
Whist staying at her Great Grandmother's cottage in the country she finds herself swept into the cursed world of Suncroft where it is perpetual winter.
Her new friends believe she could be the Chosen One who it is foretold will lift the curse, but there are more pressing matters.
The Teardrops of Summer – magical crystals that render the owner immortal – have been stolen. Along with her telepathic husky-dog Protector Asher and her new friends, Josie must race to find the Teardrops and prevent catastrophe for their world.

12) How long did it take you to get from the idea's stage to your date of publication?
Josie took a few years to get from ideas to publication. I had the first few chapters but struggled to come up with any ideas for the rest of it so I worked on my adult novels and re-visited Josie with a new perspective.
13) How did you come up with the names for your characters?
Many of my characters in the Josie books are family members and friends. Josie is from my mum's favourite song.
14) Can you give us an insight into your main character(s) life?, What makes them tick?
Josie loves her friends and family. She enjoys music and film and like me as a teenager writes short stories about her friends.
15) Which was your hardest scene to write?
Once I knew where I was going with the book I didn't really find any of the scenes hard to write.
16) How did you come up with the title of your book?
I had the title of the book way before I knew what the teardrops of summer would even be.
17) Did you get a family member/friend to read your work before sending to the publishers?
My close friends read my books chapter by chapter as I write and give feedback after each one.
18) What process did you go through to get your book published?
I queried numerous agents and publishers all without success and was lucky enough to receive a contract through a twitter pitch competition.
19) What did you do once you had written the final word in your book?
I immediately started a new word document for the second book in the series.
20) What's next for you, writing-wise?
The second Josie book is due out in spring and I shall begin writing the third one later on in the year.
1) What's your favourite food?
Biscuits.
2) If you had a box of crayons and you could only choose one, which colour would you choose?
Red, always red.
3) What movie could you watch over and over again?
Harry Potter and The Goblet of Fire.
4) What would be the top song on your playlist?
Currently anything by Shawn Mendes or Charlie Puth.
5) If you won millions, what would be your first purchase?
I would buy my 94 year old Nan a bungalow. She has never owned her own home and struggles with stairs now.
6) A talking duck walks into your room wearing a baseball cap and sunglasses, whats the first thing he says to you?
'Are we going for that swim or what?'
You can find out more about Lily Mae Walters by visiting the website/social media sites below.
@LilyMaeWalters1
Facebook
Instagram
Goodreads

Prize – Win a Signed copy of Josie James and the Teardrops of Summer (UK Only)
*Terms and Conditions – UK entries welcome. Please enter using the Rafflecopter box below. The winner will be selected at random via Rafflecopter from all valid entries and will be notified by Twitter and/or email. If no response is received within 7 days then I reserve the right to select an alternative winner. Open to all entrants aged 18 or over. Any personal data given as part of the competition entry is used for this purpose only and will not be shared with third parties, with the exception of the winners' information. This will passed to the giveaway organiser and used only for fulfilment of the prize, after which time I will delete the data. I am not responsible for dispatch or delivery of the prize.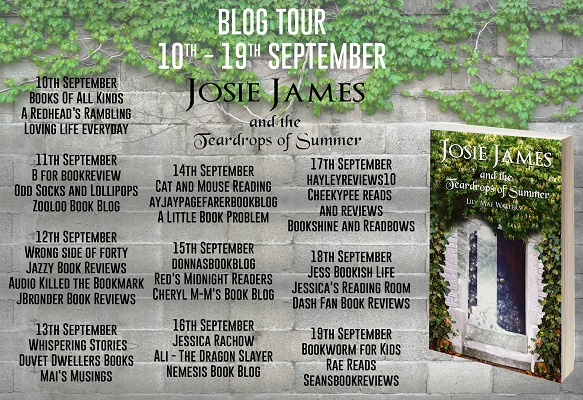 I would like to say a big thank you to Lily Mae Walters for sharing with us details of her writing life, and for a wonderful interview.
Blog posts straight to email via Bloglovin – Like us on Facebook – Follow us on Twitter