The Writing Life of: Debbie Johnson
Debbie Johnson
This week on 'The Writing Life of:' I am thrilled to be interviewing author Debbie Johnson. Debbie will be sharing with us detail of her writing life, telling us all about her latest book 'Christmas at the Comfort Food Cafe', which was released on 23rd September 2016 and answering a few fun questions too.
Post contains affiliate links.
So without further ado, let me introduce you to Debbie.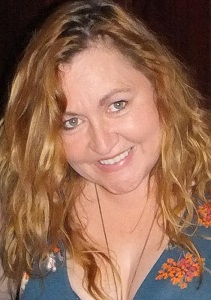 Debbie was born and raised in a small city in the Midlands, where they produced excellent pies, pottery, and people with a perverse sense of humour.
After studying Modern History and Lager at Oxford, she moved to Liverpool, where she has lived for most of her adult life. She worked for the local newspaper, the Liverpool Echo, for 13 years as a reporter, feature writer and columnist. Debbie left the paper in 2005 to go freelance.
In 2010, Debbie entered the Harry Bowling Prize for new writing, for the first chapter of a great idea she had for a book. Quoting – "Journalists are like that: we always have 'a great idea for a book', but get too easily distracted by bright shiny objects, trips to the pub, and repeats of Black Books on the telly to do anything about it."
Debbie won, even-though she genuinely didn't expect to, and had practiced her 'gracious loser' face in advance. Debbie is now the published author of nine books, with number ten being published this month.
In between writing, thinking about writing, and coming up with creative ways to avoid writing, Debbie also enjoy spending time with her human and canine family.
---
1) Do you remember the moment you decided that you would like to become a writer?
I always wanted to be a writer. Writing, and reading, was my escape – I was an only child and very shy, disappearing off into fictional worlds was my main way of coping with a reality that wasn't always brilliant.
My primary school teacher told my mum that's what I'd do when I was older, and he was right – it just took me quiet a long time to get there!
2) How did you go about following your dream?
I followed my dream in a very zig-zagged line! After a few early attempts at writing 'proper' books, I got side-tracked by life. I was working in journalism, so still writing, but also dealing with the usual things – marriage, three kids, bills, elderly parents – which totally took over.
It was only when I was 40 that I thought 'come on, if you're going to do this, do it now – you're running out of time!' I entered a competition called the Harry Bowling Prize with the first chapter of a book, and went on to to win it in 2010.
It's been a long slog since then, but I'm kind of getting there…
3) Is there a particular author that inspires you?
There are many authors I hugely admire and respect – I love crime writers like John Connolly and James Lee Burke and George Pelecanos. But my personal role model is Nora Roberts – she is so prolific, either as herself or as JD Robb, and I always, without exception, find something to love about her stories. She is amazing.
4) What is your average writing day like? Do you have any strange writing habits?
I still do other work as well, like copywriting and PR, so it all has to be balanced out with that. I take my two younger kids (9 and 11) to school at about 8.30, having also kicked out the older kid (18) to get him to college, and start when I get home.
I try to fit as much as I can in between school runs, and over the years have learned how important it is to at least attempt to keep evenings and weekends free – your mental health is more essential than anything else, and I need time to switch off, enjoy my family, walk my dogs, see my friends. I think it's taken me a while to realise that, and although I do still sometimes have to pull an 'all nighter', I am working very hard at being more organised!
I'm very easily distracted though – box sets on TV are my downfall! Over the last year I have sat and watched so many – the whole lot of Grey's Anatomy, Homeland, Walking Dead, Line of Duty, Friday Night Lights – I'm terrible for it!
5) Do you write Longhand, Typewriter, Computer?
I type on my laptop, but try and keep a notebook and pen close at hand for jotting down ideas as and when I get them – often in the middle of the night!
6) From all your books, do you have a favourite character?
That's a hard one. I tend to love whoever I'm writing at the time. But Jane McCartney, a Liverpool-based private investigator from one of my less-known books, 'Fear no Evil', is probably right up there. I can imagine spending nights in the pub with her!
Also, I'd love to meet a wonderful mother figure like Cherie Moon from my Comfort Food Cafe stories.
7) Do you plot your books completely before hand or do you let your imagination flow whilst in the writing process?
I go with the flow. Sometimes all I have to start off with is a title, or a character, or a piece of dialogue – this is quite a scary way to work, and can be a worrying rollercoaster ride for my publishers, but I simply don't seem capable of plotting a story until the characters start to come to life on the page.
Concerning your latest book: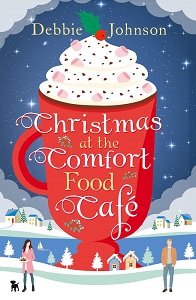 Christmas at the Comfort Food Cafe
Author – Debbie Johnson
Publisher – HarperImpulse
Pages – 208
Release Date – 23rd September 2016
Format – ebook, paperback

Becca Fletcher hates Christmas so much, she's considering getting 'Bah Humbug!' tattooed on her forehead. She has her reasons for being Little Miss Grinch; Reasons that make this the very worst time of year for her.
Now, though, she can't avoid her version of ho-ho-hell – because she's travelling to the Comfort Food Cafe to spend the festive season with her sister Laura, and her family. She's expecting mulled wine, the smell of pine trees, 24-hour Christmas movie marathons and all kinds of very merry torture.
But little does Becca know that the Comfort Food Cafe is like no other place on earth. Perched on a snow-covered hill on a windswept bay, it's a place full of friendship; a place where broken hearts can heal, and a place where new love can blossom. It's a place where Becca's Christmas miracle really could happen – if only she can let it…
Inviting readers new and old to pull up a cosy armchair, Christmas at the Comfort Food Cafe is the novella-length follow-up to the 2016 best-seller Summer at the Comfort Food Cafe.

8) How long did it take to get from the ideas stage, to the date of publication?
Well, this one is a little different, in that it is a novella-length follow-up to my previous book, 'Summer at the Comfort Food Cafe' – so quite a few of the characters and the setting were already there.
The challenge with a follow-up is to balance out the 'recap' element for people who've not read the first one, and provide enough fresh story-line to engage people who are reading it as a sequel.
It's relatively short – around 50,000 words – and that will have taken about two months to write.
9) Did you suffer from writer's block at any stage? How did you overcome it?
I've learned over the years of writing that if I am resisting opening the word document, or I am at a tricky scene, or I simply don't know what is coming next, that I need to just force myself to get on with it. Even if everything I write that day is complete rubbish, I have to push past it – otherwise it can be left for weeks, while I watch another box set and tell myself it'll all be okay in the end!
10) How did you come up with the name(s)for your lead character(s)?
My two leads in these Comfort Food books are sisters, and I simply went for names that seemed appropriate to their ages and backgrounds – they're women in their 30s from Manchester, so it's unlikely they'll be called Anastacia or Hermione! For my male leads, I tend to like short, strong names – Matt and Dan and Sam and Rob, like that.
Cherie Moon got a slightly exotic name because she is a slightly exotic person! I wrote a couple of fantasy books years ago – a bit like True Blood, but all set in modern-day Liverpool – and I had a great deal of fun with those names. A lot of them were Celtic, and I lived in fear of ever having to try and pronounce them in public!
11) If your book was made in to a film, who would you love to play the lead character(s)?
Oooh…I've done the imaginary casting for some of my books, but not this one yet…somehow pretty, but not stunningly, unrealistically beautiful, you know?
Jenna Coleman, maybe, for Becca. And Sam is a hunky blonde surfer dude, so I'll just waste an hour going off and googling someone suitable for that…
12) Did you get anyone in particular to read your work before sending it to the publisher i.e family member, friend etc?
Not usually, no – with my early books, my friend Jane (Costello), who is a very successful author herself, did some read throughs for me, along with a couple of other pals. But these days, I'm a little bit more confident and sort of (almost!) know what I'm aiming for – also, there never seems to be time to get a second opinion! Usually my editor and my agent will be the first people to see it. Then there is a nervous wait…
To find our more about Debbie Johnson, visit the links below.