All I Want For Christmas Is a Reaper by Liana Brooks – Book Review
All I Want For Christmas Is a Reaper by Liana Brooks – Book Review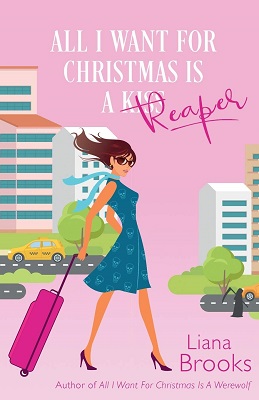 All I Want For Christmas Is a Reaper
Author – Liana Brooks
Publisher – Inkprint Press
Pages – 218
Released – 1st December 2020
ISBN-13 – 978-1922434036
Format – ebook, paperback
Rating – 5 Stars
This post contains affiliate links.


Synopsis
Meet Meredith Kriesmas, forensic accountant who sharpens numbers the way killers sharpen knives-Chicago's very own Grim Reaper of the business world. Whole divisions close in her wake, and her clients pay handsomely for it. But ten minutes into a three-day weekend, Merri craves a new job to sink her teeth into.
A call from an old friend saves Merri's sanity. Can she visit the winter wonderland at Cozy TV studios-known for its heart-warming holiday movies-and take a look at the books? Horror movie mill Slasher Corp just bought the studio-and Cozy might not make it to the final credits.
Merri must dodge the mistletoe, dismember the finances, and disappear before dawn-all while avoiding the Cozy Curse, where no one gets off set single.
No problem there. For Merri, business always comes first. At least, until she meets hot horror hipster CEO Seth Morana, and uncovers the secret he hides…
A sensual stand-alone paranormal romance for everyone who believes people should be loved exactly as they are.
Meredith Kriesmas is a forensic accountant and exceptionally good at her job. People are fired, people go to jail, and many people want to kill her.
Oh, this fun book!! If I had to give it a genre it would be Rom-Com Cosy Mystery Humour with a kick-butt heroine. Brooks writes very strong female leads. You'll love their strength and vulnerability.
I read this one quickly and didn't want it to end. Merri is such a likeable character. She has built up layers and layers of Armour to protect her from harm and humiliation. She would love to lower it and be accepted and loved. But that may lead to heartache.
Seth Morana is super sexy. Again, the author does an amazing job with this character. She gives us hot flirty scenes that are in no way vulgar.
One theme in the story is how women are treated based on their looks and outward appearance. Merri uses this to hide her strength, to sneak in underestimated and move in for the kill. She also uses this disguise to shield herself. If she can hide behind a label, people will not be able to see the real, vulnerable person.
All I want for Christmas is a Reaper is equal parts romance and mystery. I loved it. This is a stand-alone title, but if you want more, look for Liana Brooks' other romance – All I Want for Christmas is a Werewolf.
And these aren't just for Christmas, In fact, Reaper takes place in April.
One little issue I had was the author's footnotes. I read The Kindle version and there was not a hotlink (live link?) to the footnote text found at the end of the book. So, I missed what Brooks wanted to add to the scene.
Definitely give this one a try.
---
What did you think of 'All I Want For Christmas Is a Reaper'? Share your thoughts in the comment section below!
---
The above links are affiliate links. I receive a very small percentage from each item you purchase via these link, which is at no extra cost to you. If you are thinking about purchasing the book, please think about using one of the links. All money received goes back into the blog and helps to keep it running. Thank you.
Like us on Facebook – Tweet us on Twitter – Pin us on Pinterest