Arabella and the Magic Pencil by Stephanie Ward – Book Review
Arabella and the Magic Pencil by Stephanie Ward – Book Review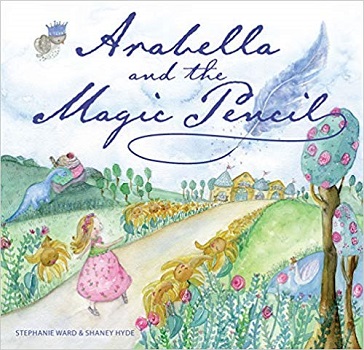 Arabella and the Magic Pencil
Author – Stephanie Ward
Illustrator – Shaney Hyde
Publisher – EK Books
Pages – 32
Released – 12th September 2019
ISBN-13 – 978-1925820010
Format – paperback, hardcover
Review by – Stacey
Rating – 5 Stars
I received a free copy of this book.
This post contains affiliate links.
Arabella is a beloved only child who has everything a little girl could want. That is, until her brother, Avery, the master of mayhem, comes along. While she certainly loves him, she finds that it's sometimes very hard to like him. So she spends her days creating marvelous, magnificent things with her magic pencil, and trying to ignore him. But when he spoils her perfectly proper tea party, she decides drastic action is required and she erases him from her life. Oops! But things aren't the same without him — can she get him back?
Arabella and the Magic Pencil is a charming story, which will appeal to any child coming to terms with a new sibling and to caregivers who are supporting changing family dynamics, as well as those who love fantasy and engaging, alliterative language.

Arabella was the only child of the Duke and Duchess, she was used to being spoilt and getting everything she wanted. By Royal Decree, Arabella was allowed one wish every year. However, Arabella never wished for a sibling, especially not a baby brother.
Her brother Avery was loud and ruined her games. That year Arabella wished for a magic pencil that would bring to life everything that she drew. But when her brother ruins her tea party Arabella uses the pencil on him to erase him. Now, what is she going to do?
For those who have siblings, I think as children we have all been there when a brother or sister has annoyed us so much that we just wanted them to go away and leave us alone. I'm the youngest of three sisters and apparently I was the annoying child who would wander across their board games or leave blackcurrant handprints in their school books, I even stood on my middle sisters toy helicopter to try to reach something high up and smashed it, some 40 years later she still hasn't forgiven me.
This book is about siblings and about understanding that whilst there are tough and annoying moments there are also lots of lovely, happy ones too and that although a child might be upset about their brother or sister they would miss them terribly if there were no longer around.
I love the illustrations and how the colours changed when Arabella had erased Avery to demonstrate how upset and lonely she was, her feelings came across strong and I'm sure children will understand her sorrow too.
This is a beautiful book and would be perfect for a child who is getting a new baby brother or sister. It is very relatable and was such a joy to read and looks superb too. It has an air of magic around it and is very fairy-tale-Esq.
Book Reviewer – Stacey
---
Purchase online from:
---
About the Author

Stephanie Ward is the author of Arabella and the Magic Pencil, illustrated by Shaney Hyde, published by EK Books in September 2019. Her next picture book is due for release in 2020, but it's all under wraps at the moment so stay tuned for details!
After many years in marketing, Stephanie now spends her time writing sweet, silly and sidesplitting stories for children. Too old to blame it on youth, she still hasn't settled down and spends her spare time traveling. Originally from Spokane, Washington in the U.S., Stephanie's wanderlust inspired her to visit all seven continents, live in four countries and become a citizen of three. At present, she can be found in London, England with her husband and young son.
Member of SCBWI, ASA, PNWA, #Newin19 debut author group and a former book reviewer for the Children's Book Council of Australia.





---
What did you think of Arabella and the Magic Pencil? Share your thoughts in the comment section below!
---
The above links are affiliate links. I receive a very small percentage from each item you purchase via these link, which is at no extra cost to you. If you are thinking about purchasing the book, please think about using one of the links. All money received goes back into the blog and helps to keep it running. Thank you.