Box 88 by Charles Cumming – Book Review
Box 88 by Charles Cumming – Book Review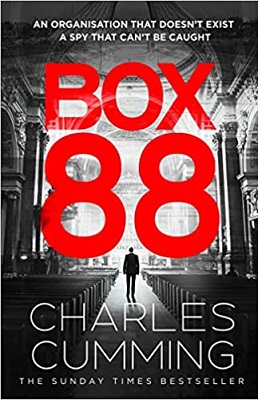 Box 88
Author – Charles Cumming
Publisher – HarperCollins
Pages – 400
Released – 1st October 2020
ISBN-13 – 978-0008200367
Format – ebook, paperback, hardcover, audio
Review by – Stacey
Rating – 4 Stars
I received a free copy of this book.
This post contains affiliate links.


An organisation that doesn't exist.
A spy that can't be caught.
1989: The fall of the Berlin Wall is imminent and the Cold War will soon be over. But for BOX 88, a top secret spying agency known only to an inner circle of MI6 and CIA operatives, the espionage game is heating up.
Lachlan Kite, recruited straight from an elite boarding school, is sent to France – the frontline of a new secret war. Kite is tasked with gathering intelligence on a mysterious Iranian businessman implicated in the tragic Lockerbie bombing. But what he uncovers is even more deadly…
2020: MI5 hear rumours of BOX 88's existence and go after Kite – only for Iranian intelligence to get to him first. Taken captive and subjected to torture, Kite is presented with a simple choice: reveal the truth about what happened in France thirty years earlier – or watch his family die.
Past and present merge, as MI5 and BOX 88 are caught up in a race against time to save Kite.

At a funeral for his old friend Xavier, Lachlan Kite is approached by someone who explains they were a friend of Xavier's and whats to talk business to Lachlan. He arranges for them to travel to a nearby hotel but instead, Lachlan is kidnapped.
MI5 was already watching Lachlan but lost him during the move from the church. When they find the car that Lachlan was initially in messed up inside they know that someone has taken him.
For Lachlan, this whole event started back in the 80s when he was recruited as a secret agent with the task of finding out who caused the Lockerbie bombing but what he found out was far more sinister and people are wanting answers to Box 88.
Box 88 is a political thriller with a difference, it moves back and forth in time between the 80s and Lachlan at university and being recruited to become a spy and the present day and his kidnapping. The kidnappers are ruthless and are willing to go to any lengths to get Lachlan to talk, even putting his wife and unborn child in danger.
The present-day and there are a lot of interrogation scenes in which Lachlan tries to play it cool and to make his captors understand they have the wrong person, but they have been watching him for a while. MI5 is also on his tail. They have been watching him for some time wanting to know what he knows about Box 88, hoping that he would slip up at some point or talk to someone but they never imagined he'd be kidnapped. Now they must find him before it is too late.
The book does jump around a lot between timelines, something I'm not very keen on. I like to know which time period I'm in from the off and sometimes this wasn't made clear. Apart from that, the book had me invested and intrigued to know what Box 88 is and what Lachlan had discovered. Let's just say I felt like an MI5 agent waiting to find out the information.
The pace is fast and the action keeps on coming. It is exciting and there are certainly adrenaline rushes at times. It had me on the edge of my seat more than once. It was a quick read that I enjoyed immensely. It also had an air of nostalgia with it which took me back to my childhood.
Book Reviewer – Stacey
---
Purchase online from:
---
About the Author

Charles Cumming is British writer of spy fiction. His international bestselling thrillers including A Spy By Nature, The Spanish Game, Typhoon and The Trinity Six. A former British Secret Service recruit, he is a contributing editor of The Week magazine and lives in London.




---
What did you think of Box 88? Share your thoughts in the comment section below!
---
The above links are affiliate links. I receive a very small percentage from each item you purchase via these link, which is at no extra cost to you. If you are thinking about purchasing the book, please think about using one of the links. All money received goes back into the blog and helps to keep it running. Thank you.
Like us on Facebook – Tweet us on Twitter – Pin us on Pinterest