Bravo and Elphie by Hagit R. Oron – Book Review
Bravo and Elphie by Hagit R. Oron – Book Review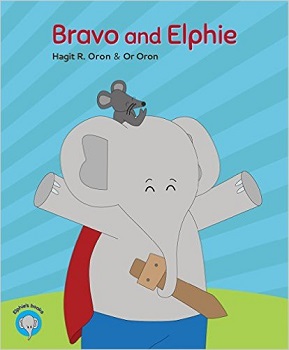 Bravo and Elphie
Elphie's books Book 2
Author – Hagit R. Oron
Illustrator – Or Oron
Publisher – Oron's
Pages – 9
Release Date – 24th July 2016
Format – ebook, paperback, hardcover
Rating – 4 stars
Reviewer – Stacey
I received a free copy of this book
Post Contains Affiliate Links

Bravo, Elphie's new pet, is stuck on top of the red slide.
Elphie never climbs the red slide. It's so high, its goes all the way into the sky. But now he needs to embrace himself and gather up his courage to rescue Bravo. Good thing he never leaves the house without his cape!
Join Elphie and Bravo on this colorful bittersweet adventure.

This is the second book in the Elphie the Elephant series. I reviewed the first book 'Elphie and Dad go on an Epic Adventure' earlier in the year, so I was delighted when the author contacted me again and asked me to review her second book.
Elphie the Elephant has got a new pet rat. Elphie isn't very sure about his new friend, so his mum suggests that they go to the park to play together, so that they can get to know one another better.
Bravo seems quite the brave rat until he tries to slide down the big red slide and gets scared. Once at the top he finds himself stuck. It's up to Elphie, who is just as scared as the rat, to help his new friend out, and conquer his fear of the slide to rescue Bravo.
The book is a lovely, sweet, young children's book, most likely aimed at kids between 3 – 6 years old. As it is only 18 pages long, the children won't have time to get bored, especially with the book being beautifully illustrated, and brightly coloured as well.
The story shows children that if they try to be a little bit brave, they may just be able to do something fun that they have never been able to do before, just like Elphie found out he liked sliding down the slide.
Book reviewed by Stacey
Purchase Links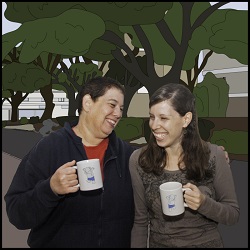 Hagit R & Or Oron are a mother and daughter who love to create, imagine, laugh and have fun together.
Hagit R is an electronics engineer. She writes computer code by day, but when she takes off her suit she lets her imagination run wild. Really, it takes her to such weird places, words aren't able to describe.
Or is a graphic designer by day and an illustrator by night. Imagination is the biggest tool in her toolbox. Really, it's as big as a continent.
Together they are an undefeatable team. Their mission is to bring joy and happiness to kids and parents all around the world. How? One picture book at a time.
Author Links