Cartwheels In The Dark by Karla Jordan – Book Review
Cartwheels In The Dark by Karla Jordan – Book Review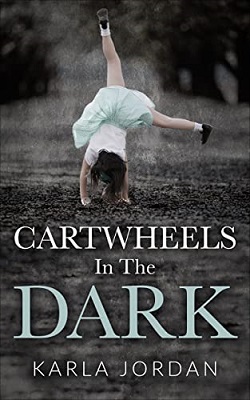 Cartwheels In The Dark
Author – Karla Jordan
Release Date – 18th December 2021
Pages – 235
ISBN 13 – 979-8776297724
Format – ebook, Paperback
Star Rating – 4.5
I received a free copy of this book.
This post contains affiliate links.

Synopsis
After twenty years, Kallie Douglas is headed back to Somerfield, Maine, the one place on earth she promised herself she'd never return. She isn't staying long, just long enough to say goodbye to an old friend who has passed away and to take care of the estate left in her care. But when an old newspaper clipping surfaces detailing a missing person's case near her family's home, Kallie suddenly finds herself haunted by a series of dark memories and unsettling questions she can't answer.
Pursuing those questions means staying in a town where people make their own rules and don't take kindly to outsiders who ask too many questions. But Somerfield's past is Kallie's past. It's secrets, her secrets, and soon it becomes clear that in order to move on with her life, she must find the strength to confront long-buried family secrets-and come face to face with her past. Even if it means putting her own life in danger, because she knows it will.
When Kallie Jansen was ten years old, her mother dropped her off on a bench in a small Maine town and left her, telling her to find another mother. As shocking as that is, it was emblematic of Kallie's and her sisters' experiences as the children of alcoholic, abusive parents. Fortunately for Kallie, an older, childless woman named Maddie took her in and raised her as her own daughter.
Once out of the hellhole of the toxic Jansen household, Kallie blossoms. She finishes school, goes to college. marries a wonderful man and now lives in Virginia. But when Maddie dies, she names Kallie as her executor and Kallie must do something she vowed never to do: return to Maine. The trip triggers emotional turmoil for Kallie, but that's not the worst of it. She also ends up wrecking her rental car in a serious accident. Now she's a patient in a small-town hospital. There, Amy, a friendly and conscientious nurse, takes an interest in her and makes sure she's properly cared for.
Stuck in Maine for longer than she ever planned, Kallie begins to uncover forgotten secrets from her past. And there's one mystery linked to the frightening nightmares she has that she's not sure she wants to solve.
Cartwheels in the Dark is a story of families, survival, and flourishing under extremely adverse circumstances. But it's almost too perfect. Kallie's marriage is perfect. Her husband is perfect. Nurse Amy is perfect, and so is her state trooper husband, Adam. The characters overcome significant issues with a little effort, but in the end, everything turns out—you guessed it—just about perfect. The story can get treacly as it progresses, but fortunately it moves along and does not stay that way.
And yet, despite these criticisms, I really enjoyed the book. The plot is believable enough, and at the end of the day, the characters are likeable and sufficiently three-dimensional to be relatable. You may occasionally need to suspend disbelief, but I found the story satisfying. Not every story has to be dark and foreboding; most people appreciate happy endings at least sometimes. Reading the book was entertaining, and I felt reading it was worth my time. I can recommend it with enthusiasm.
---
Purchase Online:
Karla Jordan

I've been writing since I was about 10 years old, if not before. My grandmother taught me how to love a good book and I will always be grateful for that. I live in Maine with my husband, our dog Pumpkin and our cat, Shadow. I'm working on my next book currently.
Author Links:
---
Share your thoughts on Cartwheels In The Dark in the comment section below!
---
The above links are affiliate links. I receive a very small percentage from each item you purchase via these links, which is at no extra cost to you. If you are thinking about purchasing the book, please think about using one of the links. All money received goes back into the blog and helps to keep it running. Thank you.
Like us on Facebook – Tweet us on Twitter – Pin us on Pinterest – Join us on Instagram