Unlucky Charm by Aidan Lucid – Book Review
Unlucky Charm by Aidan Lucid – Book Review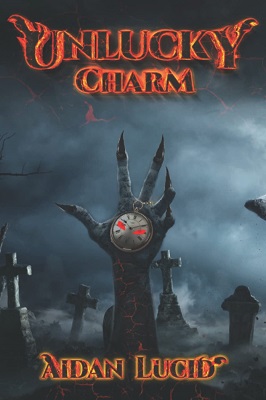 Unlucky Charm
Hopps Town Series Book Two
Author – Aidan Lucid
Publisher – Jongleur Books
Release Date – 4th January 2022
Pages – 122
ISBN 13 – 979-8795375823
Format – ebook, Paperback
Star Rating – 4
I received a free copy of this book.
This post contains affiliate links.

Synopsis
Darkness Comes From The Most Unexpected Of Places!
A New Threat Comes to Hopps Town
Following the events of, The Scavenger, we now find Jared a year later, on a two week break from college. He thought this would be a relaxing visit home then it happened, something so dark he felt a strange sense of deja-vu.
Across town we find Reggie Danes and Zane Miller who've been friends for over ten years. After Zane purchases an antique pocket-watch, they suddenly find themselves being taunted by past secrets.
Now they must band together to vanquish the demons which plague their lives. Can life ever return to normal?
Will the darkness ever disappear?
Unlucky Charm is the second book in the Hopps Town Series by Aiden Lucid, with book one being The Scavenger, which I reviewed in March 2021. Will there be more to come? Yes and I'm glad there is.
The premise brings together a handful of early twenty-somethings. In book one these characters witnessed and battled creepy, evil spirits. Turns out the destruction of the demon was only just the beginning.
I enjoyed the overall plot with secrets and regrets in our past that can come back to haunt you. The author laid these out well, giving us lots of detail. No matter how sorry we are, the pain lingers. Toss in a very angry spirit and you might just end up getting hurt.
Lucid writes some cringeworthy bits. Eeew. He also paints a good picture of movement and threatening foes. There is a small amount of blood and gore which is awesome and necessary.
I did however have difficulty keeping the characters clear whilst reading. They are all about the same age, have similar attitudes, and were involved within the storyline of the last book. I need more distinctive details to separate them.
This is a series that needs to be read in order, so go pick up The Scavenger, then this one, Unlucky Charm for exciting and tense fantasy reads.
---
Purchase Online:
Aiden Lucid

Born in July 1981 with a very rare syndrome known as Moebius Syndrome, Aidan has never let that stop him achieving his goals in life. Mr. Lucid began writing back in 2002 after a religious experience. In 2004 after plucking up the courage to send out his material, he was published seven times that year.
Over the next decade, Aidan's works appeared in various local and international anthologies, magazines and e-zines. From March to December 2007, Aidan wrote film reviews for the award winning Irish newspaper, "The Kerryman".
Author Links:
---
Share your thoughts on Unlucky Charm in the comment section below!
---
The above links are affiliate links. I receive a very small percentage from each item you purchase via these links, which is at no extra cost to you. If you are thinking about purchasing the book, please think about using one of the links. All money received goes back into the blog and helps to keep it running. Thank you.
Like us on Facebook – Tweet us on Twitter – Pin us on Pinterest – Join us on Instagram