Cinderfella by Malachy Doyle – Book Review
Cinderfella by Malachy Doyle – Book Review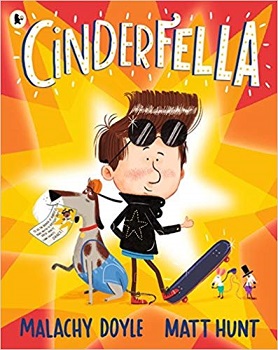 Cinderfella
Author – Malachy Doyle
Illustrator – Matt Hunt
Publisher – Walker Books
Pages – 32
Released – 2nd August 2018
ISBN-13 – 978-1406370638
Format – paperback, hardcover
Reviewer – Stacey
Rating – 4 Stars
I received a free copy of this book
Post contains affiliate links.
To all the brothers at Number 12. You're invited to Kayleigh's party. Dress fancy. Come fancy. Dance!
Once upon a time, there lived Cinderfella – a little boy, forever bossed around by his two older brothers, Gus and Gareth. "Turn up the TV! Shine our scooters!" the brothers cry. "Finish our homework!" But on the day of our story, Kayleigh, the town's kick-fastic karate champion, is having a party, and Cinderfella is determined to dream big, dress fancy and DANCE.
He'll just need a little help along the way from his fairy dog-mother, Ruff – woof! A feel-good twist on the classic fairytale, brought to life with fresh vision and huge humour by Matt Hunt.

Karate champion Kayleigh was having a party. She sent out the invites. Brothers Gus and Gareth told their younger brother that he wasn't invited, in fact, they were completely horrible to him. They treated him like their own personal slave.
Ruff the family dog found the invite which stated that all the brothers were invited. So he had a plan. Cinderfella borrowed his brothers leather jacket and sunglasses and headed to the party, but he had to make sure he was home before his brothers, or they would be mad.
When his watched beeped and it was time to leave, Cinderfella fled the party but in his haste, his sunglasses flew off and Kayleigh found them. She wanted to find the boy who had danced the funky monkey with her. So she searched around the neighbour, but would she find her dance partner?
This is a short, modern take on Cinderella, told from a male perspective and for little children. Gus and Gareth are the ugly stepsisters (okay brothers) that make Cinderfella do everything, including cutting their nails – Ewwww.
The book is fun, engaging and has some wonderful, bright and colourful illustrations that really make the story come alive.
Cinderfella is a book for young children to sit and read, or even for a class read too – I can see the kids doing the funky monkey around the classroom too.
Reviewed by Stacey
---
Purchase online from:
---
About the Author

Malachy Doyle is the acclaimed author of Digger and Lew, Big Pig, Teddybear Blue, Antonio on the Other Side of the World, Getting Smaller and Too Noisy, illustrated by Ed Vere.
His first teenage novel, Georgie, won the Tir na n-Og prize and his picture book, Cow, won an English Association Award for non-fiction. He also won the 2002 White Raven Award for Hungry! Hungry! He lives with his family (and his cat, dog, ducks and hens) in County Donegal, Ireland.



---