Explore Bletchley Park
Clive Explores Bletchley Park
Hello to you all, Whispering Wanders Category is a sort of travel, come information section of our book blog, where we will be sharing with you our adventures, holidays, places of interest, etc.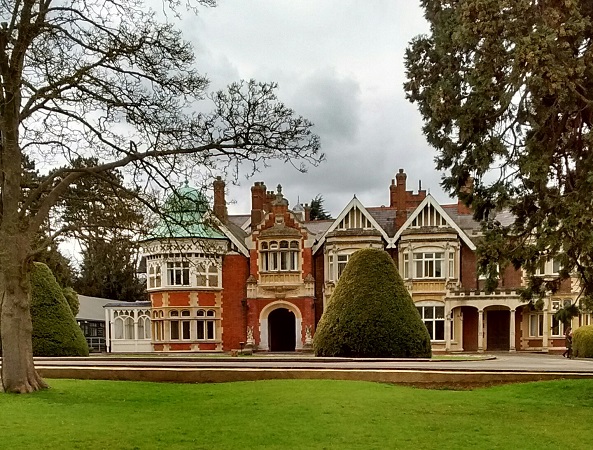 On a trip to Buckinghamshire earlier in the year, I suddenly realised we were staying about fifteen miles from Bletchley Park. I had a vague idea of its wartime history so we decided to go for an impromptu visit.
Our Visit
The entrance was manned by a uniformed official and it appeared we were approaching a sensitive site. I suggested to Mrs B that we were almost certainly in the wrong place however, the barrier was raised and we were waved through so clearly didn't look like we posed a threat to national security.
By the clearly marked queuing system, it was pretty evident that at times Bletchley gets very busy however, we had chosen a relatively quiet day and were able to walk straight up to the desk to buy our tickets. Bletchley offers concessionary entrance for students and senior citizens and also family tickets which can be purchased online up to 24 hours before visiting (see below for details) with children under twelve enjoying free admission.
The first part of our tour was made to look like Bletchley Railway Station in the 1940s and it appeared we were just arriving to start work at the mansion. We then spent about an hour looking at all the artefacts and reading the information boards.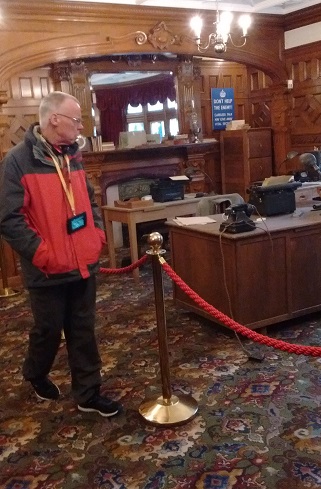 We then walked up to the mansion and visited the room which would have been used by Alastair Denniston, Operational Head of GC&CS (Government Code and Cypher School) until 1942.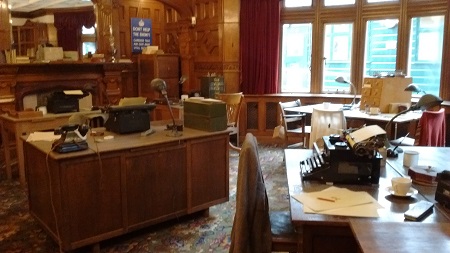 Mrs B rather fancied being Commander Denniston's secretary or a collator however, as our journey continued it became clear such prestigious positions were occupied by ex-debutantes and those from the upper echelons of society. She decided her lowly-born status in the 1940s would possibly have qualified her to take round the tea trolley.
We were able to take advantage of audio players which could be switched on and off as we explored each part of the site. There were also many interactive activities in which to participate in the various huts. We found this very interesting but on busy days it might prove more difficult to take on the various challenges.
Whilst we could not go inside, we visited the stable yard cottages which were home to several of the senior staff but most people were billeted with families around the area. For those visitors without the audio aid, there were many holographic testimonies played out by actors and memories from ex-staff who were interviewed later in life.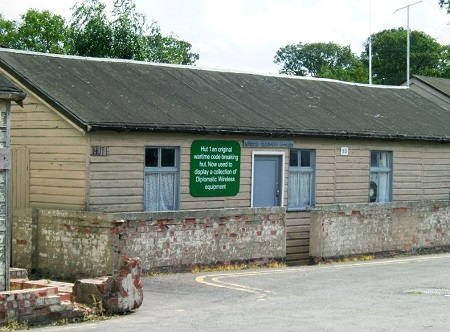 Food and Drink
Hut four, was once a WWII Naval Intelligence Codebreaking hut, it is now the restaurant. There is also a tearoom in the mansion that serves afternoon tea most weekends. Mrs B got extremely excited about one particular dish on the menu and insisted on trying it. In the end, I joined her and we both enjoyed a hearty bowl of Pease Pottage. I have to say it was absolutely delicious.
The restaurant serves both hot and cold food daily. There are also children's lunch boxes available.
There is a Coffee Shop in the Visitor Centre, serving cold and hot drinks, sandwiches, light snacks and treats, plus a snack kiosk in the Pump Room which is open in the summertime.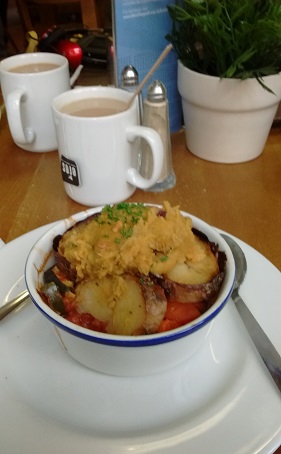 My Highlight
Without a doubt my favourite part of the day was at 3 O'clock when we were given a demonstration of a replica 'Bombe' codebreaking machine in, The National Museum of Computing, which is also on the site. This machine has been built from surviving plans.
There were volunteer experts on hand who explained the processes in simple language, they were also prepared to explain the background theory in greater detail with anyone who wanted to delve deeper.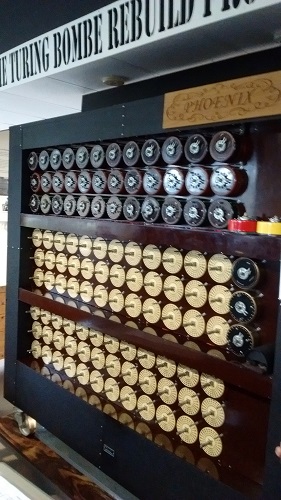 We left about 5 o'clock but could easily have stayed longer to have a more extensive look at the exhibits in the museum and we will definitely return if we find ourselves in the area again.
This was a great day out and I would thoroughly recommend it to everyone reading this blog post.
Things for Families
Families can pick up a 'Top Secret Mission' pack on arrival to enable all ages to make the most of the day (with free return visits on offer) – Family Activities
There is also a children's playground which is located near to Hut 4.
Throughout the school holidays there are also free workshops for children too.
---
History of Bletchley Park
Background 1938-1946
When war became a strong possibility in 1938, it was realised that to minimise losses, Britain would need a means of intercepting enemy communications and so a pre-planning strategy was executed.
In total secrecy, a group of MI6 personnel, academics and scholars surreptitiously moved into the mansion at Bletchley to see if it would be a suitable establishment from which to operate a code-breaking network. Once satisfied that the location was far enough away from London to avoid any potential bombing raids, the team quietly dispersed to await developments …
Once war was declared in September 1939 the team were ready to spring into action and assembled once more at Bletchley. At first it was a small operation based in the mansion and a few huts.
It became imperative to break the code of the German 'Enigma' machine whilst at the same time not letting the enemy know their messaging system was no longer secure. The code-breaking team was headed by Cambridge academic, Alan Turing whose story was immortalised, with a degree of poet's licence, in 'The Imitation Game'.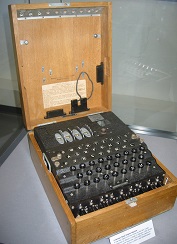 As the importance of the work of the code-breakers became evident, more resources were ploughed into Bletchley and brick and concrete blocks were built to house the 'Bombe' machines which were used to break the Enigma codes. By the end of the war over ten thousand people were involved in the operation.
After the war, the Bletchley team went back to their previous lives, many returning to the security services or academia. Churchill ordered all evidence relating to Bletchley to be destroyed. That might have been the end of the story had it not been for two ex-Bletchley staff who decided to share their experiences.
The Whistle-Blowers
Much to the chagrin of the Establishment, FW Winterbotham wrote a book in 1974 entitled 'The Ultra Secret', followed by Gordon Welshman in 1982, who wrote 'The Hut Six Story'. Much scorn was directed at both men but nonetheless it had to be accepted that their accounts were based on fact not fiction.
Post War Years
Bletchley Park was then used as a training facility, from teachers and post-office workers to members of GCHQ, finally closing to all in 1987.
There were plans to demolish the whole site to make way for a housing estate and supermarket. However in 1991 the Bletchley Archaeological and Historical Society formed a committee to concentrate on saving the site for the nation as a tribute to those who helped change the course and possibly reduce the length of the Second World War.
The society was successful in its endeavour and I, among thousands of others, have been fortunate in the extreme to have visited Bletchley and marvelled at the dedication and determination of all those who walked those paths before us.
---
Important Information
Opening times:
The site is open every day to visitors except 24, 25, 26 December, and 1 January.
1 March-31 October = 09:30-17:00 with last admission at 16:00
1 November-28 February = 09:30-16:00 with last admission at 15:00
Admission Charges:
Your tickets give you free return admission for a whole year starting from the day you bought them
You can buy your tickets online, at least 24 hours in advance, or on the day from the admissions desk
Adults = £17:50
Concessions = £15.75 (Over 60 & Students with ID)
Children 12-17 = £10.50
Under 12 = Free
Family tickets = £46.25 (two adults and two children)
Additional Discounts
Artfund National Art Pass members receive 50% off admission price.
English Heritage members receive a 20% discount off admission price.
Must show your membership card at the admission desk, tickets cannot be pre-booked.
Groups of Twelve or More
For groups of twelve of more there are extra discounts, these tickets must be booked in advance. Details to book are below.
E: [email protected]
T: 01908 272673
Getting There:
Car: Bletchley Park Sherwood Drive Bletchley Milton Keynes MK3 6EB (if using satnav enter postcode MK3 6DS)
Train: Bletchley Park Railway Station is about five minutes' walk away. (London Euston line)
Security Information:
Security team may carryout bag searches on arrival.
Suitability:
The grounds and buildings are wheelchair and buggy accessible. Every building has easy access for buggies and pushchairs, or space to park if you required.
Toilets:
There are plenty of toilets on the site all with changing facilities.
Packed Lunch:
There are picnic tables and benches scattered across the estate with views of the Mansion and the Lake.
Events:
Throughout the year there are various events held at Bletchley Park, including a 'Swing Night Concert' and a '1940's Weekend'. Some are free, others you have to pay for – Upcoming Events
Dogs are not allowed, with the exception of guide dogs