Elle's A to Z of Love by Claire Huston – Book Review
Elle's A to Z of Love by Claire Huston – Book Review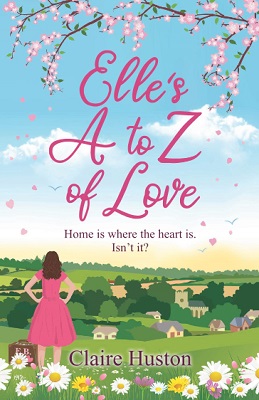 Elle's A to Z of Love
Author – Claire Huston
Publisher – Goldcrest Books International Ltd
Pages – 381
Released – 1st July 2021
ISBN-13 – 978-1913719326
Format – ebook, paperback
Rating – 4 Stars
I received a free copy of this book.
This post contains affiliate links.


Synopsis
Haileybrook, a beautiful village in the peaceful Cotswolds countryside, is most people's idea of heaven on earth.
Born and raised in this small slice of paradise, Elle Bea can't wait to leave.
It should be easy, but every time she packs her bags for exotic adventures, old loves and loyalties pull her back.
Will Elle be forced to forget her dreams of far-flung places and epic romance, or can she grab one last chance to have it all?
An uplifting, romantic story about friends, family and the relationships that make a place a home.
We meet Elle, returning home to a small village called Haileybrook from University. She isn't that happy to be back living there and she would rather be off travelling, but things seem to get in the way all the time and she feels like life never gives her a break. This time it is close friends who need her.
When her childhood sweetheart Adam arrives back in the village, Elle doesn't really know how she feels as she never got over loving him.
She also has a romantic interest in Zach, who she met in the Library at University. They have continued to stay in touch and exchange emails regularly as he is now living in America. I must say I was rooting for these two most of the way through the story.
Elle's A to Z of Love has some twists and turns which has you turning the page rapidly to see what happens next.
I enjoyed the description of the village and Elle's surroundings in the Cotswolds countryside, feeling at times like I was right there in Haileybrook with the cast watching their every move.
Elle is a likeable character, although she seemed to lack a lot of confidence. At times I wanted to shout at her to stand up for herself as she always seemed to end up back to square one and I got frustrated with how little she thought of herself.
Overall this is a good romantic read that is enjoyable the whole way through.
Purchase Online From:
---
What did you think of 'Elle's A to Z of Love'? Share your thoughts in the comment section below!
---
The above links are affiliate links. I receive a very small percentage from each item you purchase via these links, which is at no extra cost to you. If you are thinking about purchasing the book, please think about using one of the links. All money received goes back into the blog and helps to keep it running. Thank you.
Like us on Facebook – Tweet us on Twitter – Pin us on Pinterest – Join us on Instagram