Harry Potter Twitter Pyjama Party
Harry Potter Twitter Pyjama Party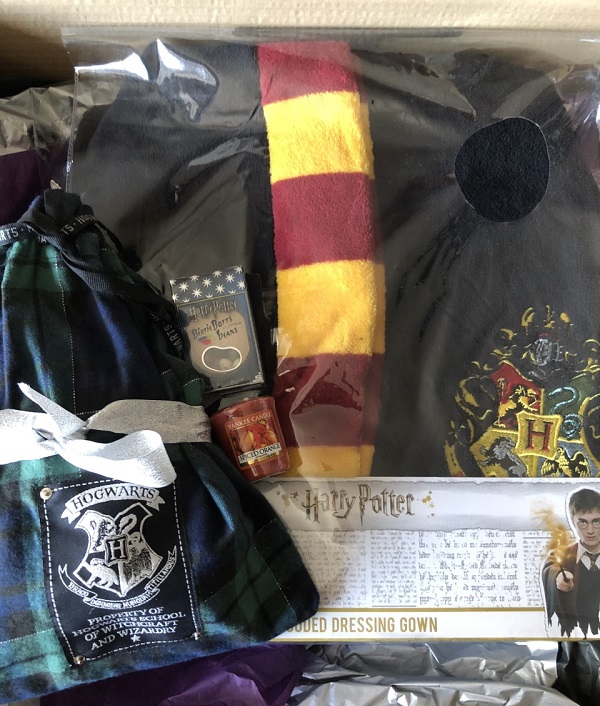 Sponsored Post – Hi everyone, we have something completely different for you today on the blog. Tonight, 12th November 2018 at 8pm (GMT) for one hour we will be taking part in a Harry Potter Pyjama Party over on Twitter, hosted by @DanielleGParker and you are all invited. The party in collaboration with @NewLook will be a mixture of fun, talking about the fab Harry Potter Pyjamas that New Look have released and there will be competitions too – So make sure you are there to join in and use the hashtag – #HarryPotterPJParty
To be prepared for the party we have been sent a Harry Potter Box to review containing:-
– Female shorts PJ set
– Men's Harry Potter Robe
– Harry Potter Bertie Beans and a Yankee Candle.
A big thank you to New Look for the items.
---
Grey Harry Potter Hogwarts Pyjama Set – £19.99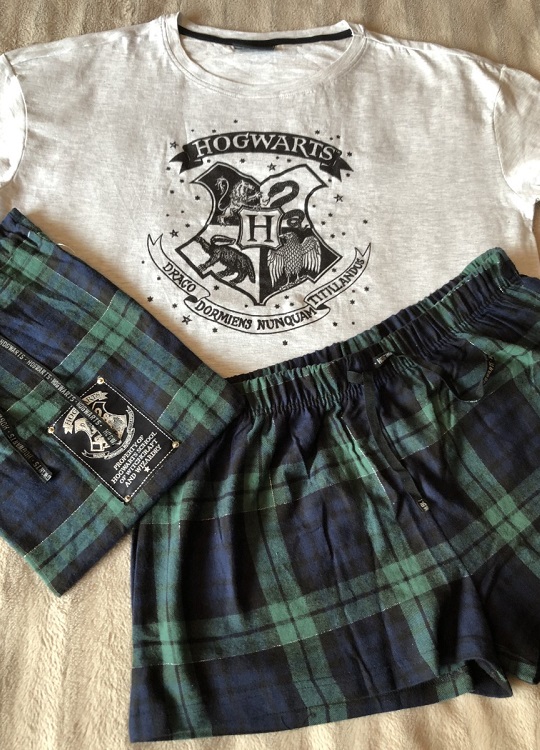 Get cosy and comfortable in these magical Harry Potter Pyjamas from New Look. The items come in a handy, gorgeous Harry Potter drawstring bag too.
Included in the bag is:-
– 1 Short Sleeve T-shirt and 1 pair of Shorts
The T-shirt is grey in colour and has a rounded neckline. Plus there is the 'Hogwarts' logo printed on the front, which has a glittery look to it. It is made from 98% Cotton, 2% Polyester and is machine washable. The fabric feels lovely against the skin. I would of loved the top to of been slightly longer but that is just my preference.
The shorts are check pattern and have an elasticated tie waist. They too have a bit of sparkle. They are made from 99% Cotton, 1% Metallised Fibre. They also feel lovely against the skin and were just the right length.
Both items are machine washable and the PJ's come in a range of sizes – XS – UK 4-6, S – UK 8-10, M – UK 12-14, L – UK 16-18.
Personally, I think that the PJs are just lovely. They were bang up to date and were comfortable to wear and would look perfect with a pair of fluffy slipper socks. I love the colours, especially the check green. These would make an amazing present for any HP fan. I am a size 16 and chose the Large size, which fitted well. There was plenty of room in the shorts and the T-shirt was spacious too making them very comfortable to wear.
---
Men's Harry Potter Hooded Dressing Gown – £27.99 – Exclusive Sneak Peek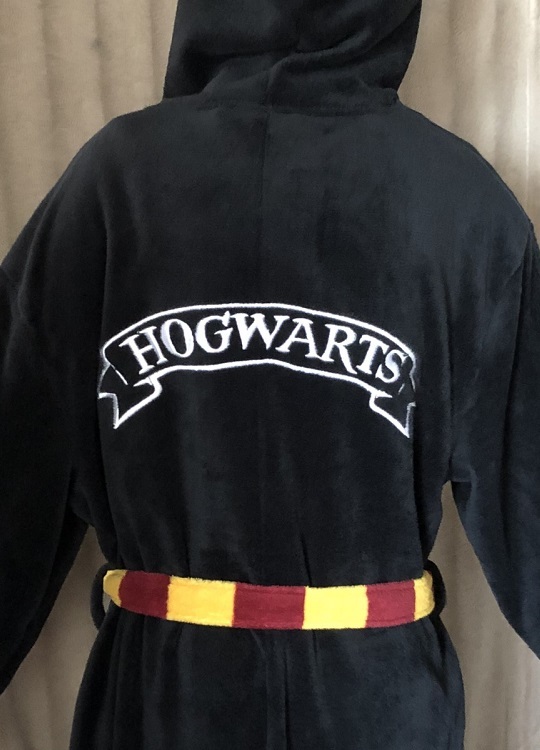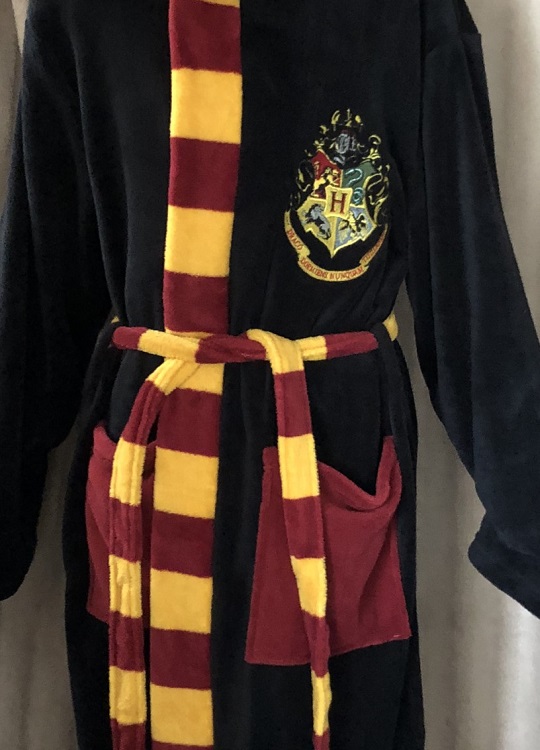 The Hooded Dressing Gown hasn't been released yet by New Look so you are getting an exclusive sneak peek of it. It is black in colour and features the Hogwarts crest on the front as well as 'HOGWARTS' written on the back and has the Gryffindor colours to the front, hood and belt.
The gown is made from 100% polyester and is lovely, thick, and warm. It also has two handy pockets on the front. It comes in two sizes – SM 35-40″ Chest and L-XL 41-46″ Chest.
The dressing gown was the ideal length for my hubby. We received the SM and the gown fit perfectly and was lovely and roomy. It came just to below his knees. Whilst it's not my hubbies ideal gown (He's not a HP fan), he said it felt really soft and cosy. My 15 year old son whose Autistic also tried it on as he loves anything that is soft to touch and didn't want to take it off.
---
Overall we loved the two items that New Look have released, as well as a few other Harry Potter goods, just in time for the 'Fantastic Beasts: Crimes Of Grindelwald' movie, which is released nationwide on Friday 16th November – I'll certainly be there, already have my tickets. Will you?
Do make sure you join us over on Twitter tonight. A virtual Pyjama party is definitely something to join in with, especially with the chance of winning some HP goodies, including the PJs from New Look. Remember to add the hashtag – #HarryPotterPJParty – I'll see you all later.
---
*Disclosure: We received the items for free to review and take part in the Harry Potter Twitter Party. We have reviewed the items honestly and have not had our opinions swayed.