Mermaid School by Lucy Courtenay – Book Review
Mermaid School by Lucy Courtenay – Book Review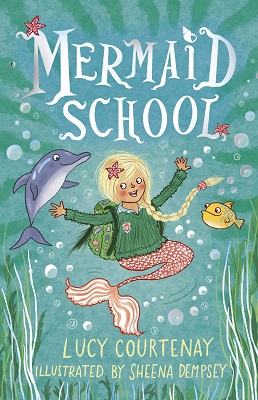 Mermaid School
Author – Lucy Courtenay
Illustrator – Sheena Dempsey
Publisher – Andersen Press
Pages – 128
Released – 6th February 2020
ISBN-13 – 978-1783448302
Format – paperback
Review by – Stacey
Rating – 4 Stars
I received a free copy of this book.
This post contains affiliate links.


It is Marnie Blue's very first day at Lady Sealia Foam's Mermaid School, and she's terrified. What if she can't make any new friends, or if she's asked to ride a seahorse? What's more, her famous diva aunt Christabel was a notorious rebel at the same school, and got up to all sorts of naughtiness. Marnie is soon branded a troublemaker by her grumpy octopus music teacher and wants nothing more than to clam up.
But when a fellow pupil finds herself in danger, it's up to Marnie to show that daring runs in the family and swim to the rescue.
Filled with fabulous fishy fun, Mermaid School is perfect for fans of Unicorn Academy and Dork Diaries!

The day has arrived when Marnie Blue has to go to school for the first time. Before she sets off to Lady Sealia Foam's Mermaid School her mum and her aunt Christabel give her a talking to, telling her about their time at the school.
Marnie's mum was a good girl who only ever got in trouble once and behaved herself. However, her aunt was always up to something and didn't believe in rules. Marnie is unsure what people will think of her, especially with a famous aunt. Plus she doesn't know anyone at the school and is scared she won't make friends.
On her first day, Marnie is upset when she gets told off after a sea snake comes out of her bag and blames her aunt for pranking her. She then gets told off in her music lesson when the other children think she is showing off. The teacher gives her a warning and tells her so won't tolerate another member of the Blue family behaving in an unruly manner.
Marnie is upset that the teachers seem to think that she is going to behave in a certain way because of her aunt and that people don't like her and she doesn't know why.
If there ever was a book to take me back to my first few days at high school it is this book. You see I have two older sisters who went to the same school as me (they had just left by the time I started). Just like Marnie's mum and aunt, one was very good and never got in trouble, the other (my middle sister) seemed to have trouble etched on her forehead!
When I attended I was told not to let anyone know who my middle sister was as the teachers would think that I would be just like her and be labelled 'disobedient or naughty' too. I was quite lucky in the fact that by the time the teachers had worked out who I was related to I had shown my personality and they didn't associate me with either of them.
I also like how the book talked about how to act towards someone you know doesn't like you. I was brought up that as long as I am me and not pretending to be someone I am not, to not worry about what people think of me. Not everyone would like me – they still don't. I don't like everyone I meet and know and the same goes for everyone else in the world, a lesson learned by Marnie, just be you and be polite.
The book is the first in a series and I can see it being very popular as Mermaids seem to be everywhere at the moment. It is easy to read, interesting, covers lots of areas that young children, especially those just starting school will be going through and has some amazing illustrations.
I now look forward to meeting Marnie and her friends and family again in the next in the series.
Book Reviewer – Stacey
---
Purchase online from:
---
About the Author

Lucy Courtenay has officially been writing children's fiction since 1999, and unofficially for a lot longer than that. Her desk drawers are full of half-finished stories waiting for the right moment to emerge and dance around her study in a shower of exuberant paperclips.
She's written for series such as THE SLEEPOVER CLUB, ANIMAL ARK, DOLPHIN DIARIES and BEAST QUEST, and her next book MOVIE NIGHT is out in January 2018. In her spare time, she sings with the BBC Symphony Chorus and forages for mushrooms which her husband wisely refuses to touch.


---
What did you think of Mermaid School? Share your thoughts in the comment section below!
---
The above links are affiliate links. I receive a very small percentage from each item you purchase via these link, which is at no extra cost to you. If you are thinking about purchasing the book, please think about using one of the links. All money received goes back into the blog and helps to keep it running. Thank you.