Honeymooning in Berlin, Germany
Nia and Mike Honeymoon in Berlin
Hello to you all, Whispering Wanders Category is a sort of travel, come information section of our book blog, where we will be sharing with you our adventures, holidays, places of interest, etc.
After the feedback from our first post about Honeymoon destinations (Over on Whispering Wanders Website), we decided to visit Berlin and its Christmas markets. We chose a fancy hotel in the city in the middle of the action and booked our flights, leaving the from Liverpool on the 13th of December and flying home on the 15th. It was only a short visit but it was magical and a lovely break from the daily grind.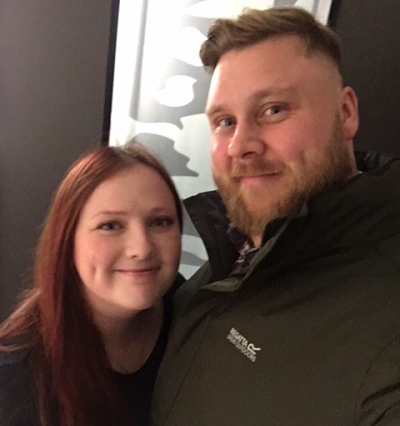 We chose the Riu Plaza Berlin for our belated honeymoon and checked in to the hotel at around 4pm. To our surprise we were greeted with the beautiful words 'free upgrade'.
We were impressed with the size and cleanliness of the suite, but we quickly realised that this is a hotel for business travellers and trendy young things, or rather, we quickly realised that we're neither of those things – we like cosy and comfortable. This suite was very clinical looking, with dark coloured walls and flooring, right angles all over the place and a confusing number of light switches (it took Nia a shamefully long time to figure out how to switch the bathroom light off).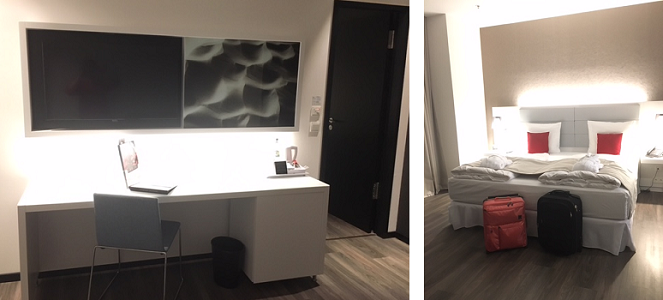 The breakfast selection was brilliant, buffet style with meats, cheeses, pastries/bread and cooked breakfast foods – we were greeted with coffee each morning and got stuck in. However, we never did find the butter for toast…
One evening, we did grace the hotel bar with our presence (it would be rude not to!) – they had a good selection of upmarket spirits and teeny tiny bottles of soft drinks, available for standard hotel bar prices.
On our first full day we visited Zoo Berlin which is Germany's oldest zoological garden. It covers an astonishing 33-hectare and has around 20,000 animal, including Germany's only giant pandas although, a lot of the enclosures for the larger animals didn't seem big enough, particularly when it came to the depressed looking rhino.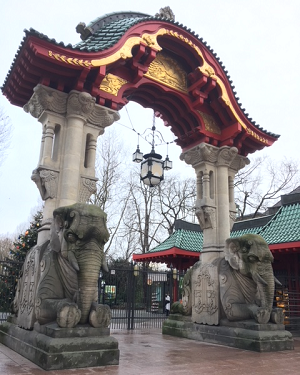 The pay on the day entrance price is €17 per adult (around £15), which is well worth it as you could spend the whole day there. This was the one trip that Nia was desperate to do, being a Zoology student in a former life.

Markets
We really wanted to visit the Christmas Markets and with it being so close to our hotel we visited them a couple of times, including on our first night when we bought an ornament for our Christmas tree and an incense smoker from the Breitsheidplatz.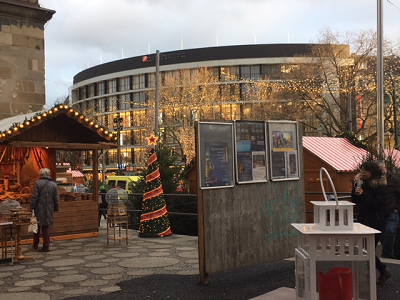 Breitsheidplatz was also where we had our first taste of 'Gluhwein' – deliciously aromatic mulled wine and now a firm favourite in our household! Beware though – some Christmas stallholders are more liberal with the booze than others and throw in some rum. Lots of rum.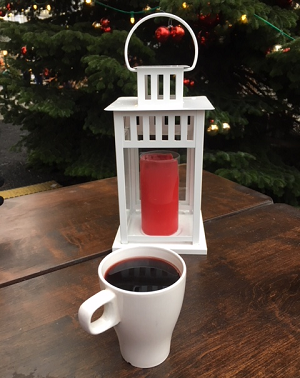 We also discovered currywurst, bratwurst and pretzels on our first night – the beginning of something beautiful! Mike tried currywurst at every market, and Breitsheidplatz was his official winner.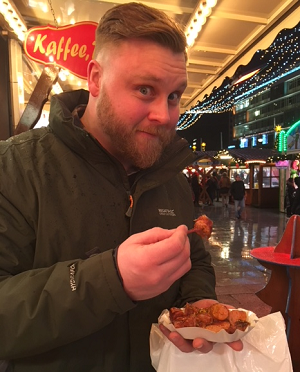 This was the market that was attacked last year, but that hasn't done anything to affect it's popularity – there were concrete barriers strategically placed all around the outside of the market to protect the stalls and festive crowds from traffic, as well as a police presence, but there was nothing but an atmosphere of fun and enjoyment to be had there.
Gendarmenmarkt has the most wonderful disco ball. There was a huge mirror ball hanging from one of the beautiful buildings, which pretty much summed up the experience – classic and camp as Christmas!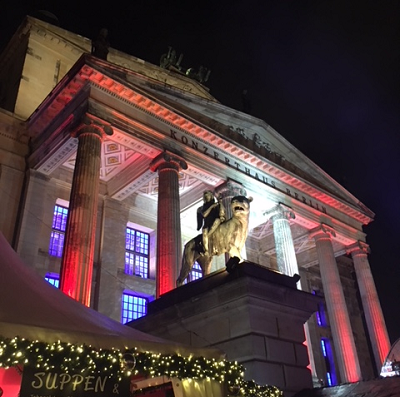 Alexanderplatz. Now this market was a firm favourite with both of us, especially the huge Ferris Wheel.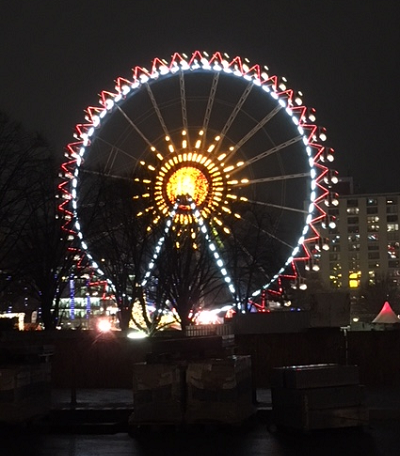 From the top of the wheel, we could also see the ice rink that had been set up, complete with music and disco lighting. Common sense prevailed and we gave this a swerve, we had one day left in the city and neither of us really fancied the inevitable broken ankle.
Because Mike had loved the currywurst so much we decided to visit the museum dedicated to them – yes Berlin has a museum dedicated to sausages!! This was a fun and daft way to celebrate what is now our new favourite street food – it doesn't take itself too seriously and everything in the museum is interactive so you can get stuck in. This included a full street vendor trailer set up that you could climb into and play with, and also samples of all the different herbs and spices that go in to currywurst that you can have a whiff of.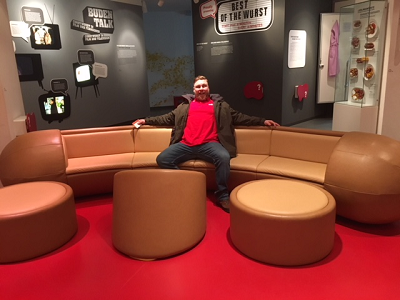 As well as this, we enjoyed an interactive history lesson on the invention of this dish and the history of the paper plates it's served on. Who knew this could be so interesting?!
It's was a nice contrast to the realisation of war from Checkpoint Charlie and all the other museums and monuments that we saw in the city, they managed to make an entire museum entirely fascinating despite just being about a chopped up sausage served in sauce.
If you've got a cheeky hour to kill and a slight peckishness, give this place a visit – you even get a free sample pot of currywurst at the end of your visit too!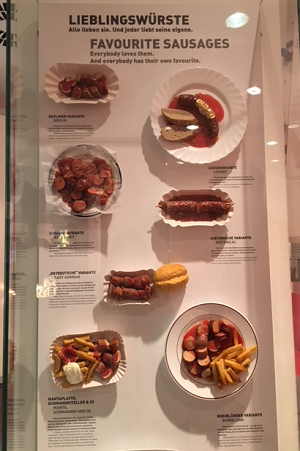 It does cost €10 (around £9) to get in which is a little steep however, the staff couldn't do enough to make us feel welcome and let us just get on with being silly!
Checkpoint Charlie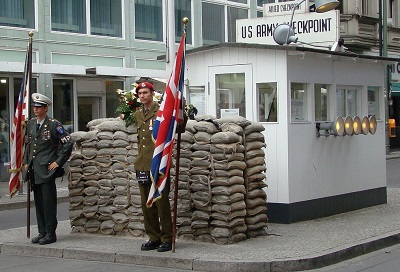 On our last day in Berlin we visited checkpoint, which is still standing and manned by two volunteers who will stamp your passport with a novelty stamp, as would have been done with the original back in the day. We didn't do this as we weren't sure whether or not it counted as vandalising out passports…
It was a very respectful way of looking at an absolutely horrific way of splitting a city in half between two superpowers with no entitlements to it. This was done in a stark way that allowed you to learn about the history at your own pace, it's pretty harrowing and not at all cheesy or sentimentalised – there are walls set up in the area with large pictures and written articles about the history of the wall and checkpoint, from its construction to the after effects of its demolition. It's quite disorienting to find yourself standing in modern, vibrant Berlin with a military checkpoint in the middle of the road.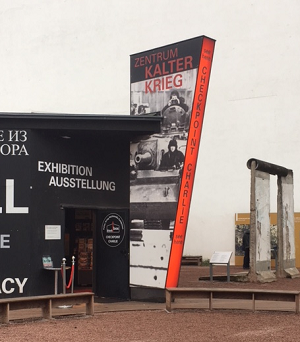 It's worth a visit to tick it off the list but be prepared for a stark reality check (Nia cried. It wasn't graphic, but the details of the failed escape attempts were distressing).
Home-time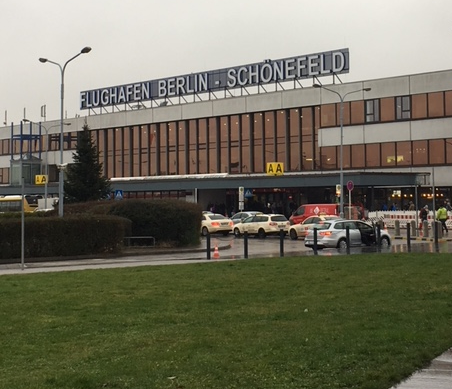 On the 15th, in the afternoon it was time to head home. We loved our short, but oh so sweet, visit to Berlin. We are thankful to everyone who told us how wonderful this city would be, you weren't mistaken. We hope to visit again someday.
*Checkpoint Charlie photo taken from Google