The Buddha's Bone by Leilanie Stewart – Book Review
The Buddha's Bone by Leilanie Stewart – Book Review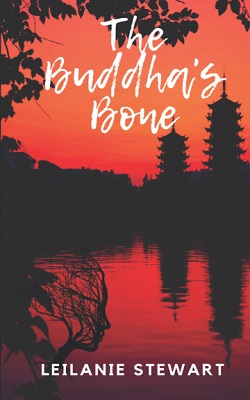 The Buddha's Bone
Author – Leilanie Stewart
Publisher – Nielsen
Pages – 355
Released – 24th October 2021
ISBN-13 – 978-1739952303
Format – ebook, paperback, hardcover
Rating – 3.5 Stars
I received a free copy of this book.
This post contains affiliate links.


Synopsis
She was in Japan to teach English. She'd soon discover the darker side of travelling alone.
Kimberly Thatcher is a Londoner who sets off to teach English in Japan on a one year contract. After suffering a brutal sexual assault at the hands of a fellow non-Japanese teaching colleague, a friend who betrays her trust, she is forced on a soul-searching journey. What happens when you look into the abyss? Can Kimberly overcome the trauma and forge a new identity in a journey of-
Death. Cremation. Rebirth.
Buddha's Bone is a deeply emotional story about Kimberly Thatcher, who moves to Japan for a year to teach English in a private language school. Whilst in Japan, she goes on a spiritual journey and comes out the other side a completely different person. The novel tackles many difficult themes throughout, including pregnancy loss and rape. Having said that, the way the author tackles this in the book is done with care and the seriousness it deserves.
My initial feelings of the book were that it started quite slowly and that for the first half of the novel I was feeling slightly disengaged with Kimberly, I felt like nothing much happened to her or the other characters and did wonder if I would be able to finish the book. However, having said that, I started to warm to Kimberly as a character and as the novel progressed and she faced the hardships that were flung at her, I started to enjoy the story.
What made it enjoyable for me was the author switching between English and Japanese in the book, it helped me imagine what being in Japan would be like and brought the setting to life.
One character that I really disliked which was clearly the author's intention was Carl, he was a nasty piece of work. I did feel at some points that the author could have dialled down the distasteful behaviour as I did find it a little unrealistic.
On this same note, I felt like the added poetry didn't do anything for me. I know that the author is also a poet so perhaps this was merely a way of getting some of her poems down about her time in Japan?
Overall, I did enjoy the book, I thought the themes of friendship and of finding oneself after facing adversity were well-written. I would say, however, that if you are triggered by abusive relationships, rape, or pregnancy loss to avoid this book as it does cover these issues from the start.
Purchase Online From:
---
What did you think of 'The Buddha's Bone'? Share your thoughts in the comment section below!
---
The above links are affiliate links. I receive a very small percentage from each item you purchase via these links, which is at no extra cost to you. If you are thinking about purchasing the book, please think about using one of the links. All money received goes back into the blog and helps to keep it running. Thank you.
Like us on Facebook – Tweet us on Twitter – Pin us on Pinterest – Join us on Instagram