The Fat Badger Society by Dawn Harris – Book Review
The Fat Badger Society by Dawn Harris – Book Review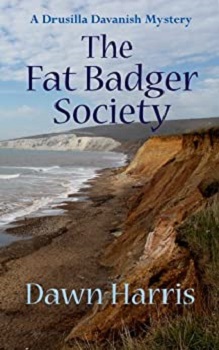 The Fat Badger Society
Drusilla Davanish Mysteries Book Two
Author – Dawn Harris
Publisher – Createspace
Pages – 347
Released – 15th May 2014
ISBN-13 – 978-1497507333
Format – ebook, paperback
Rating – 5 Stars
I received a free copy of this book.
This post contains affiliate links.


Synopsis
Lady Drusilla Davanish, summoned to 10 Downing Street by William Pitt, is warned that John Hamerton, soon to be her guest on the Isle of Wight, may be a top French spy.
Hamerton's brother-in-law is close to Robespierre, the most feared man in France. But is Hamerton a traitor? Is this bluff, typically English gentleman really plotting to shoot the King and start a French style revolution in Britain? Drusilla, given the task of uncovering the truth, risks her life to save the King, and discovers the man she loves is hiding the biggest secret of all.
In many ways this is not the type of book that I would choose to read but I was drawn by the combined settings of the Isle of Wight and the time of the French Revolution. I was not disappointed; The Fat Badger Society has provided me with a very enjoyable few days.
Billed as part of the Drusilla Davanish Mysteries series, this is one of half a dozen books Dawn Harris has self-published on CreateSpace/KDP alongside some poetry and short stories. She apparently receives good family support; her daughter Ann Cameron and son-in-law Paul provided the cover and artwork.
Although The Fat Badger Society is a work of fiction the story includes references to events of the time and as far as I can tell it is historically accurate. I particularly enjoyed the political situation of 1794 with many believing that the working people were repressed and the right to vote in England should be extended.
The story is told in the first person from the viewpoint of Lady Drusilla, a single heiress in her late twenties. Her task is challenging and despite her comfortable wealth she is of course restricted in her investigations by conventions of the day. That however does not stop her getting into a few lively scrapes as she slowly works out what is happening around her.
The text flows effortlessly in a wonderfully crafted mystery thriller. The book is well edited and late in the tale Drusilla confirms a couple of clear clues as to the identity of Mr Brown. One clue I missed totally and the other detail seemed a bit odd but I did not interpret the meaning correctly. Well done, Dawn!
Being in Drusilla's head we get to know her well and if you are like me, you will love her. Support characters include a number of people who could be the mystery man, Mr Brown and her good friend, Julia. She has her uncle and the dashing, brilliantly named, Radleigh Reevers, to bounce ideas off. The character of her Aunt Thirza provides much of the humour with her various admonishments. There is also a love interest which I would not necessarily seek in a book but which I actually found quite amusing.
The Fat Badger Society captivated me and for the simple but undeniable pleasure that it has given me I can only award five stars.
Purchase Online From:
---
What did you think of 'The Fat Badger Society'? Share your thoughts in the comment section below!
---
The above links are affiliate links. I receive a very small percentage from each item you purchase via these link, which is at no extra cost to you. If you are thinking about purchasing the book, please think about using one of the links. All money received goes back into the blog and helps to keep it running. Thank you.
Like us on Facebook – Tweet us on Twitter – Pin us on Pinterest