Backstories by Simon Van Der Velde – Book Review
Backstories by Simon Van Der Velde – Book Review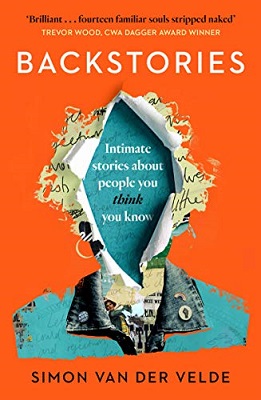 Backstories
Author – Simon Van Der Velde
Publisher – Smoke and Mirrors Press
Pages – 90
Released – 25th March 2021
ISBN-13 – 978-1838296407
Format – ebook, paperback, audio
Rating – 5 Stars
I received a free copy of this book.
This post contains affiliate links.


Synopsis
These are people you know, but not as you know them. Peel back the mask and see.
CAN YOU FIND THE FAMOUS PERSON HIDDEN IN EVERY STORY?
Dreamers, singers, heroes and killers, they can dazzle with their beauty or their talent or their unmitigated evil, yet inside themselves, they are as frail and desperate as the rest of us. But can you see them? Can you unravel the truth?
This book is dedicated to the victims of violent crime, the struggle against discrimination in all its forms and making the world a better place for our children. That is why 30% of all profits will be shared between Stop Hate UK, The North East Autism Society and Friends of the Earth.
Backstories is an engaging, compelling, and completely unusual book. It contains fourteen short stories about famous/infamous people. The people can be anyone from musicians to serial killers. Each story gives you a fictional insight into the life of the person based on true events before they became famous. The unusual part comes in that we are not told who the story is about, you have to work that out for yourself given the information provided.
Most of the people I had worked out by the end from the snippets of factual information, I do think my age plays a part in this, as some younger readers might need to Google some of the clues. There were a couple of stories which I had an idea who it was about but I needed to make sure I was on the right path. There was one though that has completely baffled me and I've been over that story numerous times, even asking my hubby to check it out but we can't work out who it is about.
What I love about this book is that the author has clearly done a lot of digging into the famous person's life and then created a fascinating account of how they thought a part of their life went that lead up to who they became. Not only has he imagined their life before they were famous but author Simon Van Der Velde has then teased us by not announcing who the story is about and left us to ponder and work out whose life they were writing about. The writing is excellent and as each short story came to an end I was left wanting more.
The mysteriousness of the book captivated me. It also taught me about some of the people's lives and made me look at them in a different way, such as one famous person had a tough upbringing and was partially raised in a children's home or by family friends after their mother had a mental breakdown. I knew this very famous person and the life they had on-screen and some of their off-screen, but it made me look more closely at their life and understand some of the choices they made in their adult life.
This is a book that you can read just one short story and then put the book down or do some research to see if you can work out who it is about, or you can read through them all in one sitting. You can choose to enjoy the stories but never take it any further or you can become an amateur sleuth and pick through the clues and name each person. How you read it is up to you. That is the beauty of this book.
Purchase Online From:
---
What did you think of 'Backstories'? Share your thoughts in the comment section below!
---
The above links are affiliate links. I receive a very small percentage from each item you purchase via these link, which is at no extra cost to you. If you are thinking about purchasing the book, please think about using one of the links. All money received goes back into the blog and helps to keep it running. Thank you.
Like us on Facebook – Tweet us on Twitter – Pin us on Pinterest