The Lies She Told by Lynda Renham – Book Review
The Lies She Told by Lynda Renham – Book Review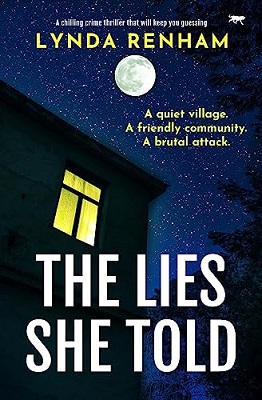 The Lies She Told
Author – Lynda Renham
Publisher – Bloodhound Books
Pages – 424
Re-Released – 5th July 2023
ISBN-13 – 978-1504086684
Format – ebook, paperback
Rating – 5 Stars
I received a free copy of this book.
This post contains affiliate links.


Synopsis
A brutal attack in a quiet English village sets one police detective against another, in this thriller by the bestselling author of Remember Me.
In the quiet Cotswold village where DS Beth Harper has lived for most of her life, the crime rate is extremely low, and that's how everyone likes it. Then, soon after her new boss, DI Tom Miller, arrives from London, a local schoolteacher is brutally attacked and left for dead in her home. The victim—a friend of Beth's—remembers nothing.
Beth finds herself clashing with Tom and worrying that a recent tragedy will affect his judgement as a police officer. But there may be an even bigger question: Is it a burglary gone wrong that's turned the village upside down—or could the violence be connected to something far more deadly?
In this brand new thriller from author Lynda Renham, we meet Detective Sergeant Beth Harper who works in the quiet village of Stonesend in Oxfordshire. Nothing much normally happens in the quaint village where everyone knows everyone else and often people leave their homes unlocked. That is until local woman Kate is attacked and left for dead in her own home.
Beth is quickly on the case with newcomer to the village, Detective Inspector Tom Miller, who has just transferred from London stating he needed a quieter place.
Victim Kate is loved by all according to the locals. No one saw anything or anyone suspicious or new to the village that day, leaving the detectives to believe that one of the villagers is the attacker, but who would want to hurt Kate and why? It is up to the two detectives to work the case and to try and keep their personal feels about one another away from their jobs.
The Lies She Told is a compelling thriller that is told from various points of view and different time periods. Our main characters DS Beth Harper and DI Tom Miller don't exactly see eye to eye. Kate dislikes Tom even with the issues surrounding the death of his wife. Tom knows Beth doesn't like him and you get the feeling at times he enjoys making her have to work with him.
The pair though are a good team and are damn good at their jobs. Beth wears her heart on her sleeve and does get emotionally involved in the case but then she did know the victim. She also isn't afraid to say what she thinks and add reason to her thoughts when she is convinced someone is charged for a crime they didn't commit.
Alongside the main case, we also meet mother and daughter Mae and Blanche Lethbridge who are friends with Kate. The two stories ran side by side and you get the hint from the beginning that they are connected in some way, but how?
In all honesty, I had worked out pretty early on some of the details that came to light later in the book. This didn't subtract from my enjoyment as I liked watching the pieces come together. This is a book that I flew through, reading it in just one day. With its likeable characters, suspenseful plot, and realistic crimes I was sucked into the story and was gripped from beginning to end.
Purchase Online From:
---
What did you think of 'The Lies She Told'? Share your thoughts in the comment section below!
---
The above links are affiliate links. I receive a very small percentage from each item you purchase via these link, which is at no extra cost to you. If you are thinking about purchasing the book, please think about using one of the links. All money received goes back into the blog and helps to keep it running. Thank you.