The Writing Life of: Catherine Flores
Catherine Flores
This week I am thrilled to be interviewing author Catherine Flores. Catherine will be sharing with us details of her writing life, telling us all about her latest book 'The Story Of Babushka', which was released on 20th July 2020 and answering a few fun questions too. This post contains affiliate links.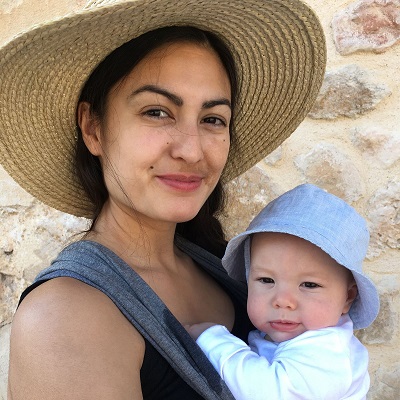 Since quitting her full-time job at a branding communication agency in Zurich, Catherine Flores has gone on to become a successful freelance designer and a children's author.
She lives on the small island of Madeira with her family, spending her time growing vegetables in her garden and working for clients around the world.
For the interactive website for "The Story Of Babushka" visit www.thestoryofbabushka.com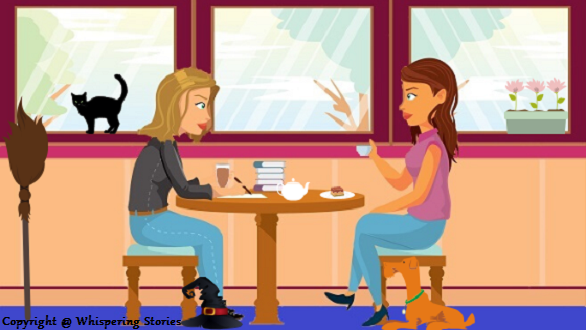 1) As a child did you have a dream job in mind?
I had many different dream jobs that I wanted to work in "when I'm a grown up". The most prominent were archaeologist and a children's book illustrator. Little did I know that I would become an author.
2) Who was your favourite childhood author (s)?
Michael Ende and Astrid Lindgren were two of the authors, who had the ability to step into a child's shoe and take me into another world with their books.
3) Was there a particular point in your life that you realised you wanted to be a writer?
Since I was a child, I always loved to think up stories, and I would tell them to my sisters at bedtime. When I grew older, I also enjoyed the act of writing more and more – mostly it was just writing thoughts down into my notebook to free up space in my head.
Then one day I started writing a story that came from a simple thought, which eventually became "The Story of Babushka". When the story was finished and the book was printed did I realise that this could become a long-term profession for me.
4) What is your average writing day like? Do you have any special routines, word count, etc?
Since I'm primarily a designer and only very recently dipped my toes into the world as an author, I haven't developed a specific writing routine that I follow. But in order to write I need to delve into my own world and create a head space that I'm comfortable in. I really need silence and calm to be able to focus. Once I have found my space, I usually just listen to what my inner world has to say and write it down without filter. At that stage I really don't care about grammar, word count or structure.
5) How many books have you written? Any unpublished work?
The Story of Babushka is my first children's book so far. I have two other children's stories that I'm working on at the moment, and plenty of ideas, that will have to be written down in the future.
6) Are you a plotter or a pantser?
With The Story of Babushka I was a total pantser, I had not made a structure beforehand and just went with the flow. With the other stories I'm working on at the moment, I think I'm a little bit of both. When I have Ideas in mind, I usually write down a very rough structure for the whole book, but leave plenty of room for creative ideas to be added. I don't want to be married to an idea with strict structure, but prefer to stay flexible and allow the magic to happen organically.
Concerning your latest book: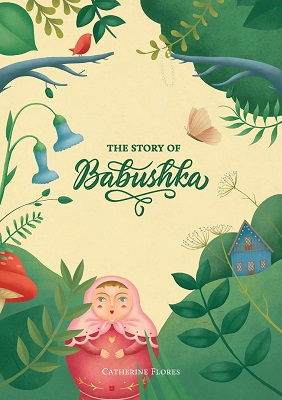 The Story Of Babushka
Author – Catherine Flores
Publisher – ACL Creative Studio
Pages – 122
Release Date – 20th July 2020
ISBN 13 – 978-1838022327
Format – ebook, paperback, hardcover, audio

Babushka wants to find out the meaning of life so she sends her bodies out of the forest and into the world to search for answers. But there is a hurdle to overcome before all of the bodies can reunite and return to the forest.
WHAT IS A BABUSHKA?
The Babushka doll, also known as a "Matryoshka" or "Russian Nesting Doll", is a traditional Russian toy first made over 100 years ago. The doll has come to symbolize Russian folk culture, as well as the complex and beautiful layers of women. This is the story of one very special doll, with five bodies that together make the Babushka: There was the outermost body, Antonia. She was pure beauty and everyone who saw her raved about her good looks. Beneath that body of beauty hid the second body, Loretta, who was richly adorned. She wore gold ornaments, and her robe was decorated with many different gems that glittered like the ocean on a sunny day. Hidden within the rich body was Paula the body that held all the talents. Whatever Paula did, she was sure to succeed. She knew how to work and always did so with joy and determination. Under the shell of the talented body was Viola, the body of wisdom. Viola knew a lot about the world and learned very quickly. She was always full of brilliant ideas and had clever solutions for every problem. The last body, the innermost and smallest of all, was Mary, the embodiment of love. Mary had a compassionate heart and was very helpful. She had the special ability to dry tears and mend broken hearts. All these bodies together formed the beautiful Babushka.
---
7) How did you go about researching the content for your book?
As mentioned above, The Story of Babushka was born with a flash of thought that I wrote down into my notebook. From there I really just went with the flow without having done any research. It seems to me, as if there was a story whirring around waiting to be discovered and written down – there was definitely a lot of magic involved.
8) How long did it take to go from ideas stage to writing the last word?
Writing down the very rough idea was a very quick thing. I think it took me about one month to write the full story, but then another 2-3 months to have it polished with the feedback of different proofreaders and copy editors. The polishing part definitely took the most amount of time.
9) How did you come up with the title of your book?
It just seemed like an obvious title for the story, there were other renditions such as "The Adventures of Babushka" but I decided to stick with the simple "The Story of Babushka". It gives it more of a fairy tale touch, which I really like.
10) Can you give us an insight into your characters?
The main character is Babushka, a Russian nesting doll with 5 bodies nested inside of each other. Each body has a unique quality and becomes its own character in the story. There is Antonia, who represents Babushka's outer beauty, Loretta, who represents Babushka's wealth, Paula, who represents Babushka's talents, Viola, who represents Babushka's wisdom, and the innermost body Mary, who represents Babushka's heart and inner voice. All of the bodies go their own way to search for their individual meaning of life.

11) What's next for you writing wise?
I want to experiment with writing stories for different age readers. I have written a story targeted at 3-4 year olds, which will have to be illustrated in the next step. I am planning to write a young adult book next. I want to write a story, where I can describe much more detailed scenes, compared to younger audience stories. The idea for it stands already, as well as the rough structure. I think this one will be a very interesting learning project for me and I'm very excited about it.
Fun Questions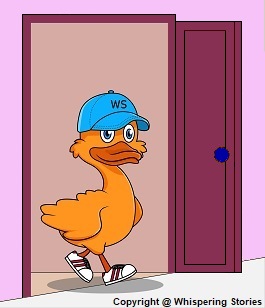 1) If you could have any super power for the day which would you choose?
I would love to be able to make everyone (including me) see/recognise lies. I wish people wouldn't be fooled and brainwashed so easily.
Not any that I own. We have a few sheep that graze our field all day long. We also have lots of lizards living in our stone wall. They're super cute and very independent. I like that 🙂
3) If you decided to write an autobiography of your life, what would you call it?
Uhh, I don't like the idea of writing an autobiography of my life… But I think I'd call it: Catherine Flores – Following an unexpected path.
4) Your book has been made into a feature film and you've been offered a cameo role, which part would you choose, or what would you be doing?
I'd be a giggling forest fairy, watching everything happen from above.
5) Where is your favourite holiday destination?
I don't think I have one favourite destination. Some places I've been just couldn't be compared to other places, but were just awesome in their own way. Experience-wise I would probably have two winners: Guyana (in South America) and Morocco.
6) A baseball cap wearing, talking duck casually wanders into your room, what is the first thing he says to you?
Don't freak out, you're just on a crazy trip, let's explore the universe together for the next few hours. (That's the only thing I could imagine, seeing a baseball cap wearing duck entering my room…)
---
I would like to say a big thank you to Catherine Flores for sharing with us details of her writing life and for a wonderful interview.
Author links





---
Share your thoughts on our interview with Catherine Flores in the comment section below!
---
The above links are affiliate links. I receive a very small percentage from each item you purchase via these link, which is at no extra cost to you. If you are thinking about purchasing the book, please think about using one of the links. All money received goes back into the blog and helps to keep it running. Thank you.
Like us on Facebook – Tweet us on Twitter – Pin us on Pinterest