Transcendence by Benjamin Wilkins – Book Review
Transcendence by Benjamin Wilkins – Book Review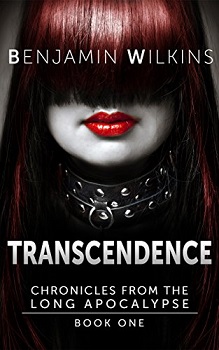 Transcendence


Chronicles from the Long Apocalypse Book One
Author – Benjamin Wilkins
Publisher – Wilson Boulevard Press
Pages – 368
Release Date – 30th September 2016
ISBN-13 – 978-0997908602
Format – ebook, paperback
Reviewer – Abby
I received a free copy of this book
Post Contains Affiliate Links

Berserkers can be anyone. Your mother. Daughter. That cute barista at Starbucks. You could even be one yourself, and not know it – until you wake up covered in blood, surrounded by the bodies of your victims.
Humanity is self-destructing and the monsters hiding within us are now tearing their way out. Emmett Kessler must escape the prison cell he's been left to die in. His daughters, Jennifer and Bobby-Leigh, must escape the wrath of a merciless soldier, after Jennifer berserks out and rips apart the battle-hardened man's son.
Transcendence is the first instalment of The Chronicles of the Long Apocalypse. If you like dark visions of the future and girls who kickass, this incredible post-apocalyptic thriller will rip your heart out, and leave you begging for more.
Review
Fact: I love a dystopian novel. What I particularly love about them is how they reflect and distort everyday life, providing a deep, brutal commentary on the state of today's society through narratives that take place years in the future. Benjamin Wilkins' novel, Transcendence, is no exception.
To start, however, Wilkins takes the familiar apocalypse trope, as popularised in TV series like 'The Walking Dead', games and comic books, and turns it on its head. Right from the very beginning, we're told that this particular apocalypse didn't happen overnight: 'No switch was flipped or button pressed. No infection broke out and ran amok, killing the lucky one and turning the rest into zombies.'
More significantly, 'the world ended back in the seventies and nobody noticed. It crept up on us…'
As a result of this, everyone carried on as normal, despite the world slowly falling into its apocalyptic state. Wilkins describes this routine with deadpan poignancy: 'For generation after generation folks just kept their noses to the grindstone, clocked in and out of work, ate frozen pizza and drank light beer like nothing was happening'. One thing is for sure as this novel continues, Wilkins is capable of evoking very detailed, vivid scenes. From the mundane everyday here to shocking and disturbing later on.
It's these elements of normality that keep the population of Fairfield, Iowa, going. Emmett Kessler was no exception. Every night, he would visit his local bar, get drunk, then wait for his wife to pick him up. No exception. Even in the midst of the berserker activity.
Berserkers? Anyone could be a berserker. No one knew how it happened, but everyone knew to fear them. Living inside normal humans, these monsters within, 'hulking, monstrous giants' intent on killing all around them, were unleashed in an act known as berserking out. As it turns out at the end of prologue, his wife Susan is a berserker…
Chapter one begins and we're back with the Kessler daughters, Jennifer and Bobby-Leigh, ten years later. Estranged from their incarcerated father, they are living with the family of Jennifer's boyfriend, Jimmy Brennachecke. Humanity is well on its way to self-destruction. It's all about survival.
Jennifer is at the centre of this novel. Brought up alongside her younger sister within the Transcendental Meditation Movement, she knows how to defend herself and has a penchant for foul language. Jimmy's father hates this: 'Every f-bomb you drop, it makes it worse. See, our language is one of the clearest reflections of who are. And you're not an animal, Jennifer'. Yet, he's spot on, as she also just happens to be a berserker. Like mother, like daughter. And although she's been tutored in the art of keeping the animal within at bay, she cannot stop herself from accidentally killing Jimmy. With help from her sister, they run away before Jennifer is caught.
All for 'eye for an eye', father Brennachecke seeks revenge. What he underestimates is the cunning and sheer determination of the Kessler sisters to survive. Thanks to their teachings, Jennifer learns to control her outbursts, while previous horrific experiences – painstakingly detailed in brutal, bloody glory by Wilkins – have toughened up Bobby-Leigh from child to knife-wielding, dog collar wearing goth of 'Kick-Ass' Hit-Girl proportions.
Meanwhile, their father, Emmett, is locked away trying to discover how this all came about in the first place. Add in a bloodthirsty nymph – the self proclaimed Blood Queen, Beverly – and blood pirates thriving off berserker blood, and there's a recipe for murder, monsters and mayhem…
My thoughts? Occasionally a little slow going as every chapter was steeped in gory detail (although I wouldn't have expected any less from a dystopian novel), yet it was the storyline and refreshing narrative from a female perspective that kept me reading. There are certainly no heroes in this novel; the girls are killers just like the men, and sexual abuse to gain power is a shocking tool used by both genders. Having finished reading, I do eagerly question what happens next, particularly with Emmett Kessler's mission to discover the truth.
Book reviewed by Abby
Purchase Links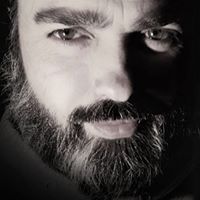 Benjamin Wilkins worked in the film and television industry in Los Angeles for over a decade and even managed to write, direct and produce a little no-budget indie feature film entitled Pretty Dead hailed by Dread Central as "The movie Paranormal Activity should have been: Intelligent, unique and completely enthralling."
Then he had a kid and more or less turned his back on the Hollywood scene. He now works with the David Lynch MFA Film Program at the Maharishi University of Management and writes in Fairfield, Iowa with his wife, son and their two pugs.
Author Links