Daisy's Vintage Cornish Camper Van by Ali McNamara – Book Review
Daisy's Vintage Cornish Camper Van by Ali McNamara – Book Review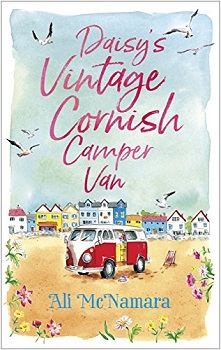 Daisy's Vintage Cornish Camper Van
Author – Ali McNamara
Publisher – Sphere
Pages – 368
Released – 14th June 2018
ISBN-13 – 978-0751566239
Format – ebook, paperback, audio
Reviewer – Stacey
Rating – 5 Stars
I received a free copy of this book
Post contains affiliate links.
Welcome to the gorgeous Cornish town of St Felix, where there's magic in the air…
When Ana inherits a broken-down camper van from her best friend, she takes the chance for a quick trip to Cornwall – some sea air and fish and chips on the beach is just the tonic she needs.
But St Felix has bigger plans for Ana. She discovers a series of unsent postcards, dating back to the 1950s, hidden in the upholstery of the van. Ana knows that it's a sign: she'll make sure that the messages reach the person that they were meant for. And as the broken-down van is restored to gleaming health, so Ana begins to find her way back to happiness.

After the death of her best friend, Ana is left a camper van in her will. However, the van is in Cornwall, St Felix to be precise and Ana is in London. She knows she needs to do this for Daisy so she sets off to collect the van and head home again.
Upon arriving at the garage where the camper van has been stored, Ana finds that the owner Bob has had to leave in an emergency and has left a young man in charge, Malachi. He shows Ana the van and she is disheartened to see that it is in complete disrepair. Malachi tells her he can fix it but it will be a few weeks.
Having been left some money to do the van up, Ana agrees and luckily finds herself a little rental cottage for three weeks as the holidaymakers who were due to rent it suddenly were unavailable due to injury – What luck!
Whilst the van is being repaired lots of old postcards are discovered dating back to 1945 until the early 2000's. They all are written to Frankie from Lou, they were never posted though. Ana decides she wants to find this Lou to return the cards. She also notices that there are a few missing too. With antique dealer Noah, whom she has befriended, the two set out in search of the missing cards and to see if they can find Lou or Frankie, but with not much to go on it is going to take some time.
Daisy's Vintage Cornish Camper Van was just a delight to read. The words flowed effortlessly, the plot was so adorable and the characters were a joy to spend my time with. Ana is a lovely young woman who has just lost her best friend to cancer. They met at school through their love of all things 80's, especially the music. They were quite the double act, even after Daisy got married and had children. Now Ana is on her own and learning to live her life separately.
Malachi, the perfect tall, dark and handsome – oh and Irish is so charming. He is filled with pure wisdom. He's also quite the joker. Then we have Noah, mysterious Noah. He clearly likes Ana and with the help of his young assistant Jess, he's trying to get to know her better. He also has a past he's trying to put behind him meaning he doesn't like to talk about it, which is sometimes hard for Ana as she wants him to be more open with her.
The book was just completely adorable from beginning to end. The setting is ideal and so beautiful, but that is what you get when you have the location of the story in Cornwall, one of the most scenic places in the UK.
I have to say Daisy's Vintage Cornish Camper Van has been one of the most enjoyable books I have ever read. I really didn't want it to end, but I left it on a high feeling totally uplifted. I also love the twist near the end with the postcards, I can't see many people working it out.
Reviewed by Stacey
---
Purchase online from:
---
About the Author

I live in Cambridgeshire with my husband, two children, and our two Labrador dogs.
People often think being an author is a glamorous, exciting job, and indeed it is a small percentage of the time. When you're launching a new book, or having your photo taken for a newspaper or magazine it's very exciting. But the reality is most of your time is spent at a computer wearing comfy clothes; writing, editing or crying about how bad you think your work is that day!






---