In the Event the Flower Girl Explodes by Abby Rosmarin – Book Review
In the Event the Flower Girl Explodes by Abby Rosmarin – Book Review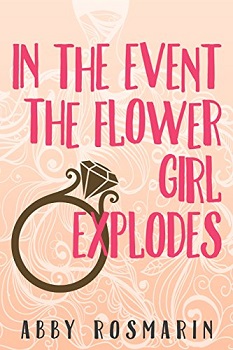 In the Event the Flower Girl Explodes
Author – Abby Rosmarin
Pages – 287
Released – 13th February 2018
ISBN-13 – 978-0996631327
Format – ebook, paperback
Reviewer – Selina
Rating – 4 Stars
I received a free copy of this book
Post contains affiliate links.
It's the wedding of the century. Her big brother – the man who was a second father to her after their dad passed – is the groom. And Nicole is fighting just to keep her head above water.
She's surrounded by an aloof bride-to-be, a psychotic mother of the bride, ridiculous bridesmaids, and a town that feels like a parody of Americana. Her own family is perfectly fine with everything – with the exception of her wise-cracking cousin Ella, whose antics only serve to get Nicole even further into trouble. The wedding stress is invading all aspects of her life, including her own relationship. Nicole only wants what's best for her brother – but what if that involves her brother leaving his fiancée at the altar?
As the wedding day approaches and tensions continue to rise, Nicole is forced to figure out what love, loyalty, and honesty mean – before it's too late and she loses everyone she loves.

Nicole and Andrew are brother and sister. Their dad died when Nicole was young and so Andrew stepped in as the father figure of the family. They have always been very close, that is until Andrew gets engaged to Cora. Things suddenly become very strained between the siblings and Nicole swears the fake Southern girl Cora is to blame.
With the wedding looming, Nicole has to deal with a crazy bride as well as her family. Everything has to be perfect and done Cora's way, which Nicole isn't very happy about. She thinks her brother should have more of a say in the wedding plans or even better, Nicole hopes Andrew will ditch Cora once and for all. However, Nicole has to quickly grow up and except people move on in life she has to act like an adult.
The book has great secondary characters, I loved cousin Ella, who liked to get up to no good with Nicole. Laura, the girlfriend was just lovely. Also we meet a great but crazy bunch of Cora's bridesmaids who are just as posh as she is.
I enjoyed the flashbacks to the siblings childhood too, as we learn more about their close relationship. Abby Rosmarin has written an enjoyable, fast-paced story that will leave you laughing until the end.
Reviewed by Selina
---
Purchase online from:
---
About the Author

Hi, my name is Abby. Pleasure to meet you.
As seen on Huffington Post, Bustle, Buzzfeed, MindBodyGreen, Thought Catalog, and a slew of other websites.
My newest book — In the Event the Flower Girl Explodes — is now out on Amazon. You should buy it. With your money.
Also the author of I'm Just Here for the Free Scrutiny, Chick Lit & Other Formulas for Life, and No One Reads Poetry: A Collection of Poems.





---