Labyrinth of the Dolls by Craig Wallwork – Book Review
Labyrinth of the Dolls by Craig Wallwork – Book Review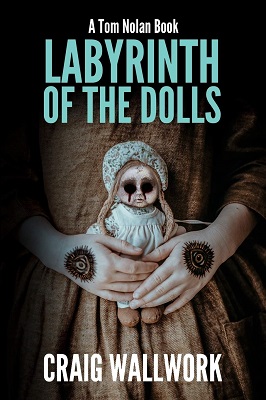 Labyrinth of the Dolls
Tom Nolan Book Two
Author – Craig Wallwork
Publisher – Underbelly Books
Pages – 201
Released – 15th September 2020
ISBN-13 – 979-8675550135
Format – ebook, paperback
Review by – Clive
Rating – 3 Stars
I received a free copy of this book.
This post contains affiliate links.


EVIL HAS A NEW FACE
It's been one year since the horrific murders of Stormer Hill, and the events of that time continue to resonate with Detective Constable Tom Nolan. In an attempt to find the second killer, known only as the Ragman, Nolan joins West Yorkshire's Murder Investigation Team.
Partnered with Jennifer Morrison, a straight-talking detective with her eye on promotion, the two officers are assigned to track down a new killer whose victims are all found dressed like human dolls. As the investigation progresses, Nolan becomes an intricate piece in the killer's grand vision that puts his life in danger.
But with the body count rising daily and the pressure to find who the media is labelling the Doll Maker increasing, Nolan discovers more than just a series of grisly murders…
Within the human dolls, the answers he has sought for nearly a year may finally be found.

Back in the spring I read and enjoyed Bad People which left me wanting more from Craig Wallwork. I was therefore honoured to receive an advance copy of his next book Labyrinth of the Dolls which continues Tom Nolan's career as he moves to a new department.
This time the action follows DC Nolan instead of the journalist Alex Palmer so it is more of a police procedural novel. Nolan is teamed up with Jennifer Morrison and they investigate a series of gruesome murders, all linked by their attire. The investigation develops well as Nolan, through determined police work and some lively action, discovers and apprehends the culprit. Yes, the descriptions of the victims are unpleasant but nothing more than some real live murders.
Wallwork is a skilled writer who keeps the action moving and who can create a mystery with enough clues to give the reader a chance to join in the investigation. Labyrinth of the Dolls was far better edited than my copy of Bad People and there were just a few Americanisms, presumably for the benefit of his international market. I also enjoyed the pairing of Nolan and Morrison who produced an effective team despite having different characters.
However, their excellent investigation was over in about one hundred pages and although everything appeared sorted there clearly were many more pages to read. After a few pages of fairly meaningless reflection the story picked up again with a surprisingly new angle but not one that I enjoyed very much. It also included some very violent action; much of which was so grisly that I sped through a few sections. It all left the cynic in me wondering whether Craig Wallwork had planned it that way or whether he wrote a very good detective thriller and was concerned the book was not long enough.
Dedicated fans of Craig Wallwork may well enjoy all of Labyrinth of the Dolls but for me the experience was mixed. I have awarded three stars.
Book Reviewer – Clive
---
Purchase online from:
---
About the Author

Craig Wallwork was born in Salford, Manchester, England. He is the three times Pushcart Prize nominated writer of over 40 short stories, and the author of the books To Die Upon a Kiss, The Sound of Loneliness, Bad People, Quintessence of Dust, Labyrinth of the Dolls and Gory Hole. He lives in West Yorkshire, England.





---
What did you think of Labyrinth of the Dolls? Share your thoughts in the comment section below!
---
The above links are affiliate links. I receive a very small percentage from each item you purchase via these link, which is at no extra cost to you. If you are thinking about purchasing the book, please think about using one of the links. All money received goes back into the blog and helps to keep it running. Thank you.
Like us on Facebook – Tweet us on Twitter – Pin us on Pinterest