No-One Ever has Sex in the Suburbs by Tracy Bloom – Book Review
No-One Ever has Sex in the Suburbs by Tracy Bloom – Reviewed by Stacey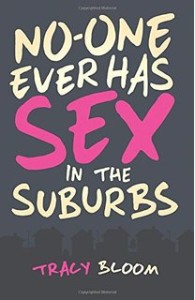 No-One Ever has Sex in the Suburbs
Author – Tracy Bloom
Publisher – Createspace
Pages – 400
Release Date – 23rd June 2015
Format – ebook, paperback, audio
Reviewer – Stacey
I received a free copy of this book
Contains Affiliate Links

Ben and Katy haven't had sex since Ben found out about her one-night stand with her childhood sweetheart, Matthew.
Not only that, but the arrival of a new-born baby has blown their relationship apart like a hand grenade.
Drastic measures are required, so they swap roles hoping that everyone will be happier… Only it's not as easy as they thought. When a desperate Ben starts secretly accepting help to solve his childcare disasters – from Matthew's wife – it could mean the end of everything.
Can their relationship survive the lies and suspicions and will they ever have sex again?

After the success of No-One Ever has Sex on a Tuesday, Tracy Bloom brings us the long awaited sequel.
The book starts off right where the first book finished, after Katy and Ben have just welcomed their daughter, Millie, into the world.
With the first book focusing on who was the father of Millie, there is now no reason to suspect Katy's one night stand, Matthew, of being Millie's dad, as she looks the spitting image of Ben.
With a small child to look after, Katy is finding life increasingly difficult and longs to go back to work. Millie seems to resent her and cries at every opportunity, although she is lovely and cuddly to her dad Ben.
When an offer comes, via Ben to swap roles, Katy reluctantly agrees. But can Ben do a better job of raising their daughter, or will he need some guidance along the way?
I absolutely loved the first book, so I was jumping for joy when I heard that Tracy had written a sequel.
I couldn't wait to get started, but soon found that something was missing from this book. The first one was full of 'laugh out loud' moments, which seemed lacking in some way.
The book is still amusing, but the hilarity is missing. The book seemed to include more, serious moments than funny ones.
I was also not much of a fan of Matthew's wife Rebecca, and this book has done nothing to change my mind about her, even if she is featured much more this time round.
However saying all that, I did still enjoy it – I just preferred the first book.
I enjoyed finding out all about how Katy, Ben, Matthew and Rebecca had moved on with their lives, and what the arrival of their children had done to their relationships.
The plot kept me intrigued and guessing what might happen between Ben and Rebecca and I was totally thrown when I discovered exactly what Ben thought of her at the end.
Tracy has kept the same cast from the first book. It was nice to catch up with the secondary characters, and it was easy to make a connection as I already knew all about them via the first book.
Tracy's style of writing, is down to earth and easy to read as the words just flow, but I wouldn't say that I was glued to this story as much as I had hoped.
If it's chick lit that your after, No-One Ever has Sex in the Suburbs is for you, just make sure you read the first book before hand.
Book Reviewed by Stacey
Purchase Links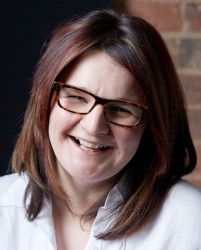 I started writing when my cruel, heartless husband ripped me away from my dream job, shopping for rollercoasters for the UK's leading theme parks, to live in America with a brand new baby and no mates.
In a cunning plan to avoid domestic duties and people who didn't understand my Derbyshire accent, I wrote "NO-ONE EVER HAS SEX ON A TUESDAY". It went on to be successfully published internationally and became an ebook Number 1 Best Seller in the UK in 2013 before being named Best Author Published Read at the Festival of Romance.
Author Links
www.tracybloom.com
@TracyBBloom
Facebook
Blog posts straight to email via Bloglovin – Like us on Facebook – Follow us on Twitter