The Shoeless Child by J.A. Schneider – Book Review
The Shoeless Child by J.A. Schneider – Book Review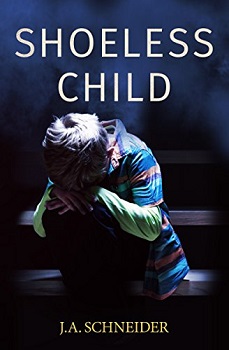 The Shoeless Child
Detective Kerri Blasco Book Four
Author – J.A. Schneider
Publisher – RGS Media
Pages – 278
Released – 24th January 2018
ISBN-13 – 978-1979842747
Format – ebook, paperback
Reviewer – Stacey
Rating – 5 Stars
I received a free copy of this book
Post contains affiliate links
A little boy has seen a horrific murder but is too traumatized to speak. Detective Kerri Blasco struggles to connect with him…
Charlie Sparkes peeks out to see his mother and another young woman brutally shot. Hysterical, the brave child bolts into the cold November night for help. He screams and cries, only to fall into more trauma.
Homicide Detective Kerri Blasco is called to the murder scene. One woman lies dead next to the blood soaked rug where Rachel Sparkes was seriously wounded. With little memory of the attack, she has been taken to the hospital – but where is her child? He too, Kerri discovers, now lies in a hospital bed, mute and traumatized in a fetal position, refusing even food and water.
Charlie must have seen what happened. Kerri's heart aches for this piteous little boy and she struggles to help him; struggles, too to find the monster who did this horrible crime. "It's your kind of case," Sergeant Alex Brand, Kerri's boss and partner tells her, stepping up police urgency when another innocent is shot, and then another…
Kerri Blasco finds herself more emotionally obsessed with this case than with any other, despite clear and onrushing danger to herself…

The Shoeless Child opens with a traumatic scene. Five year old Charlie Sparkes is running for his life. He had just witnessed a man wearing a ski mask, gun down his mum and her best friend. The man then tried to grab Charlie and in doing so the little boy pulled down his mask, but was it enough to possibly get a good look at him?
Charlie managed to get away, but the killer gave chase, eventually losing sight of the little boy. Soaked in blood and wearing no shoes, Charlie sought help from two men coming out of the local pub, only to find himself in more danger.
Detective Kerri Blasco is called to the scene of where the women have been shot. She is surprised to hear that Rachel Sparkes (Charlie's mum) is still alive, though in a critical condition and has been taken to hospital for surgery. Her friend is dead and Charlie is missing.
Eventually Charlie is found and taken to the same hospital as his mum, but he has been badly affected by the ordeals and is not responding to anyone, he is mute and lay in the fetal position. If Kerri is to find the killer she is going to need Charlie's help, but can she get him to open up to her?
This is the fourth Detective Kerri Blasco novel and the second that I have read. Last year I read book three, Watching You. The first two books Fear Dreams and Her Last Breath, were reviewed on the blog by Nia. What I like about these books is that you are always kept on your toes as the investigations into the crimes are ongoing. There are lots of twists and turns, and red-herrings thrown at you. Plus, the pace of the books makes your heart race.
The Shoeless Child certainly has all of the above, but this time we have a young boy added into the mix, which really pulls at your heart strings. Charlie is a lovely. He has been through so much in his short life and I just wanted to hold him and tell him everything would be okay.
The culprit isn't revealed until near the end, but as usual with the Detective Kerri Blasco books, there are chapters written through the eyes of the killer, meaning you get an insight into what makes him tick and how he thinks.
All the books can be read as a standalone, but in my personal opinion, it would be best to start at the beginning and get some back story on Kerri, how she works, what she is really like. Plus, you'll get to read three more amazing novels.
The Shoeless child is a real psychological thriller. I was eager to know why the killer chose Rachel and her friend, if he would find Charlie and his mum and finish the job, would Charlie open up? Lots of questions I needed answers and the only way I was going to get those answers was by finishing the book. So I settled down and raced through it, wanting to get to the final page, whilst at the same time not wanting it to end.
It is exceptionally enjoyable and if you love a good thriller with realistic characters and scenes, then this is one you need to read.
Reviewed by Stacey
---
Purchase online from:
---
About the Author

J.A. (Joyce Anne) Schneider is a former staffer at Newsweek. Words and story ideas are always teeming in her head – "a colorful place!" she says.
She's a wife, mother, and loves thrillers and medical thrillers. Once a Liberal Arts major (French and Spanish Literature), she has become increasingly fascinated with medicine and forensic science. Decades of being married to a physician who loves explaining medical concepts and reliving his experiences means that there'll be medical angles even in "regular" thrillers that she writes.
Author Links





---