One Love by Deanna Cabinian – Book Review
One Love by Deanna Cabinian – Book Review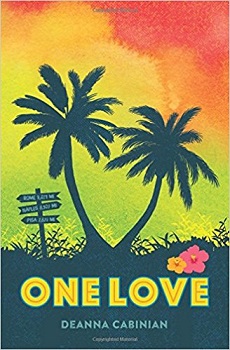 One Love
Thompson Lake Volume Two
Author – Deanna Cabinian
Publisher – Timpi Publishing
Pages – 288
Released – 28th November 2017
ISBN-13 – 978-0997591644
Format – ebook, paperback
Reviewer – Abby
Rating – 5 Stars
I received a free copy of this book
Post contains affiliate links
Long-distance relationships are tough. Thompson should know.
He's going to college in Hawaii, but Greta's in Italy.
When he meets Charlotte things get complicated.
Is it Greta he wants to be with?
Or Charlotte?
Will he discover that, despite what he believes, a person can have more than One Love?

Back in 2016, I'd read and reviewed Deanna Cabinian's first in this series, One Night. It was a rom-com set in Hawaii, where the brilliantly named teenager, Thompson Lake, tries to reunite with his ex-girlfriend Caroline and accidently becomes an Elvis impersonator's roadie, forming a brotherly bond with the aforementioned Elvis tribute, Johnny. The novel culminates in Thompson and Johnny's adventure to Chicago in a somewhat heroic attempt to mend Johnny's broken heart instead.
One Love is Cabinian's anticipated follow-up, where we revisit Thompson and his best friend Ronnie starting university in Hawaii. When we last saw Thompson, he'd just began a relationship with his quirky Kmart co-worker, Greta. But, as is often the way in the YA world, the course of true love never runs smooth. While Thompson has only moved fifty or so miles away from home, Greta has decided to study in Rome. And you know what they say about long distance relationships…
Thompson needs to find methods of distraction, besides eating a ton of junk food that he could never eat at home. Based on Cabinian's own experiences writing for her college paper, Thompson quickly joins the university's Western Star paper, finding himself in a whole new friendship circle, with people who like to party.
One new friend he makes is Charlotte, who is also in his English class. But, uh-oh, as he starts talking to her he has a realisation: "I… thought she reminded me of Greta. Greta had a tell-it-like-it-is mentality which was something I loved about her."
Greta's not much better. Every time Thompson takes a look at her Facebook updates, there's an Italian hunk lurking around close by, who usually has an arm draped around her. This is when Thompson starts to realise that, despite his love for Greta, the relationship is going to be a little more challenging than they first thought. They're even starting to run out of things to say to each other in letters: "Well, I don't know what else to write so I'll stop here. Love, Greta".
Thompson's best buddy, Ronnie, however, is having more luck with the ladies, falling head over high tops (his trainer collection, which Thompson contributed to with a pair of gold high tops in One Night, has grown and followed them to their college dorm) for Stephanie. He even lets her choose the radio station in Thompson's car! Interestingly, Thompson lets Charlotte choose a radio station in the car later in the story.
The relationship between Thompson and Ronnie is generally really positive throughout the novel. While Johnny was a central character in One Night, he plays more of an advisory role this time round. Ronnie is Thompson's away-from-home and away-from-Greta support at college. It's refreshing to read such a positive young adults' friendship in a novel. Despite a brief blip in the story, Ronnie proves he's really there for Thompson.
One Love's big question is: how far would you go for love? Researching for an article about facilities for deaf people at the university, Thompson learns about a man who learnt sign language to communicate with a girl he liked, only for them to break up later anyway. Thompson wasn't sure if a relationship like that – one without any guarantees – was worth going to the bother of learning a whole new language.
But then he thinks about how he and Johnny tried to get the girl in One Night. They flew to Chicago to help Johnny to get closure on his relationship with his ex-girlfriend, Molly. Perhaps he could play the hero and fly away to Rome and visit his own girlfriend…
Overall, I was looking forward to revisiting Thompson's world. One Night was an enjoyable first novel, about an ordinary teenager who was willing to do something extraordinary for his friend – and for love. In a way, One Love mirrors its prequel for this, again proving that Thompson is capable of great things. As I mentioned before, I feel it's quite uncommon to read about so many male friendships that are so encouraging, supportive and caring, which is what you get with Thompson and Ronnie as well as Thompson, Ronnie and Johnny. For a fun, easy-to-read and romantic YA novel that isn't geared to be read just by females, One Love is ideal.
Reviewed by Abby
---
Purchase online from:
---
About the Author

Deanna Cabinian has worked in radio, television, and magazine publishing, but her greatest passion is writing. A graduate of Northern Illinois University, she has a bachelor's degree in journalism and a Master's degree in sport management. She writes from wherever she happens to be, but the majority of her writing is done from Chicago.
When she isn't writing she enjoys traveling and spending time with her husband and family.
You can find out more about Deanna by reading our interview with her – 'The Writing Life of: Deanna Cabinian'






---