The Things We Learn When We're Dead by Charlie Laidlaw – Book Review
The Things We Learn When We're Dead by Charlie Laidlaw – Book Review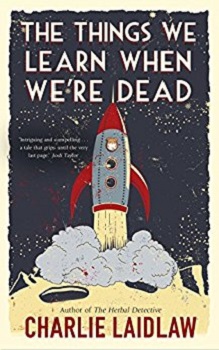 The Things We Learn When We're Dead
Author – Charlie Laidlaw
Publisher – Accent Press
Pages – 397
Released – 21st September 2017
ISBN-13 – 978-1786150356
Format – ebook, paperback
Reviewer – Julie
Rating – 4 Stars
I received a free copy of this book
Post contains affiliate links
On the way home from a dinner party she didn't want to attend, Lorna Love steps into the path of an oncoming car. When she wakes up she is in what appears to be a hospital – but a hospital in which her nurse looks like a young Sean Connery, she is served wine for supper, and everyone avoids her questions.
It soon transpires that she is in Heaven, or on HVN. Because HVN is a lost, dysfunctional spaceship, and God the aging hippy captain. She seems to be there by accident. Or does God have a higher purpose after all?
At first Lorna can remember nothing. As her memories return – some good, some bad – she realises that she has decisions to make and that she needs to find a way home…

'The Things We Learn When We're Dead' is the second novel by Scottish author, Charlie Laidlaw. It is an unusual offbeat contemporary fantasy adventure, thankfully without a dragon and demon in sight.  The cartoony feel of the cover sets the tone for the tale and the reader knows this book isn't taking itself too seriously.
The beginning of the story held a lot of promise and I was very keen to read on.  The main character, Lorna, has a lot to contend with. Accepting she is dead but still apparently sentient and physically unscathed after her fatal accident, inevitably presents all sorts of emotional challenges along with re-evaluation and soul-searching.  She has to come to terms with being a 'temporal anomaly'.
However, The Things We Learn When We're Dead then became a bit more of a challenge.  There were a lot of flashback and dream sequences as Lorna's memory gradually returned as part of her regeneration; this was clearly relevant to the overall story but rather too long-winded.  The author poses a couple of questions for the reader to mull over but several times I forgot these key elements of the plot, due to all the padding.
I also found Lorna's choice of language a little incongruous at times. When she initially wakes, she believes herself to be in hospital; she would doubtless be disorientated and probably ask where she was and how long she had been there but would she really greet a total stranger with the words 'Who the hell are you?'
Inevitably, basing a book in space leads to comparisons with 'Star Trek'; doubtless to counter this, the author himself makes the connection, more than once.
Laidlaw is a talented wordsmith. His use of humour and irony is well-placed and he has created some colourful characters, in the form of Irene and God. The dynamic between these supporting players is intriguing.  His creation concept is very clever and well thought out and I loved his explanation for some of the achievements of mankind. He also poses some awkward questions which certainly made me think – is eternity the ultimate goal and if it were a possibility, would I choose it?
The idea of the crew of HVN looking like famous people was an amusing distraction and thankfully, they were so famous, that even I had heard of them. I particularly enjoyed the backhanded swipe at the ex-Prime Minister a lot of us love to hate! That alone was almost worth a bonus star.
For me, The Things We Learn When We're Dead is a cake with too much icing. It is a mixture of fun and sci-fi and had the plot not been interspersed with excessive slices of backstory, it would have been delicious.  Nonetheless, the author has some quirky innovative ideas and I award him four well-deserved stars.
Reviewed by Julie
---
Purchase online from:
---
About the Author

I was born in Paisley, central Scotland, which wasn't my fault. That week, Eddie Calvert with Norrie Paramor and his Orchestra were Top of the Pops, with Oh, Mein Papa, as sung by a young German woman remembering her once-famous clown father. That gives a clue to my age, not my musical taste.
I was brought up in the west of Scotland (quite near Paisley, but thankfully not too close) and graduated from the University of Edinburgh. I still have the scroll, but it's in Latin, so it could say anything.
I then worked briefly as a street actor, baby photographer, puppeteer and restaurant dogsbody before becoming a journalist. I started in Glasgow and ended up in London, covering news, features and politics. I interviewed motorbike ace Barry Sheene, Noel Edmonds threatened me with legal action and, because of a bureaucratic muddle, I was ordered out of Greece.
I then took a year to travel round the world, visiting 19 countries. Highlights included being threatened by a man with a gun in Dubai, being given an armed bodyguard by the PLO in Beirut (not the same person with a gun), and visiting Robert Louis Stevenson's grave in Samoa. What I did for the rest of the year I can't quite remember.
Surprisingly, I was approached by a government agency to work in intelligence, which just shows how shoddy government recruitment was back then. However, it turned out to be very boring and I don't like vodka martini.
Craving excitement and adventure, I ended up as a PR consultant, which is the fate of all journalists who haven't won a Pulitzer Prize, and I've still to listen to Oh, Mein Papa.
I am married with two grown-up children and live in East Lothian.





---