Forest of Amber by Scott Johnson – Book Review
Forest of Amber by Scott Johnson – Book Review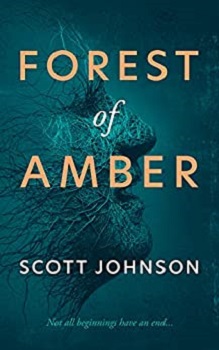 Forest of Amber
Author – Scott Johnson
Pages – 119
Released – 13th December 2020
ISBN-13 – 979-8581364611
Format – ebook, paperback
Rating – 4 Stars
I received a free copy of this book.
This post contains affiliate links.


Synopsis
Amber's life is a dark and lonely place. Feeling isolated and struggling with grief and depression, she begrudgingly agrees to a weekend away with her unsympathetic boyfriend Gabriel and their dog Willow.
In the fading light and torrential rain they soon become lost as they search for the remote campsite. Trekking through the ancient forest on foot, Amber is soon convinced they are not alone.
Filled with fear and paranoia, her world slowly starts to fall apart and descends into chaos. As the past, present and future collide, the line between fantasy and reality soon becomes blurred.
For Amber, her nightmare has only just begun. Hidden deep beneath the lies and nightmares, pieces of the puzzle slowly start to fall into place. The truth about her life will soon be revealed and the true horror unearthed.
This twisty, turny folk horror is really difficult to review as I don't want to give anything away so I apologise in advance if I leave gaps.
The book is written in a non-linear fashion, bouncing back and forth along the timeline and the perspective of events changes as they're relived by the same character, but through a different lens and sometimes with differing events. As the reader, you form opinions of the characters and what's going on along the way but are forced to change them as things progress.
Amber is on a camping trip in the forest with Gabe, her boyfriend, that much we can be sure of – after that? We can't be sure of a damn thing. But don't let this put you off, everything is revealed in a satisfactory way at the end and you get to find out if any of your guesses were correct (about 90% nope in my case). This book is one long fever dream with elements of horror, which is often confusing but very compelling.
I did find the repetition of some of the events a bit long but the fresh perspective in these scenes was interesting and gives insight into how our memories change and distil over time. Amber is a complicated protagonist and it's impossible to tell whether or not she's a likable person – she suffers from a non-specific mental illness and her behaviour is frequently erratic, which makes her an unreliable narrator while you find yourself agonising alongside her over whether or not what she's experiencing is real. You can't form an opinion on Gabe on way or the other as her view of him changes too often for you to see what he's truly like as a person. This complexity was impressive and kept me reading to the end.
Purchase Online From:
---
What did you think of 'Forest of Amber'? Share your thoughts in the comment section below!
---
The above links are affiliate links. I receive a very small percentage from each item you purchase via these link, which is at no extra cost to you. If you are thinking about purchasing the book, please think about using one of the links. All money received goes back into the blog and helps to keep it running. Thank you.
Like us on Facebook – Tweet us on Twitter – Pin us on Pinterest – Join us on Instagram